OUR 2013 SUMMER SEASON HAS STARTED, BUT SEASON TICKETS ARE STILL A GREAT DEAL!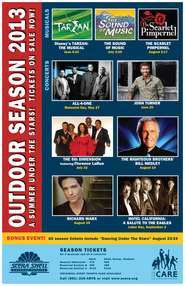 SAVE 39% WHEN YOU BUY SEASON TICKETS! Season and individual tickets are on sale now! Click any event link below for details and tickets or click here for season ticket information. (801) 225-ARTS
June 6-22
June 25
July 5-20

THE 5TH DIMENSION featuring Florence LaRue
July 22
August 2-17
THE RIGHTEOUS BROTHERS' BILL MEDLEY
August 19
August 23-24
August 29
HOTEL CALIFORNIA: A SALUTE TO THE EAGLES
Labor Day, September 2
Click for more information on events and tickets.
---
TARZAN: THE MUSICAL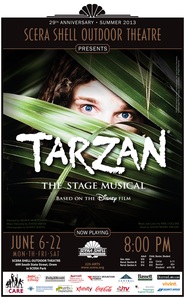 June 6-22 @ 8:00pm
Mondays, Thursdays, Fridays & Saturdays
SCERA Shell Outdoor Theatre
From Tony Award-winning playwright David Henry Hwang and based on Edgar Rice Burrough's Tarzan of the Apes and the smash Disney animated film, Tarzan swings onto the stage with the story of an infant boy orphaned on the shores of West Africa. Taken in and raised by a tribe of gorillas, the young boy strives for acceptance while grappling with his uniqueness. When a human expedition enters their territory, Tarzan - now a man - encounters strangers like himself for the first time and is surprised by love from Jane, a woman who "looks like him." Full of action, humor, poignant drama and romance, the new musical features music and lyrics by pop icon Phil Collins, including the Grammy and Oscar winning song "You'll Be in My Heart." Directed by Shawn M. Mortensen. Music Direction by David Smith. Choreography by Sunny Watts.
Click
for more information and to buy tickets.
---
UTAH'S STARS & FRIENDS

Tuesday, June 18 @ 7:30pm
General Admission: $20 Adult, $17 (ages 6-17)
Reserved seating areas also available
SCERA Shell Outdoor Theatre
From producers Carl Bacon, Karl Engemann and Ray Smith comes the first concert in the Orem Mayor's Series - a powerhouse evening featuring some of Utah's best performers and friends including Jenny Oaks Baker, Dallyn Vail Bayles, Reunion, Shawn King, Odyssey Dance, Kendra Lowe, Joshua Creek, Little Big Band, Center Stage Performing Arts Studio, Ben Hale, Chirs Higbee, Rex Kocherhans, London Bridge, Brett, Gerri, Paul, Ryan & Shannon Engemann plus a 40-piece orchestra conducted by Ray Smith and a special tribute to Bob Engemann. Proceeds from this benefit concert will be donated to SCERA's Endowment for the Arts.
Click
for more information and to buy tickets.
---
JOSH TURNER in concert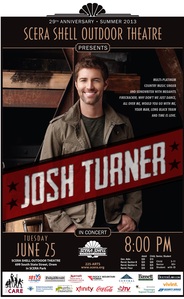 Tuesday, June 25
SCERA Shell Outdoor Theatre
$20 Adult, $15 Child/Senior/Student
As a family man, a philanthropist and a devoted Christian, you might say Josh Turner's commitments run as deep as his voice. Of course, he's also a double-platinum-selling singer, songwriter and disciple of traditional country music, and one of the youngest members of the Grand Ole Opry. With megahits Why Don't We Just Dance, All Over Me, Firecracker, Would You Go With Me, Your Man, Long Black Train, Time Is Love combined with Josh's new album, Punching Bag, a knockout of bluegrass-influenced barnburners and the slow and steady love ballads on which Josh's trademark baritone excels. With his soulful voice, South Carolina accent and philosophy on life, the Grammy, CMA and ACM Award nominee has developed a Mark Twain-like knack for turning common phrases into songs that stay in your head and in your heart.
Click for more information and to buy tickets.
---
RIDE FOR THE ARTS: A Charity Motorcycle Ride benefiting SCERA's Endowment for the Arts

Tuesday, June 25
Timpanogos Harley Davidson & SCERA Shell Outdoor Theatre
$35 Single Rider
$55 Rider & Passenger
Join us for our fourth RIDE FOR THE ARTS, a charity motorcycle ride benefiting SCERA's Endowment for the Art. A beautiful summer day. A group of new friends on motorcycles. The open road. All for a great cause! Plus, our first 100 registrants get a FREE TICKET to the Josh Turner concert plus admission to his VIP meet and greet with dinner and photo!
1:00pm We'll begin our adventure at Timpanogos Harley-Davidson in Lindon with check-in, lunch, mingling and prizes.
2:00pm We'll hit the road, making our way on a beautiful 3-hour round trip ride to Heber, Kamas, Oakley and Coalville, ending up back in Orem.
6:30pm VIP reception with a delicious catered dinner from Texas Roadhouse, plus meet and greet and photo with country music superstar Josh Turner (*) First 100 registrants only.
8:00pm Concert with Josh Turner under the stars at the SCERA Shell Outdoor Theatre. We'll rope off a section on the hill especially for our riders.

Click for more information and to register online.
---
Magnify your Creativity! REGISTER FOR OUR 2013 SUMMER CAMPS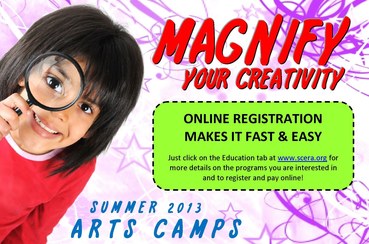 Register online at www.scera.org or call (801) 225-ARTS
Take a
CLOSER LOOK
at the many fun and creative ways kids, teens and adults can develop and share a new talent this summer - and have a great time in the process. There are summer camps in drama, dance, art, music and film!
Click
for more information and to register online.
---
CINEMA SERIES: Summer Matinees for Kids!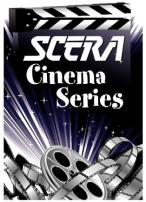 SERIES 1: Mon-Th @ 10:30am and 1:00pm
SERIES 2: Mon-Th @ 10:00am
SCERA Center for the ArtsTHE FIRST WEEK IS OVER, BUT SERIES TICKETS ARE STILL AN INCREDIBLE SAVINGS WITH TEN MOVIES LEFT!
Make it a summer tradition for you and your children! During June, July and August, there are two different movie series available, each featuring 10 remaining family movies on the big screen for an absolutely amazing price of just $7.00 for one series or both series for $12.00!
Click
for a list of movies and buy tickets.
ONE SERIES: 10 movies for $7.00 - BOTH SERIES: 20 movies for $12.00
---
OUTDOOR MOVIES - Summer 2013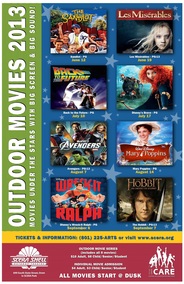 SCERA Shell Outdoor Theatre
$4 Adult
$3 Child/Senior/Student

From classics to current movies, it's Cinema Under the Stars with a big screen and big sound! Bring your family, a date or a group of friends.

June 12
THE SANDLOT

June 19
LES MISERABLES

July 10
BACK TO THE FUTURE

July 17
Disney's BRAVE

August 7
THE AVENGERS

August 14
Disney's MARY POPPINS

September 6
Disney's WRECK IT RALPH

September 7
THE HOBBIT

Click for more information and to buy tickets. Don't miss the BUY ONE GET ONE FREE coupon at the bottom of this email to see "The Sandlot" on June 12th.

---
CELEBRITY VOCAL COMPETITION: Sing lead with a live band!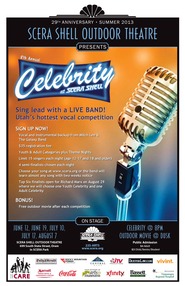 Preliminary nights: June 12, June 19, July 10, July 17 or August 7
SCERA Shell Outdoor Theatre
$35 registration fee
Join us for Celebrity, a talent search any serious vocalist age 12 to adult won't want to miss! With live backup from our awesome band, Mitch Lee & The Galaxy Band, singers compete before judges looking for Utah's hottest talent, and our YOUTH WINNER and ADULT WINNER will have multiple opportunities to perform throughout the year, including live and televised appearances.
There is a limit of 15 singers/preliminary night and four each night will move on to compete in semi-finals on August 14. The Top Six will open for 80's pop superstar RICHARD MARX at the Shell August 29 - where our panel of judges will choose our 2013 youth winner and 2013 adult winner.
Click
for more information on our youth and adult divisions and themed music nights.
You can now REGISTER ONLINE!
---
BUY ONE, GET ONE FREE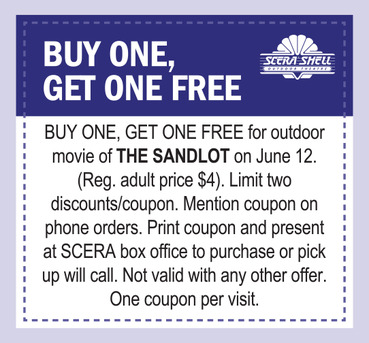 Click to download and print the coupon shown. Enjoy!
---