Adventures in Preservation Photography Contest Winners Announced!
Adventures in Preservation's photography contest has drawn to a close and winners have been selected!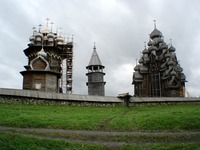 First place went to Nicolas Miquelon with his photograph of the Kizhi Ensemble in Karelia, Russia. The Kizhi ensemble is a trio of religious buildings made of local aged woods and silver-colored shingles.
Second place was awarded to Sean Maxwell with his photograph of Liberty Hall in Quakertown, Pennsylvania. Liberty Hall was home to the Liberty Bell for one night in 1777 when it was transported to Allentown, Pennsylvania.
Third place went to Emilie Sizemore and Old Stone Church of West Boylston, Massachusetts. Built in 1891, t is the last building standing from the original West Boylston, which was flooded in 1896-1905.
Honorable Mention was awarded to Mugwima Njuguna with his photo of the Prisoners of War Church in the Great Rift Valley, Kenya. This church was built by prisoners of war in 1942 as a multi-denominational church.
See all the winning photos on Preservation Journey, AiP's blog connecting architecture, travel and volunteering.

Historic Buildings Around the World Capture Hearts and Camera Lenses

Entrants in AiP's photo contest were asked to submit a photograph of their favorite historic building with a brief caption. Winners were selected by photographer Raul J. Garcia based on composition, use of light, relevance to the contest, the building's uniqueness, and the photo's ability to tell a story. Thanks to all involved, we had a broad range of entries ranging from Maryland to Portugal!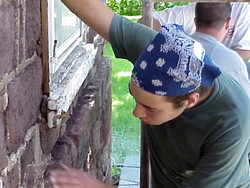 As demonstrated by our array of entries, historic buildings are all around us. These structures not only catch our eye on commutes and travels, they help define a place and are integral to understanding a place. Learn more about historic preservation and how you can play a part by checking out an upcoming Adventure in Preservation!
Photos? There's an app for that
Want to see more beautiful buildings? Check out Fotopedia, collections of stunning photographs from around the world. The Fotopedia Heritage app, for iPad and iPhone, is free and includes photos of every UNESCO World Heritage Site. Of course, our favorites are those of sites where AiP volunteers have worked, such as Gjirokasta, Albania. Want to play a part in that city's conservation? Join us at the Skenduli house!
Conference Calendar
I Know Where I'm Going: Remote Access to World Heritage Sites from St Kilda to Uluru - November 23-24, 2011 - Edinburgh, United Kingdom
At a time of economic crisis and environmental threat, countries everywhere have to address the dual challenge of protecting and preserving their natural and cultural heritage while maximizing their economic value. This two-day international conference will focus on the potential for new technologies to create high-quality, remote-access visitor experiences for World Heritage Sites and other sites of cultural, historical and natural significance where remote access is either desirable or necessary. For information, see iknowwhereimgoing.eventbrite.com.
Conservation Challenges, Solutions & Collaboration Opportunities in Uncontrolled Environments - March 9-11, 2012 - Hobart, Australia
Meeting of the ICOMOS International Polar Heritage Committee, timed to coincide with commemorative events marking the centenary of Roald Amundsen's return to Hobart after reaching the South Pole. The conference will bring together interested parties to discuss the conservation challenges and share solutions in uncontrolled environments, as well as improving linkages and encouraging opportunities for collaborations particularly with the science community to benefit broader conservation practice. For information, see polarheritage.com.
Domes in the World - March 19-23, 2012 - Florence, Italy
The intent of this international, interdisciplinary conference is to foster dialogue about the significance of domes and their symbolic value from the perspective of different cultures. Themes to be examined will include: the cultural and spatial significance of the ancient and contemporary domes in buildings; their architectural context in the territory and in the landscape; their construction (materials, techniques, structural system); their documentation, interpretation, conservation and restoration; and their continuity in contemporary building. For information, see www.domesintheworld.com.