Meet Albert Kasi, AiP's Ally in Albania
Albert Kasi is a man with a mission.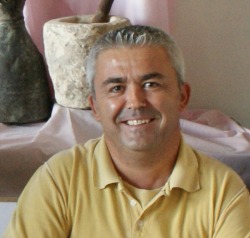 The sculptor and painter is one of Albania's most talented contemporary artists, famous for his metal sculptures, some of which sit in the national museum in Tirana. He is also one of the leading proponents of architectural conservation in Gjirokastra, his home town.
He believes that saving the city's iconic tower houses is the key to economic stability, and is working with AiP to make this happen. He's founded a local NGO called the Gjirokastra UNESCO Club. The Club's mission is to help city residents rediscover the value of cultural heritage and see its contribution to their identity, prosperity and quality of life.
He is also sharing his talents with AiP and AiP volunteers. You see his work everywhere on our website — he designed the AiP logo for us. And as part of AiP's adventure at the Babameto house last year, he taught drawing classes each afternoon. The classes were held in the Skenduli house, site of next year's work.
We're still raising money and recruiting volunteers for this project. Spread the word and help make it happen.
Pump it Up!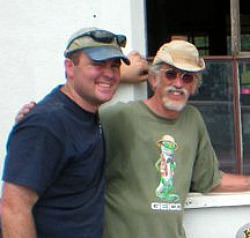 You can be part of the energy at the Edge Hill Service Station! The Fairfield Foundation reports great progress on their efforts to restore the 1930 building , one of the last remaining original Texaco designs on the East Coast. Work has begun on the roof and walls thanks to funding from the Gloucester Community Foundation, the Gloucester Main Street Preservation Trust, and numerous individual donors and businesses. Local contractor Courthouse Construction is doing the work.
The second set of AiP volunteers will report for duty in August; Plastering at the Pumps runs August 26 through September 1, 2012. Plan to join us for a powerful experience that will benefit you in many ways: new friends, new insights, and maybe even new muscles! Join this adventure today!
Conference Calendar
Wood in the 21st Century: Design and Preservation of Contemporary and Historic Architecture - March 24-25, 2012 - Cambridge, Massachusetts USA
This symposium will feature noted architects, engineers, conservators, and researchers speaking on topics ranging from perspectives to new technologies and conservation of wood in architecture. Continuing education credits will be available. For information, see www.iiconservation.org.
Powerful Vistas / Powerful Views: New Perspectives in Historic Landscape Preservation - April 25-28, 2012 - Victoria, British Columbia Canada
Annual meeting of the Alliance for Historic Landscape Preservation, with presentations that will encourage lively discussions addressing both the theory and practice of preservation including issues of cultural diversity, identity, and meaning in landscapes, and challenges associated with the identification, protection, and sustainability of historic landscapes. For information, see www.ahlp.org.
High-Tech Heritage: How Are Digital Technologies Changing Our Views of the Past? - May 2-4, 2012, Amherst, Massachusetts USA
While 3D visualizations, complex databases, interactive websites, social media, and Geographical Information Systems allow us to model, record, analyze, disseminate, map, and interpret information about cultural heritage, they are also profoundly transforming our views of the past. The goal of this conference is to bring together a wide range of academics, museologists, digital technologists, heritage professionals, and community leaders to examine the achievements, opportunities, and serious social challenges of digital heritage. The program will highlight ongoing projects, technological breakthroughs, educational assessments, economic evaluations, and philosophical reflections on the impact of new technologies on heritage research, on collective memory, and on the very concepts of "Place" and "Time." For information, see scholarworks.umass.edu/hightechheritage/.