Introduction
October 15, 2016
13 Tishrei, 5777
Dear Friends,
Following Shmuel Rosner's last year ringing endorsement of the integrity and quality of Hiddush's polling last year, [LINK], Rosner once again focuses on Hiddush's Israel Religion & State Index [LINK] (published on the Eve of Rosh HaShana, 5777/2016).
Whereas we wholeheartedly embrace Rosner's observation that the Chief Rabbinate is crumbling, as evidenced in the Religion & State Index and other studies done recently, we strongly disagree with his conclusion that we should just sit back and watch this happen. As monopolistic establishments go, they have strong survival urges, and given the political nature of the institution and the high political stakes that it represents for the Government Coalition players, it is unlikely that the Rabbinate will crumble all on its own any time soon.
In the meantime, the Rabbinate's continued monopolistic powers mean the continued denial of the dignity and the right of marriage to hundreds of thousands, the questioning of the legitimacy of Modern Orthodox conversions (including by mainstream U.S. Orthodox rabbis), continued obstacles to the attempts to introduce state recognized more inclusive conversions (such as Rabbi Riskin's initiatives), or allow legal Orthodox alternatives to the Rabbinate's kashrut exclusivity (such as Rabbi Liebowitz's hashgacha pratit).
This, of course, is only the tip of the iceberg. Knowing that in all likelihood none of our members in North America and elsewhere would consent to being put in the position of our Israeli colleagues who are denied basic dignity and recognition of their functions, we should not entertain Rosner's placating approach. Rather we should seize the opportunity, the clear will of the public, and the compelling importance of the cause, and join together in bringing Israel fully onto the path of religious freedom and equality as promised by its Declaration of Independence.
Chag Sameach,
Uri
Rabbi Uri Regev
Head of Hiddush
Resources
Contact us
email: organizers@rrfei.org
Phone (US): 646-334-5636
Phone (Isr): 054-779-1179
Not yet a member?
Click HERE for the 2016 Israel Religion & State Index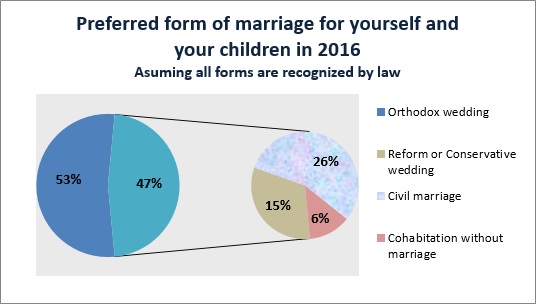 Click HERE for Rabbi David Lyon's Rosh HaShana sermon
Click HERE for Rabbi Yoni Regev's Rosh HaShana sermon
Don't waste your time: The Israeli rabbinate has already lost its battles
Shmuel Rosner, The LA Jewish Journal, Oct. 6, 2016
Click HERE for the full article
The new survey by Hiddush – an organization dedicated to freedom of religion in Israel – gives many reasons for hope. It gives hope that Israel will gradually improve itself – and also gives hope that the level of hysteria concerning state-religion relations in Israel will be reduced. In fact, it ought to be reduced, as the survey proves that most of the great problems are going to be solved without much need for aggressive intervention. In other words: save the campaigns for something else – the Israeli rabbinate is crumbling anyways.
Take a look, for example, at the percentage of Jewish Israelis who'd rather have a non-Orthodox marriage ceremony. Last year, 63% of Israelis still said they wanted an Orthodox marriage even in case all marriages will be legally equal. This year, the percentage of Israelis insisting on Orthodox marriage declined by a whopping 10% to 53%. Among secular Israelis, almost eighty percent prefer other-than-Orthodox marriages (78%).
Study finds Israelis hold liberal views with traditional personal choices
Ynet news, Oct. 3, 2016
Click HERE for the full article
Just a few weeks after the largest coalition crisis of 5776 that threatened to bring down the government, which revolved around violating halachic law by carrying out train infrastructure works on Shabbat, the public has indicated its disappointment with political involvement in religious matters in a related survey. 81% percent of the respondents were disappointed with the government's performance on matters of religion and state, which is one of the only points of agreement amongst secular, traditional, religious and ultra-Orthodox Jewish Israelis.
84% of respondents agreed that the state should permit free choice regarding religious behavior to the secular and religious alike according to their beliefs. Most of the ultra-Orthodox public also agreed with this. 63% of all respondents indicated their support for complete separation of state and religion, but religious and ultra-Orthodox respondents disagreed.
במשרד החוץ מודאגים מקמפיין הקהילות היהודיות בארה"ב נגד ממשלת ישראל
ברק רביד, הארץ, Oct. 2, 2016
Click HERE for the full article
דיפלומטים ישראלים נשלחו לבתי כנסת בארה"ב לפייס קהילות של קונסרבטיבים ורפורמים, שיזמו מחאה נרחבת נגד חוק המקוואות והקפאת מתווה הכותל
נציגויות ישראל בצפון אמריקה ניצבות בימים האחרונים אל מול קמפיין מחאה נרחב נגד ממשלת ישראל, לקראת החגים, שפתחו בו הקהילות הקונסרבטיבית והרפורמית שרוב יהודי ארה"ב משתייכים אליהן. הסיבה למחאה היא העובדה שבלחץ המפלגות החרדיות נמנעת הממשלה, זה חודשים רבים, מיישום מתווה התפילה הפלורליסטית בכותל, שעליו החליטה היא עצמה בסוף ינואר; וכן בשל סוגיית הגיורים וחוק המקוואות שעבר בחודש יולי, המאפשר הדרת יהודים רפורמים וקונסרבטיבים. במשרד החוץ יש דאגה רבה מכך שהתגברות המחאה של הקהילות היהודיות הליברליות בצפון אמריקה, בסוגיות של פלורליזם הדתי, ובמיוחד בנושא הכותל, תפגע במעמדה של ישראל בארה"ב. בכירים במשרד...
Israeli Jews displeased with haredi-driven government policies
Andrew Tobin, JTA, Oct. 2, 2016
Click HERE for the full article
The haredi Orthodox parties are back in power, and Israelis aren't thrilled with their work.
An annual survey shows widespread dissatisfaction with haredi influence and exemptions when it comes to education, the army and religious life.
After being left out in 2013, Shas and United Torah Judaism entered the governing coalition in 2015. In the first Knesset session since the election, they thwarted laws that challenged their state-sponsored way of life, forced a political and transportation crisis over work on Shabbat and blocked the creation of a pluralistic prayer section at the Western Wall.
The Israel Religion and State Index, published Sunday, shows just how far these and other government actions are from the views of most Israeli Jews. The Smith Polling Institute conducted the survey of 700 Israeli Jewish adults at the end of July for Hiddush, a group that supports religious freedom in Israel. The survey has a 4 percent margin of error.
יום כיפור התשע"ז: 61% יצומו, 38% יתפללו
קובי נחשוני, Ynet, Oct. 9, 2016
Click HERE for the full article
יותר נשים יצומו, למעלה משליש מהאוכלוסייה היהודית יגיעו לבית הכנסת, ומרבית העם יכבדו את היום הקדוש בשנה - בלי כפייה ובלי חקיקה. סקר ynet ותנועת "בינה" ליום הכיפורים
בלי כפייה ובלי חקיקה – הישראלים צמים ביום הכיפורים: סקר חדש שנערך לרגל "הימים הנוראים" מגלה כי 61% מאזרחי המדינה היהודים מתכוונים להימנע מאכילה ושתייה ב-י' בתשרי, ובכך לשמור את מסורת התענית של "יום הדין".
בסקר ynet ותנועת "בינה" שנערך על ידי מכון "גיאוקרטוגרפיה", עולה כי 58% צמו ביום כיפור ה'תשע"ו וינהגו כן גם השנה, ו-3% נוספים יצטרפו לצמים החל משנה זו. לעומתם, 38% לא יצומו בתשע"ז – בהם 3% שבשנה שעברה שדווקא צמו. 1% מהנשאלים לא השיבו לשאלה.