Survey conducted by Rafi Smith Polling Institute for Hiddush – Freedom of Religion in Israel
80% of secular Israeli Jews would prefer not to get married through the Orthodox Rabbinate. Rabbi Regev: "Growing public support to break free of the Rabbinate's shackles"
The consistent rise in the number of Israeli Jews who would have preferred to marry outside the Orthodox Rabbinate has been monitored in Hiddush's multi-year polling on freedom of marriage.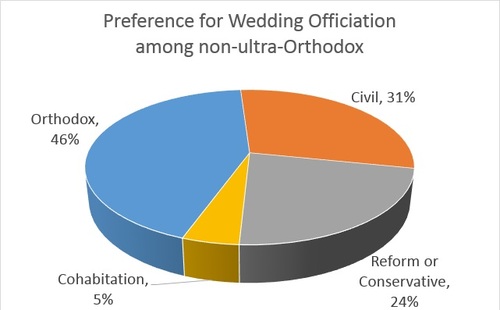 In a poll that was conducted on May 4 2015, 80% of secular Israeli Jews responded that they would not have had Orthodox weddings if they had been given other alternatives. This is a dramatic increase from 67% during the summer of 2013. Nearly half of the Jewish public (49%) say they would marry outside of the rabbinate, given the option. This is also a significant increase from 39% in 2013 and 35% in 2009. The number of Jewish Israelis who prefer to get married in an Orthodox wedding ceremony reached an unprecedented low of 51%, compared to 61% in 2013 and 65% in 2009. Given the non-egalitarian nature of weddings conducted by the Orthodox Chief Rabbinate, it is important to note that 54% of women prefer a non-Orthodox wedding ceremony, versus 44% of men.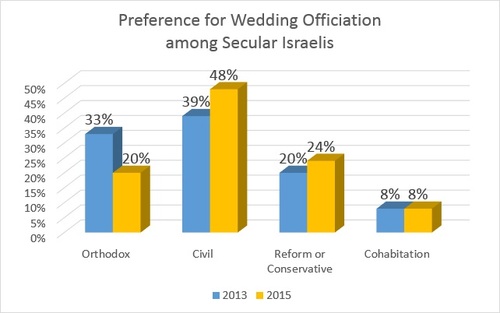 These dramatic findings should be understood in the face of Israel's legal reality, which only recognizes the legal validity of Jewish weddings officiated under the auspices of the Orthodox Chief Rabbinate, to the exclusion of civil and non-Orthodox religious weddings.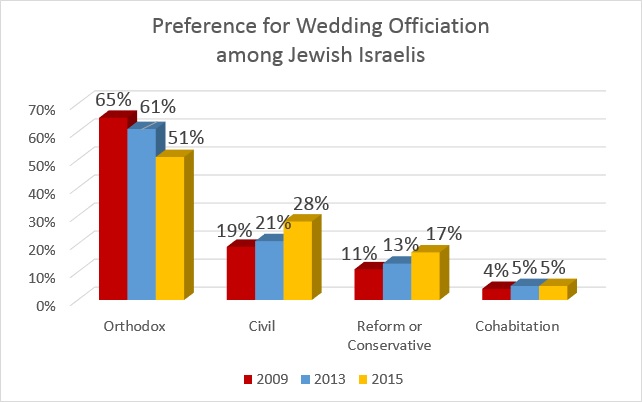 The question posed in the poll was: "If you or one of your children wanted to get married, which religious framework would you choose (assuming that all of these options exist and are recognized as equal in the eyes of the law)". Only 51% of the total sample said they would prefer to have an Orthodox wedding, and of the 49% who preferred an alternative: 28% would prefer a civil marriage, 17% would prefer a Conservative or Reform wedding, and 5% would choose to live together without getting married.
80% of secular Israelis, 54% of the non-ultra-Orthodox population, and 89% of immigrants from the former Soviet Union would prefer not to get married in an Orthodox framework. Even among traditional Israeli Jews, more than one third (35%) would prefer a non-Orthodox wedding framework. However, 65% of traditional Israelis, 96% of the religious Zionists, and 100% of the ultra-Orthodox population would prefer an Orthodox wedding ceremony. Preference for non-Orthodox marriages is seen among a majority of those who voted for the Zionist Camp (Labor), Kulanu (which joined Netanyahu's coalition), Yesh Atid, Israel Beitenu and Metetz. Even among Likud voters 44% preferred non-Orthodox marriages.
Head of Hiddush – Freedom of Religion for Israel, Rabbi Uri Regev, said in response "the survey clearly proves that the number of Israeli couples who desire to break free of the Rabbinate's shackles is rapidly increasing, parallel to a growing level of disgust with the coalition's political horse-trading, which comes at the expense of religious freedom and equality in shouldering the civic burden."
Regev further reflected, "Not only does the Rabbinate's monopoly not contribute to endearing and strengthening Judaism, it actually increases the public's alienation from Judaism, which it identifies with religious fanaticism." He added, "The results clearly indicate that Israeli Jews and world Jewry have much in common, and if Israel fully realized its founding promise for religious freedom, ultimately the majority of Israelis too would embrace pluralism in marriage. This issue has implications not only for Israeli citizens, but also for Diaspora Jewry. If freedom of marriage is not fully recognized in Israel, most of the younger generation of the Diaspora Jewish community would not be allowed to marry in Israel at all, since the Orthodox Chief Rabbinate does not recognize them as Jews or as Jewish enough to be allowed to marry other Jews. If anyone outside of Israel thinks that Israelis accept this religious coercion when it comes to marriage – this survey provides the real perspective."
Two years ago Hiddush developed an online "world map of marriage Freedom". The site reveals that forty five countries worldwide, 23% of the 194 countries surveyed, impose severe restrictions on freedom of marriage and therefore received the score 0; 33 of these countries are Muslim. Israel, which denies hundreds of thousands of its citizens the right to marry altogether, and millions more – the right to marriage ceremony of their choice, is the only western democracy in this group! The map and further details can be found at: http://marriage.hiddush.org/
These findings were part of a public opinion poll commissioned by Hiddush and conducted by the Rafi Smith Polling Institute for Lag b'Omer, the holiday of weddings. The poll was based on a sample of 500 people, representing the adult Jewish population, with a margin of error of 4.5%.