Hiddush in pursuit of legal justice
Hiddush just scored a victory in the Jerusalem District Court in a freedom-of-information case, involving a huge amount of governmental grant monies, exceeding one hundred million NIS, provided to mostly Orthodox religious outreach organizations by multiple governmental agencies
As we all know, the wheels of justice turn slowly, but they do turn, and we want to share with you a great sense of accomplishment.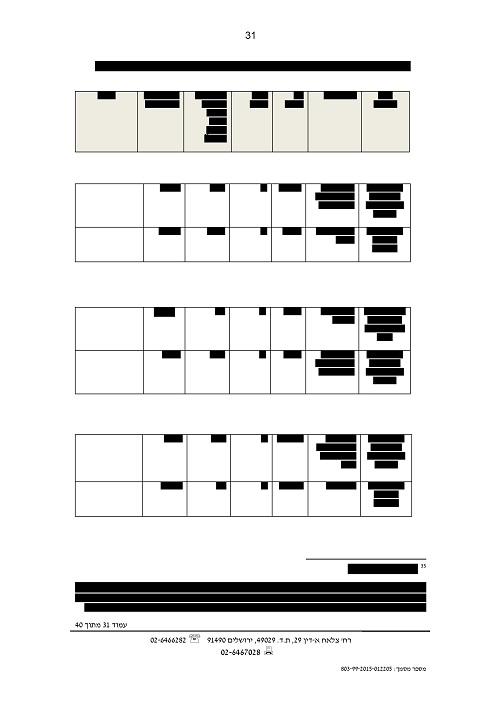 While this ordeal is far from over, Hiddush just scored a victory in the Jerusalem District Court when the judge ruled in our favor yesterday in a freedom-of-information case, which we reported on in February. This case involved a huge amount of governmental grant monies, exceeding one hundred million NIS, which were provided to mostly Orthodox religious outreach organizations by multiple governmental agencies.
Through freedom of information motions, and after repeated delays, we received information from the Ministry of Justice regarding occurrences of double- triple- and quadruple- dipping of (mostly) religious organizations into various Ministries' and government authorities' grants budgets, which is illegal. As you can see from the visual, the 40 page document that was sent to us was greatly censored, as if this was a high security secret. This further increased our conviction that the authorities have much to hide, and Hiddush appealed their absurd partial disclosure, which rendered their response nearly useless. This appeal to the administrative court was on the grounds of improper invocation of exemptions under the Freedom of Information Law.
First and foremost among the governmental agencies was the Ministry of Agriculture, headed by the Zionist ultra-Orthodox political leader Uri Ariel, in breach of explicit instructions from the Attorney General, forbidding multiple parallel governmental grants to individual recipients. As we reported, the politicians involved were not only attempting to circumvent the Attorney General's instructions, but also attempted to hide the damning report and analysis the AG's staff had issued. They refused to release this report to us, and rejected our freedom-of-information motion regarding it.
The court has now fully rejected the excuses and legally acrobatics attempted by the state representatives, trying to justify their refusal, and it has ordered them to release the report to us in within 30 days and awarded Hiddush 15,000 NIS in costs. It remains to be seen now whether the state will appeal the judge's ruling, and assuming we receive the hitherto undisclosed report, we will study it and consider further legal action for the actual breach of rules regarding governmental allocations. Stay tuned.
What they say about non-Orthodox Jews
Netanyahu told reporters in New York that the Reform and Conservative movements wanted to get recognition "via the backdoor, secretly, under the pretext of a technical clause of joint administration of the Western Wall."
Hiddush's focus is on fully realizing Israel's promise of religious freedom and equality, but all too often we cannot separate this mission from the all-too-vile rhetoric that characterizes pronouncements from a number of key Israeli political and rabbinic officials.
For some time now, we have been applauding Prime Minister Netanyahu's welcome, repeated public statement regarding his commitment to ensuring that all Jews feel at home in Israel, whether Reform, Conservative, or Orthodox. Still, Netanyahu's policies since the last elections have repeatedly indicated that this commitment, as sincere as we should assume that it was, is subject to political convenience. This was patently evident in the last few months when he caved to ultra-Orthodox pressure on both the Kotel agreement and the conversion bill.
What is saddest, though, is his departure into highly offensive and baseless rhetoric against non-Orthodox Judaism. This was evidenced last month when he briefed media reps during his visit to NYC for the UN Assembly. As was reported by an Israeli journalist who attended the briefing, he stated (in an attempt to justify his retreat from the Kotel agreement) that: the Reform and Conservative movements wanted to get recognition "via the backdoor, secretly, under the pretext of a technical clause of joint administration of the Western Wall." (see the JTA article here)
With PM Netanyahu resorting to such rhetoric, there is little surprise that others whom the Prime Minister once feebly reprimanded and from whose statements he once dissociated himself, now feel unencumbered. Two recent examples illustrate this ugly rearing of this poisonous anti-Reform & anti-Conservative sentiment from senior rabbinic and political functionaries whom we have noted in the past:
Hiddush in the Media