Israel's Chief Rabbinate is a threat
to Jewish unity and democracy
Last week, Israel's Sephardic chief rabbi, Yitzhak Yosef, explained a point of ritual by likening a black child born to white parents to a "monkey." Immediately following the publication of his racist remarks, a storm erupted. It was widely broadcast, including by JTA, Newsweek and the Palestinian media.
Britain's chief rabbi called Chief Rabbi Yosef's remarks "totally unacceptable." British Jewry's Board of Deputies accused Yosef of "betraying his office." The Anti-Defamation League said his statement was "utterly unacceptable." You may have been among the dozens and dozens who denounced Yosef on Twitter and Facebook.
Such outrage is welcome, but raises the question: Where have you been? Is this really the most egregious utterance made by Rabbi Yitzhak Yosef, his late father Rabbi Ovadia Yosef, his brother Rabbi Avraham Yosef or the other fundamentalists among Chief Rabbinate officials and in Israeli religious politics?
How is this Passover different?
IDF enlistment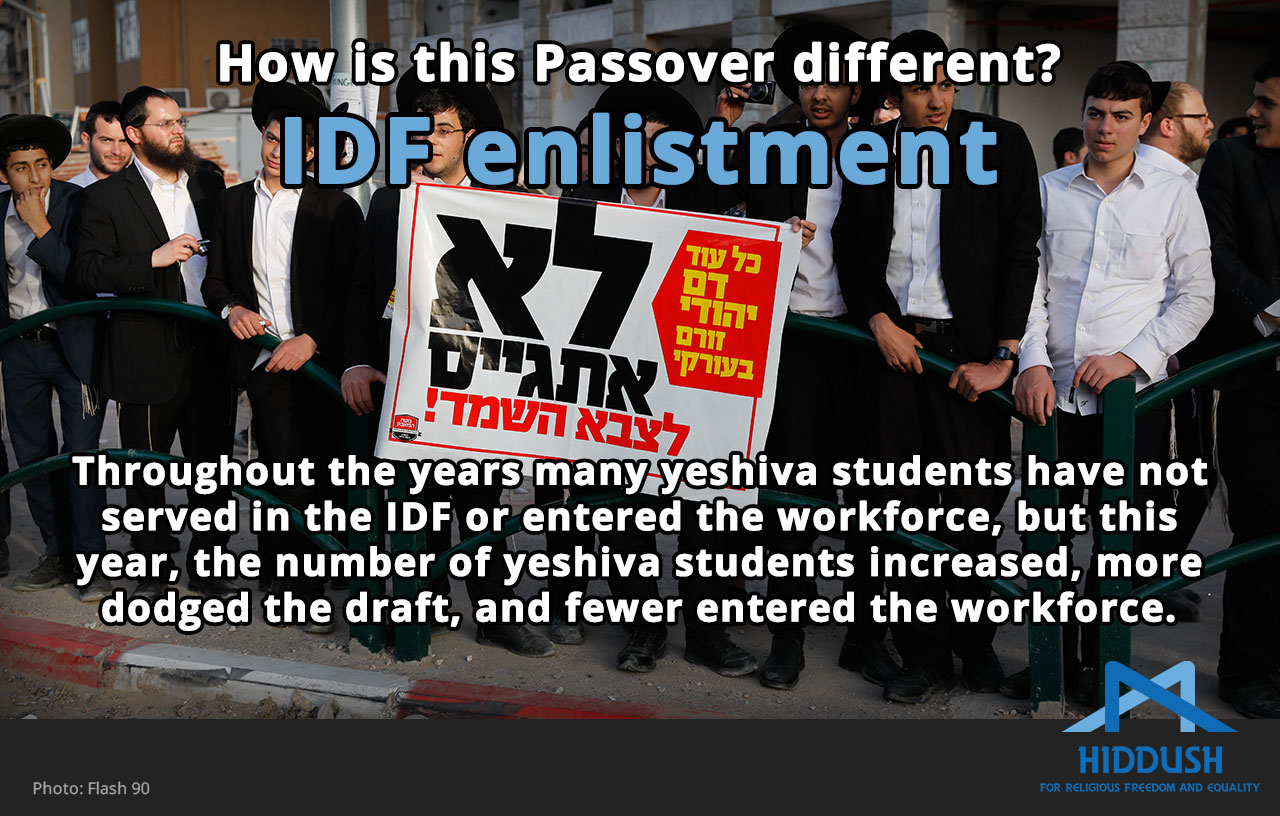 Throughout Israel's history there have always been yeshiva students who studied in yeshivas and did not serve in the IDF or seek gainful employment to provide for their families. However, this year, thanks to the unholy alliance of religion and state in Israel, the number of yeshiva students living off of Israeli taxpayers increased. This year, the gap between the government's IDF recruitment targets and the number of yeshiva students who enlisted increased. And, this year, the number of yeshiva students who integrated into the workforce, contributed in some capacity to the Israeli economy, and supported their families decreased.
Yeshivas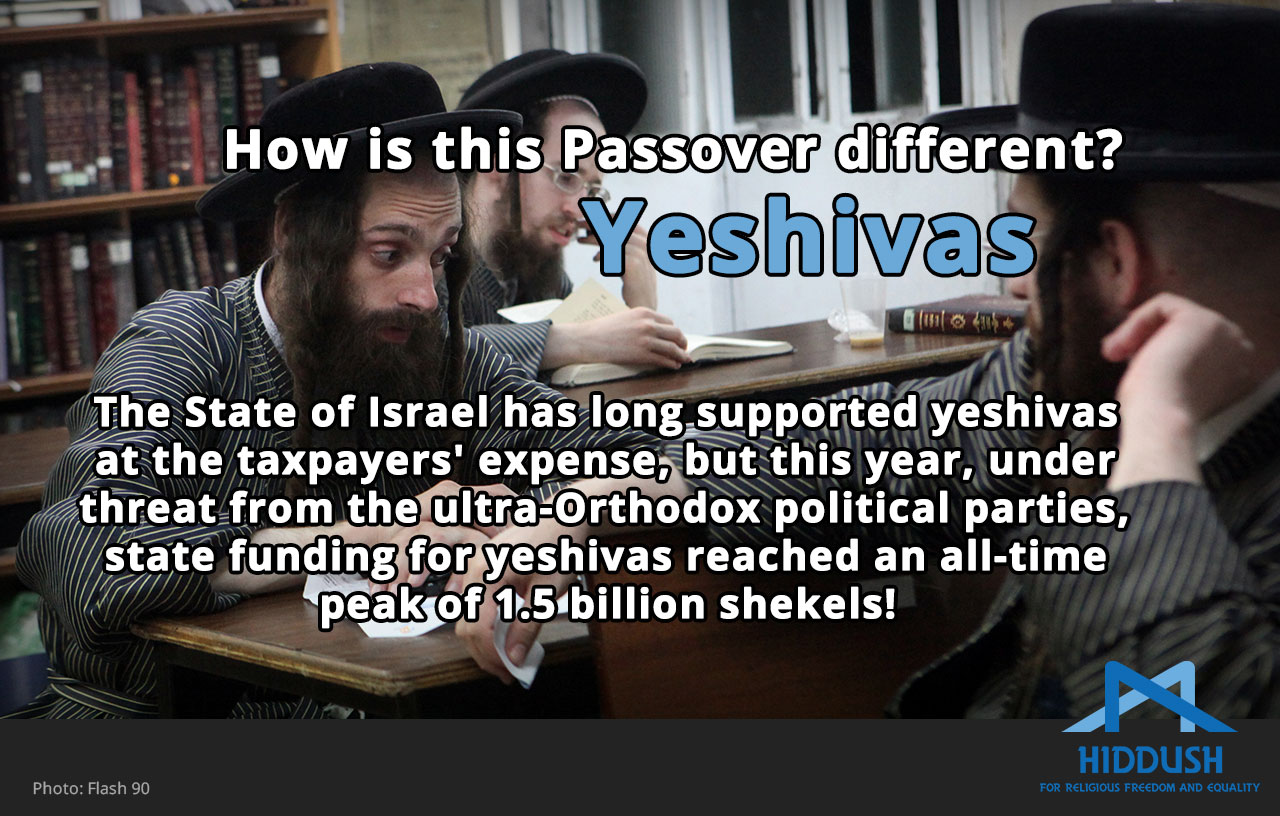 Israel has placed a value on Torah study and supported yeshivas since its very founding. However, this last year, contrary to the will of the overwhelming majority of the Israeli public, the state budget for yeshivas, from taxpayers' coffers, reached an all-time high!
Discrimination against women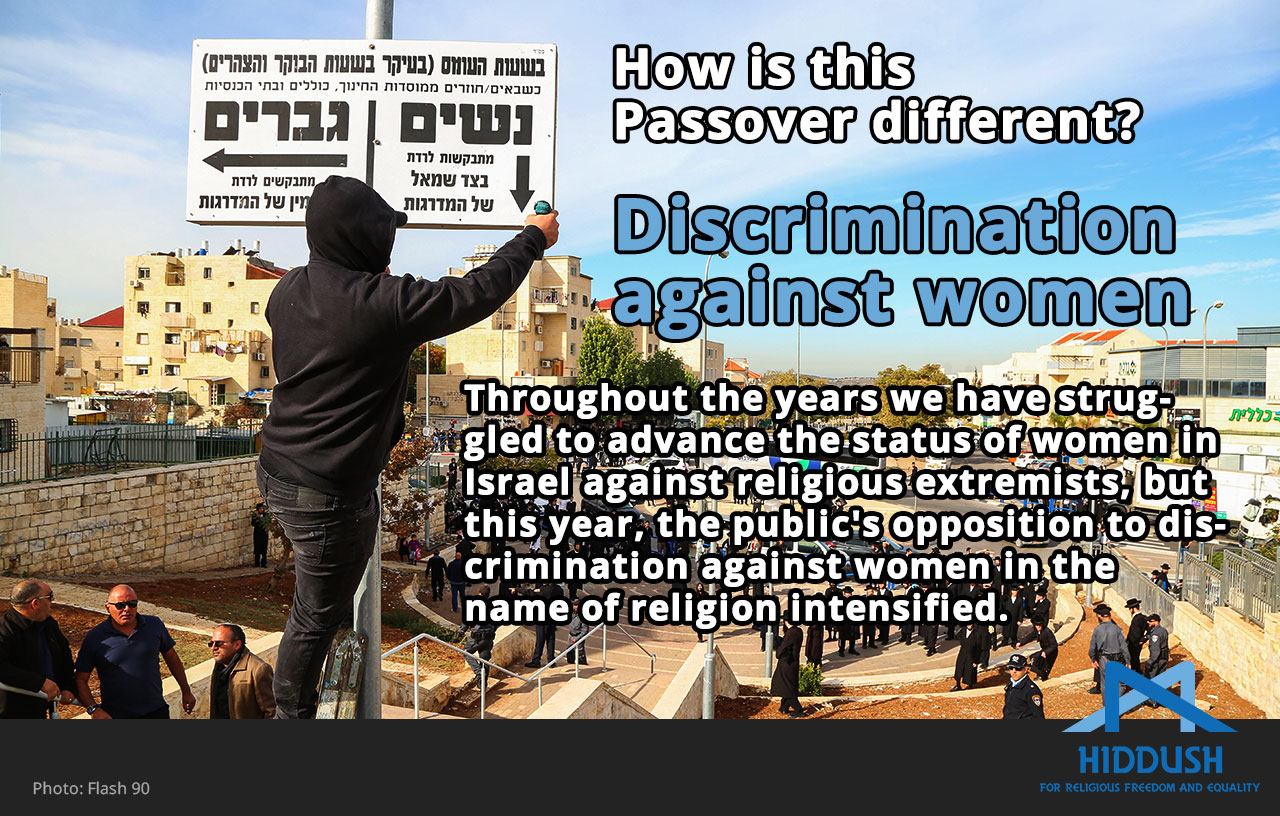 The battle for the equal status of women in Israeli society has been going on since before the founding of the state due to the pressure of the religious establishment, which opposes this principle. However, this last year, public support for gender equality increased, as did public opposition to religiously based discrimination.
Marriage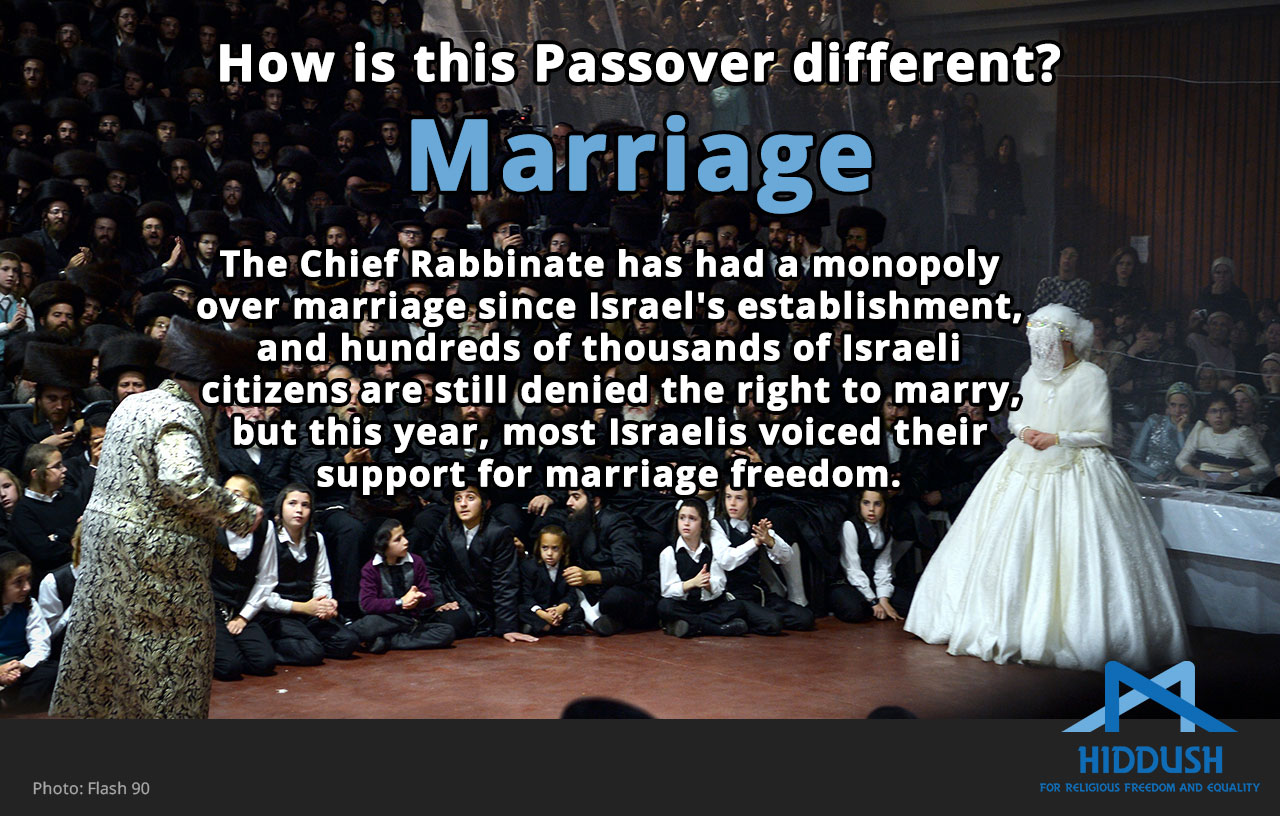 Throughout the years, the Orthodox Chief Rabbinate has always had a monopoly over the marriage and divorce of Jews in Israel. However, this last year, there was an all-time record high number of Israeli citizens (~700,000) who cannot legally get married in Israel at all, and the public's support for more legal marriage options increased. For the first time, a majority of the Jewish public expressed its preference to not get married via the Chief Rabbinate (55%), and among secular Jewish Israelis - 81%!