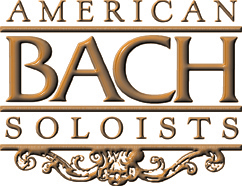 JEFFREY THOMAS ~ ARTISTIC DIRECTOR
AMERICAN BACH SOLOISTS
SCHEDULE ADDITIONAL PERFORMANCE
OF MARAIS' SÉMÉLÉ
DURING 2015 FESTIVAL & ACADEMY

Jeffrey Thomas to Conduct First Complete Performances Outside of Europe
of 1709 Marais Opera on August 13 & 14


American Bach Soloists present Marin Marais' Sémélé
Thursday, August 13, 8:00 p.m. – San Francisco Conservatory of Music
Friday, August 14, 8:00 p.m. – San Francisco Conservatory of Music

Tickets: $20–$75 / sfbachfestival.org / (415) 621-7900.


June 15, 2015—SAN FRANCISCO, CA—Due to the tremendous early demand for tickets to the American Bach Soloists (ABS) performance of Marin Marais' 1709 opera Sémélé, an additional performance of the work has been added to the ABS Festival & Academy schedule. Among the most anticipated events of the August 7-16, 2015 Festival, titled "Versailles & The Parisian Baroque," ABS's presentations of Sémélé at the San Francisco Conservatory of Music will be the first performances of the complete opera outside of Europe.

Best known for his exquisite music for solo or multiple violas da gamba, the operas of Marin Marais (1656-1728) have only recently begun receiving their due. Following Jean-Baptiste Lully's death in 1687, Marais emerged as one of Paris's leading composers of Tragédie en musique, the popular genre of French opera pioneered by Lully. The last of Marais' operas, Sémélé is an amorous tale about a young woman who wins the devotion of Jupiter, king of the gods, only to perish after insisting he reveal himself to her in all his divine glory. Composed thirty years prior to the famous work by Handel on the same subject, Marais' version abounds in lyric beauty, kinetic dance rhythms, electrifying choruses, and features an earthquake scene that is among the most vivid musical episodes in early French opera.

Sémélé premiered in Paris on April 9, 1709 during "The Great Frost," an extraordinarily cold European winter that afflicted France particularly severely, precipitating famine and rioting in the streets of Paris. Opera attendance in the city declined sharply between 1706 and 1710, and many works introduced during this period were later dismissed as failures or overlooked. After its initial run, Sémélé was not heard again until 2006 when the French period-instrument ensemble Le Concert Spirituel presented the opera in Beaune and Paris to commemorate the 350th anniversary of Marais' birth. The ABS Festival & Academy performances on August 13 & 14, 2015 will introduce this treasure of the Parisian Baroque to audiences here.

Large-scale Baroque works such as opera and oratorio have been an important feature of the ABS Festival & Academy since its inauguration in 2010. Past ABS Festival presentations include Handel's La Resurrezione (2010), Ariodante (2011), Purcell's Dido and Aeneas and Rameau's Pigmalion (2012), Handel's Esther (2013), and L'Allego, il Penseroso ed il Moderato (2014). As part of the 2013 Festival, Jeffrey Thomas conducted the American premiere of Heinrich Ignaz Franz von Biber's 53-part Missa Salisburgensis with the instrumentation and forces the composer intended. The August 13 & 14 concert performances of Sémélé will feature the ABS Festival Orchestra, the American Bach Choir, and soloists from the Academy directed by Thomas.

TICKET INFORMATION

Marin Marais' Sémélé
ABS Festival Orchestra with soloists from the Academy
American Bach Choir
Jeffrey Thomas, Conductor

Thursday, August 13, 8:00 p.m. **Added Performance
Friday, August 14, 8:00 p.m.

Tickets: $20–$75
Festival Passes (8 concerts) are also available: $115–$296


For more information, visit sfbachfestival.org or call 415-621-7900.


CALENDAR EDITORS PLEASE NOTE

AMERICAN BACH SOLOISTS FESTIVAL & ACADEMY, August 7–16, 2015
All concerts and free events held at the San Francisco Conservatory of Music, 50 Oak Street, San Francisco

Full schedule at sfbachfestival.org

ABOUT AMERICAN BACH SOLOISTS
The American Bach Soloists engage and inspire audiences through historically informed performances, recordings, and educational programs that emphasize the music of the Baroque, Classical, and Early Romantic eras. Founded in 1989, the ensemble has achieved its vision of assembling the world's finest vocalists and period-instrument performers to bring this brilliant music to life. For more than two decades, Jeffrey Thomas has brought thoughtful, meaningful, and informed perspectives to his performances as Artistic and Music Director of the American Bach Soloists. Fanfare Magazine proclaimed that "Thomas's direction seems just right, capturing the humanity of the music…there is no higher praise for Bach performance."

 [more...]



ABOUT JEFFREY THOMAS
Renowned for his experience, knowledge and sensitivity for the music of the Baroque, Jeffrey Thomas's preparation of the major works of the repertory such as Bach's Mass in B Minor, St. Matthew Passion, and Handel's Messiah have led to inspired, definitive performances that have become synonymous with the ensemble he has led with such distinction, American Bach Soloists. San Francisco Classical Voice said, "Jeffrey Thomas is still pushing the musical Baroque envelope." Before devoting all of his time to conducting, he was one of the first recipients of the San Francisco Opera Company's prestigious Adler Fellowships. Cited by The Wall Street Journal as "a superstar among oratorio tenors," Mr. Thomas's extensive discography of vocal music includes dozens of recordings of major works for Decca, EMI, Erato, Koch International Classics, Denon, Harmonia Mundi, Smithsonian, Newport Classics, and Arabesque. He is a Professor of Music at the University of California, Davis, where he holds the Barbara K. Jackson Chair in Choral Conducting. Mr. Thomas currently hosts two shows on one of the nation's premiere classical music radio stations, KDFC, the most recent major commercial classical station in America to make the transition to public radio. Through worldwide streaming audio, he brings his experience and love for baroque and choral music to a global audience. [more...]
High resolution images and more information, including full artist biographies,
---
American Bach Soloists
44 Page Street, Suite 403
San Francisco, California 94102-5975
US


Read the VerticalResponse marketing policy.