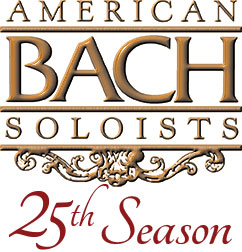 2013-2014
JEFFREY THOMAS
ARTISTIC DIRECTOR
AMERICAN BACH SOLOISTS PRESENT HANDEL'S MESSIAH
IN SAN FRANCISCO'S GRACE CATHEDRAL DECEMBER 11 & 12, 2013

Beloved Holiday tradition and perennially Sold-Out event
features outstanding soloists

December 15 performance at UC Davis's Mondavi Center


SAN FRANCISCO, CA—November 12, 2013— Following last year's record-setting attendance marks, the American Bach Soloists (ABS) return to San Francisco's awe-inspiring Grace Cathedral for their annual performances of Handel's Messiah on December 11 & 12, 2013. Critical praise for last year's presentations was extensive, capturing the experience that attracts music lovers year after year:

"What stood out above all, in this annual rite that drew a huge crowd, was the sense of being addressed directly, personally, confidingly. Conductor Jeffrey Thomas brought it all together, melding his ABS forces with precision and intuitive responsiveness to Handel's capacious 1742 masterwork."

—San Francisco Classical Voice

Artistic and Music Director Jeffrey Thomas and the Baroque specialists of ABS, praised by the Wall Street Journal for their "unique group style, level of artistry and sense of community," are poised to deliver two unforgettable performances of Messiah according to their winning recipe: musical masterpiece, breathtaking setting, inspired interpretation, unrivaled instrumental and choral ensembles, and four sensational soloists:

Shawnette Sulker, soprano
"a bright, superbly controlled soprano with perfectly placed coloratura"—San Francisco Chronicle

Eric Jurenas, countertenor
"a startling revelation"—Grand Rapids Press

Aaron Sheehan, tenor
"superb: his tone classy, clear, and refined, encompassing fluid lyricism and ringing force"—Boston Globe

Mischa Bouvier, baritone
"authoritative and grand, with a soothing, cavernous baritone that can soar to heights of lyric beauty"—Opera News
"For those who treasure Messiah, Thomas' version is revelatory"—Bay Area Reporter

San Francisco Classical Voice recently commented: "Handel's Messiah is one of those durable traditions that are the music industry's equivalent of 'Black Friday.' In the Bay Area, if this is part of your holiday to-do list, then there are five words for you: American Bach Soloists, Grace Cathedral." ABS's highly anticipated performances always sell out in advance. Securing tickets early is the only way to ensure you do not miss out on this beloved holiday tradition.

~~~

Single tickets $20--$94

For more information, visit americanbach.org or call 415-621-7900.

PERFORMANCE SCHEDULE

Wednesday, December 11, 2013, 7:30 pm
Grace Cathedral, 1100 California Street, SAN FRANCISCO
Thursday, December 12, 2013, 7:30 pm
Grace Cathedral, 1100 California Street, SAN FRANCISCO
Sunday, December 15, 2013, 4:00 pm
Robert & Margrit Mondavi Center for the Performing Arts, Mrak Hall Drive, DAVIS

HANDEL: Messiah

Shawnette Sulker, soprano
Eric Jurenas, countertenor
Aaron Sheehan, tenor
Mischa Bouvier, baritone
American Bach Soloists
American Bach Choir
Jeffrey Thomas, conductor


ABOUT AMERICAN BACH SOLOISTS
The American Bach Soloists engage and inspire audiences through historically informed performances, recordings, and educational programs that emphasize the music of the Baroque, Classical, and Early Romantic eras. Founded in 1989, the ensemble has achieved its vision of assembling the world's finest vocalists and period-instrument performers to bring this brilliant music to life. For more than two decades, Jeffrey Thomas has brought thoughtful, meaningful, and informed perspectives to his performances as Artistic and Music Director of the American Bach Soloists. Fanfare Magazine proclaimed that "Thomas's direction seems just right, capturing the humanity of the music…there is no higher praise for Bach performance."

 [more...]



ABOUT JEFFREY THOMAS
Renowned for his experience, knowledge and sensitivity for the music of the Baroque, Jeffrey Thomas's preparation of the major works of the repertory such as Bach's Mass in B Minor, St. Matthew Passion, and Handel's Messiah have led to inspired, definitive performances that have become synonymous with the ensemble he has led with such distinction, American Bach Soloists. San Francisco Classical Voice said, "Jeffrey Thomas is still pushing the musical Baroque envelope."

Before devoting all of his time to conducting, he was one of the first recipients of the San Francisco Opera Company's prestigious Adler Fellowships. Cited by The Wall Street Journal as "a superstar among oratorio tenors," Mr. Thomas's extensive discography of vocal music includes dozens of recordings of major works for Decca, EMI, Erato, Koch International Classics, Denon, Harmonia Mundi, Smithsonian, Newport Classics, and Arabesque. He is a Professor of Music at the University of California, Davis, where he holds the Barbara K. Jackson Chair in Choral Conducting. Mr. Thomas currently hosts two shows on one of the nation's premiere classical music radio stations, KDFC, the most recent major commercial classical station in America to make the transition to public radio. Through worldwide streaming audio, he brings his experience and love for baroque and choral music to a global audience. [more...]
High resolution images and more information, including full artist biographies, available at: americanbach.org/press
---
---
American Bach Soloists
44 Page Street, Suite 403
San Francisco, California 94102-5975
US


Read the VerticalResponse marketing policy.