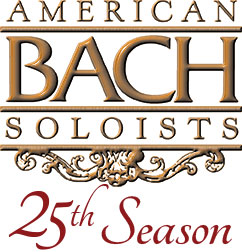 JEFFREY THOMAS
ARTISTIC DIRECTOR
AMERICAN BACH SOLOISTS CELEBRATE THE LASTING MUSICAL INFLUENCE
OF J.S. BACH APRIL 25-28 WITH "BACH'S LEGACY"

Acclaimed American Bach Choir Featured In Program Of
Motets And Choral Works By Bach, Brahms,
Mendelssohn, Sandström, and Nystedt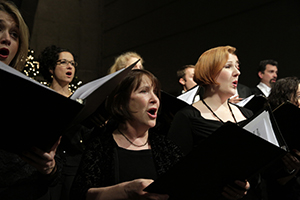 SAN FRANCISCO, CA—March 7, 2014—The 25th consecutive subscription series of the American Bach Soloists (ABS) draws to a close April 25-28 with "Bach's Legacy," a program celebrating the music of J.S. Bach and its lasting influence upon later composers. ABS Artistic and Music Director Jeffrey Thomas has chosen to feature the acclaimed American Bach Choir in a selection of motets and choral works by J. S. Bach, along with choral masterpieces by later composers such as Mendelssohn and Brahms, two composers who were profoundly influenced by the Cantor of Leipzig and sought to emulate his style. Thomas will also lead the combined forces of the choir and the period instrument orchestra of ABS in Bach's exquisite cantata Aus der Tiefen rufe ich, Herr, zu dir ("Out of the depths I call to thee") which, composed at the age of 22, is one of the composer's earliest works.

Since their creation, Bach's motet settings for double chorus, such as Komm, Jesu, komm and
Der Geist hilft unser Schwachheit auf
, have been a source of inspiration for listeners, performers, and several composers. Thomas will direct the American Bach Choir in Johannes Brahms's Fest- und Gedenksprüche and Felix Mendelssohn's Sechs Spüche, beautiful choral works by two of the most famous disciples of the master.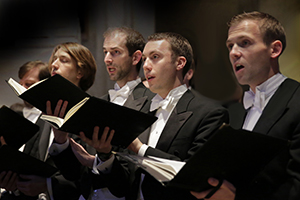 Along with performances of two of Bach's greatest motets, compositions by twentieth century composers that show the influence of those seminal works will also be performed. Komm, Jesu, komm by Swedish composer Sven-David Sandström (b. 1942) utilizes the text and spirit of Bach to create a meditative, modern work for the twenty-first century. Immortal Bach by Norwegian composer Knut Nystedt (b. 1915) is another contemporary work honoring the resonance of Bach's creations through the ages. Utilizing the text of his "Komm süßer Tod, komm selge Ruh" (Come, sweet death, come, blessed rest) and employing multiple choirs that begin and end the text at different points and at different tempi, Nystedt reconceives the balance and simplicity of Bach's original in a complex, yet extremely moving, new setting.

The superlative American Bach Choir, which "sets the standard in choral singing" (San Francisco Classical Voice), and the instrumental forces of ABS, all under the direction of Maestro Thomas, will honor Bach's towering musical legacy in this challenging and uplifting program.


CALENDAR EDITORS PLEASE NOTE


BACH'S LEGACY

Friday, April 25, 2014, 8:00 pm
St. Stephen's Church, 3 Bayview Avenue, BELVEDERE
Saturday, April 26, 2014, 8:00 pm
First Congregational Church, 2345 Channing Way, BERKELEY
Sunday, April 27, 2014, 4:00 pm
St. Mark's Lutheran Church, 1111 O'Farrell, SAN FRANCISCO
Monday April 28, 2014 7:00 pm
Davis Community Church, 412 C Street, DAVIS

BACH: Aus der Tiefen rufe ich, Herr, zu dir, BWV 131
BACH: Komm, Jesu, komm, BWV 229
BACH: Der Geist hilft unser Schwachheit auf, BWV 226
MENDELSSOHN: Sechs Sprüche
BRAHMS: Fest- und Gedenksprüche
SANDSTROM: Komm, Jesu, komm
NYSTEDT: Immortal Bach

American Bach Choir
Jeffrey Thomas, conductor

Single Ticket prices range from $25 to $64.

These performances are generously sponsored in part by Hugh Davies & Kaneez Munjee and a gift from an anonymous donor.

ABOUT AMERICAN BACH SOLOISTS
The American Bach Soloists engage and inspire audiences through historically informed performances, recordings, and educational programs that emphasize the music of the Baroque, Classical, and Early Romantic eras. Founded in 1989, the ensemble has achieved its vision of assembling the world's finest vocalists and period-instrument performers to bring this brilliant music to life. For more than two decades, Jeffrey Thomas has brought thoughtful, meaningful, and informed perspectives to his performances as Artistic and Music Director of the American Bach Soloists. Fanfare Magazine proclaimed that "Thomas's direction seems just right, capturing the humanity of the music…there is no higher praise for Bach performance."

 [more...]



ABOUT JEFFREY THOMAS
Renowned for his experience, knowledge and sensitivity for the music of the Baroque, Jeffrey Thomas's preparation of the major works of the repertory such as Bach's Mass in B Minor, St. Matthew Passion, and Handel's Messiah have led to inspired, definitive performances that have become synonymous with the ensemble he has led with such distinction, American Bach Soloists. San Francisco Classical Voice said, "Jeffrey Thomas is still pushing the musical Baroque envelope."

Before devoting all of his time to conducting, he was one of the first recipients of the San Francisco Opera Company's prestigious Adler Fellowships. Cited by The Wall Street Journal as "a superstar among oratorio tenors," Mr. Thomas's extensive discography of vocal music includes dozens of recordings of major works for Decca, EMI, Erato, Koch International Classics, Denon, Harmonia Mundi, Smithsonian, Newport Classics, and Arabesque. He is a Professor of Music at the University of California, Davis, where he holds the Barbara K. Jackson Chair in Choral Conducting. Mr. Thomas currently hosts two shows on one of the nation's premiere classical music radio stations, KDFC, the most recent major commercial classical station in America to make the transition to public radio. Through worldwide streaming audio, he brings his experience and love for baroque and choral music to a global audience. [more...]
High resolution images and more information, including full artist biographies, available at: americanbach.org/press
---
---
American Bach Soloists
44 Page Street, Suite 403
San Francisco, California 94102-5975
US


Read the VerticalResponse marketing policy.