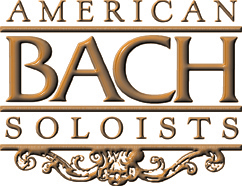 JEFFREY THOMAS ~ ARTISTIC DIRECTOR
AMERICAN BACH SOLOISTS RELEASE DOCUMENTARY
BACH'S MASS IN B MINOR: ANATOMY OF A MASTERWORK

30-Minute Film Provides an Overview of the Mass by the
ABS Musicians Who Perform It Each Summer

SAN FRANCISCO, CA—May 1, 2015—The American Bach Soloists (ABS) announce the YouTube release of their documentary Bach's Mass in B Minor: Anatomy of a Masterwork (americanbach.org/youtube). Using footage from the 2014 ABS Festival & Academy—San Francisco's Summer Bach Festival—this 30-minute film explores the work from the perspectives of ABS musicians who perform it each summer. Interviews with ABS Music Director Jeffrey Thomas, violinist Elizabeth Blumenstock, bassist Steven Lehning, flutist Sandra Miller, oboist Debra Nagy, trumpeter John Thiessen, and others, illuminate the work's history, musical structure, and artistic challenges as well as the rewards of revisiting it annually in performance.

Admired for its colossal dimensions and encyclopedic stylistic variety, the Mass in B Minor is in many ways the pinnacle musical work of the Baroque Era. During the last years of his life, Bach handpicked pieces from more than 35 years of his compositions for inclusion in the Mass in B Minor compilation, a work left for posterity as the epitome of his ideals and inspiration. ABS Music Director Jeffrey Thomas stated, "Bach accepted his world, and found no need to dismiss or look beyond the methodologies for the creation of art, or the answers to life's most difficult questions, that were provided by his culture, by his religion, and by his ancestry. Rather, he sought to perfect all of those ideals and solutions in a way that further glorified what he saw as the ideal expression of life's meaning and purpose."

Drawing instrumental and vocal soloists from its annual Academy—the educational component of the Festival—the performances in Bach's Mass in B Minor: Anatomy of a Masterwork feature the ABS Academy Festival Orchestra and the American Bach Choir directed by Jeffrey Thomas.
ABOUT AMERICAN BACH SOLOISTS
The American Bach Soloists engage and inspire audiences through historically informed performances, recordings, and educational programs that emphasize the music of the Baroque, Classical, and Early Romantic eras. Founded in 1989, the ensemble has achieved its vision of assembling the world's finest vocalists and period-instrument performers to bring this brilliant music to life. For more than two decades, Jeffrey Thomas has brought thoughtful, meaningful, and informed perspectives to his performances as Artistic and Music Director of the American Bach Soloists. Fanfare Magazine proclaimed that "Thomas's direction seems just right, capturing the humanity of the music…there is no higher praise for Bach performance."

 [more...]



ABOUT JEFFREY THOMAS
Renowned for his experience, knowledge and sensitivity for the music of the Baroque, Jeffrey Thomas's preparation of the major works of the repertory such as Bach's Mass in B Minor, St. Matthew Passion, and Handel's Messiah have led to inspired, definitive performances that have become synonymous with the ensemble he has led with such distinction, American Bach Soloists. San Francisco Classical Voice said, "Jeffrey Thomas is still pushing the musical Baroque envelope." Before devoting all of his time to conducting, he was one of the first recipients of the San Francisco Opera Company's prestigious Adler Fellowships. Cited by The Wall Street Journal as "a superstar among oratorio tenors," Mr. Thomas's extensive discography of vocal music includes dozens of recordings of major works for Decca, EMI, Erato, Koch International Classics, Denon, Harmonia Mundi, Smithsonian, Newport Classics, and Arabesque. He is a Professor of Music at the University of California, Davis, where he holds the Barbara K. Jackson Chair in Choral Conducting. Mr. Thomas currently hosts two shows on one of the nation's premiere classical music radio stations, KDFC, the most recent major commercial classical station in America to make the transition to public radio. Through worldwide streaming audio, he brings his experience and love for baroque and choral music to a global audience. [more...]
High resolution images and more information, including full artist biographies,
---
American Bach Soloists
44 Page Street, Suite 403
San Francisco, California 94102-5975
US


Read the VerticalResponse marketing policy.