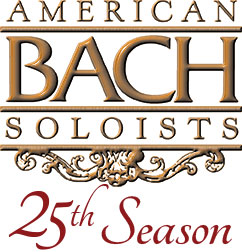 JEFFREY THOMAS
ARTISTIC DIRECTOR
ARTISTIC AND MUSIC DIRECTOR JEFFREY THOMAS WILL BE
RESIDENT SCHOLAR AT GRACE CATHEDRAL DURING MAY AND JUNE 2014

Working on Forthcoming Book on Handel's Messiah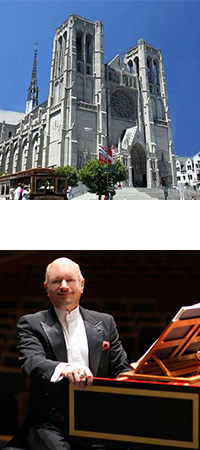 May 12, 2014—San Francisco, CA—American Bach Soloists Artistic & Music Director Jeffrey Thomas will be
Resident Scholar at San Francisco's
Grace Cathedral beginning May 13 and extending through the end of June. During this residency, Thomas will continue work on his forthcoming book on Handel's Messiah.

Grace Cathedral and Handel's Messiah are a familiar combination for Thomas, who has led the American Bach Soloists (ABS) in performances of the 1741 masterwork every December for the last 15 years. These annual performances have become a cherished Northern California tradition and play to sold-out audiences year after year. The 2014 performances will be recorded by Emmy Award winning Zamacona Productions, who will utilize seven High-Definition cameras to capture the event for release on local and national television stations, as well as DVD and BluRay.

ABOUT JEFFREY THOMAS

JEFFREY THOMAS is Artistic and Music Director of the American Bach Soloists, with whom he has directed and conducted recordings of more than 25 cantatas, the Mass in B Minor, St. Matthew Passion, Brandenburg Concertos, and works by Schütz, Pergolesi, Vivaldi, Haydn, and Beethoven. He has appeared with the Baltimore, Berkeley, Boston, Detroit, Houston, National, Rochester, Minnesota, and San Francisco symphony orchestras; with the Vienna Symphony and the New Japan Philharmonic; with virtually every American baroque orchestra; and in Austria, England, Germany, Italy, Japan, and Mexico. He has performed at the Santa Fe Chamber Music Festival, Spoleto USA Festival, Ravinia Festival, Saratoga Performing Arts Center, Berkeley Festival and Exhibition, Boston Early Music Festival, Bethlehem Bach Festival, Göttingen Festival, Tage Alte Musik Festival in Regensburg, E. Nakamichi Baroque Festival in Los Angeles, the Smithsonian Institution, and at the Brooklyn Academy of Music's "Next Wave Festival," and he has collaborated on several occasions as conductor with the Mark Morris Dance Group.

Before devoting all of his time to conducting, he was one of the first recipients of the San Francisco Opera Company's prestigious Adler Fellowships. Cited by The Wall Street Journal as "a superstar among oratorio tenors," Mr. Thomas' extensive discography of vocal music includes dozens of recordings of major works for Decca, EMI, Erato, Koch International Classics, Denon, Harmonia Mundi, Smithsonian, Newport Classics, and Arabesque. Mr. Thomas is an avid exponent of contemporary music, and has conducted the premieres of new operas, including David Conte's Gift of the Magi and Firebird Motel, and premiered song cycles of several composers, including two cycles written especially for him. He has performed lieder recitals at the Smithsonian, song recitals at various universities, and appeared with his own vocal chamber music ensemble, L'Aria Viva.

Mr. Thomas currently hosts two shows on one of the nation's premiere classical music radio stations, KDFC. Through world-wide streaming audio, he brings his experience and love for Baroque and choral music to a global audience.

Educated at the Oberlin Conservatory of Music, Manhattan School of Music, and the Juilliard School of Music, with further studies in English literature at Cambridge University, he has taught at the Amherst Early Music Workshop, Oberlin College Conservatory Baroque Performance Institute, San Francisco Early Music Society, and Southern Utah Early Music Workshops, presented master classes at the New England Conservatory of Music, San Francisco Conservatory of Music, SUNY at Buffalo, Swarthmore College, and Washington University, been on the faculty of Lehigh University in Pennsylvania, and was artist-in-residence at the University of California, where he is now professor of music (Barbara K. Jackson Chair in Choral Conducting) and director of choral ensembles in the Department of Music at UC Davis. He was a UC Davis Chancellor's Fellow from 2001 to 2006; and the Rockefeller Foundation awarded him a prestigious Residency at the Bellagio Study and Conference Center at Villa Serbelloni for April 2007, to work on his manuscript, "Handel's Messiah: A Life of Its Own."
High resolution images and more information, including full artist biographies, available at: americanbach.org/press
---
---
American Bach Soloists
44 Page Street, Suite 403
San Francisco, California 94102-5975
US


Read the VerticalResponse marketing policy.