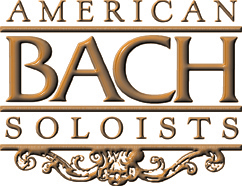 JEFFREY THOMAS ~ ARTISTIC DIRECTOR
FOR IMMEDIATE RELEASE

PRESS & MEDIA RELATIONS:
Contact: Jeff McMillan
(415) 621-7900 ext. 204
jmcmillan@americanbach.org

AMERICAN BACH SOLOISTS PRESENT
EASTER & ASCENSION ORATORIOS APRIL 22-25

Music Director Jeffrey Thomas conducts exuberant program of
celebratory works by Bach, Buxtehude, and Kuhnau


American Bach Soloists: Easter & Ascension Oratorios
Friday, April 22 2016 8:00 pm – St. Stephen's Church, Belvedere
Saturday, April 23 2016 8:00 pm – First Congregational Church, Berkeley
Sunday, April 24 2016 4:00 pm – St. Mark's Lutheran Church, San Francisco
Monday, April 25 2016 7:00 – Davis Community Church, Davis
Tickets: $30-$72 / americanbach.org / (415) 621-7900

MARCH 22, 2016--SAN FRANCISCO, CA--The 2016 subscription season of American Bach Soloists continues with "Easter & Ascension Oratorios," a program featuring two extraordinary oratorios by Johann Sebastian Bach and other festive works from the German Baroque. ABS Music Director Jeffrey Thomas conducts performances in the Bay Area and Davis from April 22-25, 2016.

J.S. Bach composed impressive oratorios for three important occasions within the Lutheran calendar: Christmas, Easter, and the Feast of the Ascension. Completing the cycle begun in December when the "Christmas Oratorio" was performed in San Francisco and Davis, ABS will perform the composer's "Easter Oratorio" (Oster-Oratorium, BWV 249) and "Ascension Oratorio" (Lobet Gott in seinen Reichen, BWV 11). Pulling out all the stops for these jubilant works--trumpets, timpani, flutes, oboes, recorders, strings, and voices--Bach composed joyful, extroverted music, tempered by exquisite moments of reflective calm. Along with these masterworks from Bach's mature years in Leipzig, Thomas and his ABS forces will perform Ihr Himmel jubiliert von oben ("Your heaven rejoices from on high") a 1717 Ascension cantata by Johann Kuhnau, Bach's Leipzig predecessor, and Heut triumphieret Gottes Sohn ("Today God's Son Triumphs"), a work for Easter by one of Bach's important musical influences, Dieterich Buxtehude. Boasting a diversity of instrumental colors and textures, along with some of the most exuberant choral music of the period, "Easter & Ascension Oratorios" presents peaks of musical excellence achieved by these masters.



A quartet of vocal soloists—recognized and applauded for their interpretive powers in Early Music, especially in the music of J.S. Bach—will join ABS for this celebratory program. Acclaimed for her "considerable coloristic resources" by the Philadelphia Inquirer, soprano Clara Rotttsolk is a frequent soloist with many of the nation's leading Baroque ensembles. Last season, she appeared with ABS in Bach's St. Matthew Passion. Countertenor Eric Jurenas has emerged as one of the leading young countertenors of his generation. Praised for his "beautiful, well-supported tone and compelling expression" by the New York Times, Jurenas is a former ABS Academy participant and featured soloist on the new ABS film, Handel's Messiah in Grace Cathedral. Paris-based tenor Zachary Wilder made a memorable ABS debut last season as Damon in Handel's Acis and Galatea. Already represented on numerous highly acclaimed recordings of Baroque repertory, this young tenor was singled out by the Boston Globe for his "unearthly calm and authority." Bass Joshua Copeland has appeared with ABS as a soloist and as Christus in Bach's St. Matthew Passion. Of Copeland, San Francisco Classical Voice admired "the restrained dignity of his consistently lyrical voice, which could serve as a role model for singing authentically."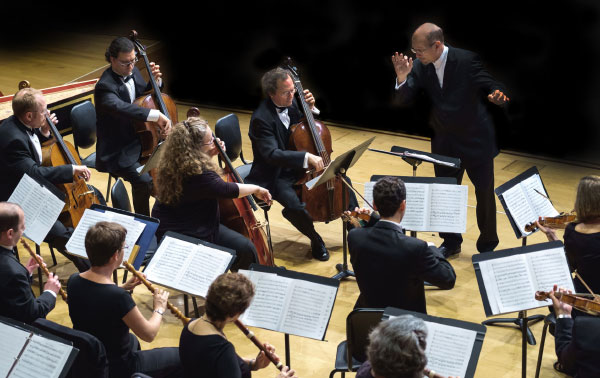 The performances of ABS under Jeffrey Thomas consistently please audiences and earn critical acclaim. The San Francisco Chronicle recently stated, "Jeffrey Thomas, the company's co-founder and longtime artistic and music director, led a performance of such vigor and dramatic urgency," and Musical America said, "Thomas led an unflaggingly stylish performance."

Tickets: $30-$72

Discounted tickets available for students (21 and under with Valid ID). Please call the ABS Office, (415) 621-7900.

CALENDAR EDITORS PLEASE NOTE

American Bach Soloists present Easter & Ascension Oratorios

BACH: "Easter Oratorio" (Oster-Oratorium, BWV 249)
BUXTEHUDE: Heut triumphieret Gottes Sohn
BACH: "Ascension Oratorio" (Lobet Gott in seinen Reichen, BWV 11)
KUHNAU: Ihr Himmel jubiliert von oben

Clara Rottsolk, soprano
Eric Jurenas, countertenor
Zachary Wilder, tenor
Joshua Copeland, bass
American Bach Soloists
American Bach Choir
Jeffrey Thomas, conductor

Friday, April 22 2016 8:00 pm
St. Stephen's Church, 3 Bayview Avenue, BELVEDERE

Saturday, April 23 2016 8:00 pm
First Congregational Church, 2345 Channing Way, BERKELEY

Sunday, April 24 2016 4:00 pm
St. Mark's Lutheran Church, 1111 O'Farrell Street, SAN FRANCISCO

Monday, April 25 2016 7:00 pm
Davis Community Church, 412 C Street, DAVIS


---
ABOUT AMERICAN BACH SOLOISTS
The American Bach Soloists engage and inspire audiences through historically informed performances, recordings, and educational programs that emphasize the music of the Baroque, Classical, and Early Romantic eras. Founded in 1989, the ensemble has achieved its vision of assembling the world's finest vocalists and period-instrument performers to bring this brilliant music to life. For more than two decades, Jeffrey Thomas has brought thoughtful, meaningful, and informed perspectives to his performances as Artistic and Music Director of the American Bach Soloists. Fanfare Magazine proclaimed that "Thomas's direction seems just right, capturing the humanity of the music…there is no higher praise for Bach performance."

 [more...]



ABOUT JEFFREY THOMAS
Renowned for his experience, knowledge and sensitivity for the music of the Baroque, Jeffrey Thomas's preparation of the major works of the repertory such as Bach's Mass in B Minor, St. Matthew Passion, and Handel's Messiah have led to inspired, definitive performances that have become synonymous with the ensemble he has led with such distinction, American Bach Soloists. San Francisco Classical Voice said, "Jeffrey Thomas is still pushing the musical Baroque envelope." Before devoting all of his time to conducting, he was one of the first recipients of the San Francisco Opera Company's prestigious Adler Fellowships. Cited by The Wall Street Journal as "a superstar among oratorio tenors," Mr. Thomas's extensive discography of vocal music includes dozens of recordings of major works for Decca, EMI, Erato, Koch International Classics, Denon, Harmonia Mundi, Smithsonian, Newport Classics, and Arabesque. He is a Professor of Music at the University of California, Davis, where he holds the Barbara K. Jackson Chair in Choral Conducting. Mr. Thomas currently hosts two shows on one of the nation's premiere classical music radio stations, KDFC, the most recent major commercial classical station in America to make the transition to public radio. Through worldwide streaming audio, he brings his experience and love for baroque and choral music to a global audience. [more...]
High resolution images and more information, including full artist biographies,
---
American Bach Soloists
44 Page Street, Suite 403
San Francisco, California 94102-5975
US


Read the VerticalResponse marketing policy.