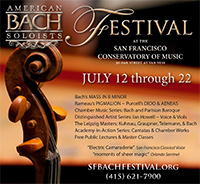 The 2012 American Bach Soloists Festival & Academy concluded on July 22 with the second of two performances of Bach's monumental Mass in B Minor, following eleven densely packed days of performances, lectures, and master classes at the San Francisco Conservatory of Music.
The two-week Festival began with two ABS Chamber Series concerts: an all-Bach program and an evening focused on the French Baroque. William Sharp's stirring performance of Bach's Ich habe genug and an exciting musical conversation in Clérambault's Chaconne in D Major were but two of the myriad highlights underscoring why the members of ABS have been called "some of the greatest period-instrument players in the world" (San Francisco Classical Voice).
On Saturday afternoon, July 14th, guest dance scholar Sandra Noll Hammond led an interactive colloquium and workshop ("Invitation to the Dance") that was mutually informative and fun for both ABS Academy participants and the public. That evening's concert, "The Leipzig Masters," had Jeffrey Thomas leading American Bach Soloists and American Bach Choir in presentation of works by composers the Leipzig town council in the 1720s would have preferred to have hired over Bach.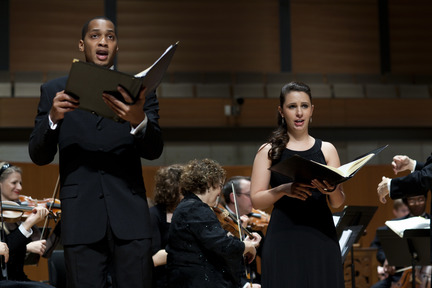 Sunday afternoon, July 15, brought the Academy students together with the faculty and the ABS Choir for the first of the two performances of Bach's Mass in B Minor. The Academy is a highly competitive training program boasting an impressive roster of talented artists, all of whom were featured throughout the second week of the festival.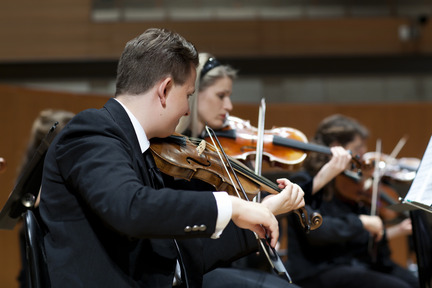 Throughout the first several days of the second week, students took the spotlight in three Academy-in-Action concerts of Baroque chamber music and Bach cantatas. As the week progressed the public was treated to free and informative lectures and master classes presented by the Academy faculty.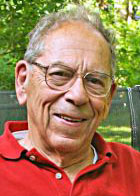 On July 21, Robert Commanday—celebrated music critic, conductor, and founding editor of San Francisco Classical Voice—gave a lecture titled "A Millennium in 50 Years…The Discovery of Early Music," laying out for all of us, the rich history of the early music movement in the San Francisco Bay Area and beyond. Mr. Commanday's brilliant presentation was followed by tributes offered by Jon Finck (Director of Communication, San Francisco Opera), Michael Zwiebach (Senior Editor, SFCV.org), and Tom Watrous (past president of SFCV.org), and all celebrated the splendid afternoon at a reception held in Commanday's honor.
The second weekend provided an awe-inspiring line-up of events: Friday's double-bill of Rameau's rarely performed Pigmalion and Purcell's perennial classic Dido & Aeneas was presented to a sold-out audience. Saturday's Distinguished Artist Series concert brought together countertenor Ian Howell with a consort of violas da gamba formed from the roster of the Academy alongside ABS musicians in a performance of music for voice, viols, and strings that spanned the 16th and 17th centuries. The final performance of Bach's Mass in B Minor brought this year's Festival to an inspiring close.
"Once again, ABS brings a fresh interpretation of
Bach's B Minor Mass setting"
---
2012/13 Single Tickets now on sale -
Instant Savings for Advance Online Orders
Music Director Jeffrey Thomas and the American Bach Soloists are proud to announce their
2012-13
Season of some of the Baroque's finest masterworks by Bach, Handel, Vivaldi, Corelli, and Charpentier. Among the highlights of the 24th season is a holiday concert,
Gloria! ~ A Baroque Christmas with ABS
, on December 15 at St. Stephen's Church, Belvedere. Joining ABS will be the Grammy Award-winning San Francisco Girls Chorus and the acclaimed American Bach Choir. Also, for 2012, we expand our offerings of
Handel's Messiah
to three nights in Grace Cathedral, December 20, 21, & 22, so you'll have more opportunities to purchase the best seats.
Our subscription season opens in January with
Bach's St. John Passion
beginning at 7:30pm in Belvedere and Berkeley, at 4pm in San Francisco, and at 7pm in Davis. We continue in March with
Bach, Handel, & Vivaldi
– a program featuring Handel's
Dixit Dominus
, Bach's Concerto for Oboe d'amore, and Vivaldi's
Beatus vir
and Concerto for Viola d'amore. The season concludes in May with a program of stunning Bach arias along with two of Handel's most brilliant vocal works,
Apollo & Dafne and Silete venti
. For the March and May programs, Belvedere and Berkeley performances will begin at 8pm, San Francisco performances at 4pm, and Davis performances at 7pm. Please note the new start times in San Francisco and Davis.
By purchasing your single tickets in advance, you immediately save 5%. In addition to great savings for single concerts, by purchasing a subscription now you have the opportunity to purchase the best seats for all concerts including the special holiday concert at St. Stephen's and Messiah. If you have any questions, please feel free to call the office, 415-621-7900.

---
2012 Gala - October 6, 2012
ABS's tenth annual gala will take place on October 6, beginning at 5pm, at St. Stephen's, Belvedere. This year's performance by ABS will be Bach's Cantata 213
Laßt uns sorgen, laßt uns wachen
(a musical drama subtitled "Hercules at the Crossroad"). Among this year's auction highlights will be trips to Paris, South Dakota, and the Dominican Republic, as well as tickets to many of San Francisco's performing arts organizations and gift certificates to many of the Bay Area's finest restaurants. For more information on how you can attend this year's gala, please visit
americanbach.org/gala
. Registration information and complete details of both silent and live auction items will be available there. New items are being added daily, so please check back often.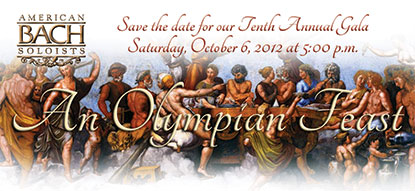 ---




2012-2013 CONCERT SCHEDULE
October 6 2012
ANNUAL GALA ~ AN OLYMPIAN FEAST

December 15 2012
GLORIA ~ A BAROQUE CHRISTMAS WITH ABS

with the San Francisco Girls Chorus & American Bach Choir

Vivaldi: Gloria
Handel: Laudate pueri Dominum
Corelli: "Christmas Concerto"
Charpentier: In Nativitatem


December 20-22 2012
HANDEL'S MESSIAH

Mary Wilson
Ian Howell
Wesley Rogers
Jesse Blumberg

January 25-28 2013
BACH'S ST. JOHN PASSION
Clara Rottsolk
Derek Chester
Aaron Sheehan
Joshua Copeland
William Sharp

March 1-4 2013
BACH, HANDEL, & VIVALDI
Handel: Dixit Dominus
Vivaldi: Beatus vir

Bach: Concerto for Oboe d'amore
Vivaldi: Concerto for Viola d'amore
Debra Nagy
Elizabeth Blumenstock
Kathryn Mueller
Danielle Reutter-Harrah
Robert Stafford

May 3-6 2013
HANDEL'S APOLLO & DAFNE

Bach: Arias for Bass
Handel: Silete venti
Mary Wilson
Mischa Bouvier