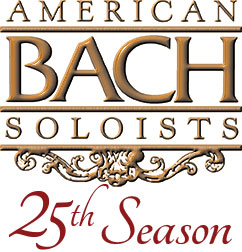 2013-2014
JEFFREY THOMAS
ARTISTIC DIRECTOR
2014 AMERICAN BACH SOLOISTS FESTIVAL & ACADEMY
TICKETS ON SALE FEBRUARY 1

5th Annual Festival "Bach's Inspiration" July 11-20
at the San Francisco Conservatory of Music

Highlights include Bach's arrangement of the
Pergolesi Stabat Mater, Handel's L'Allegro, il Penseroso ed il Moderato,
and two performances of Bach's Mass in B Minor

Distinguished Artist Recital by soprano Mary Wilson



SAN FRANCISCO, CA—February 6, 2014—The American Bach Soloists (ABS) are pleased to announce that tickets for the 2014 American Bach Soloists Festival & Academy are now on sale. Titled "Bach's Inspiration," the 2014 Festival will trace the influences of Italian, French, and North German composers on J.S. Bach's life and music. Works by Vivaldi, Handel, Buxtehude, and Bach's forbears will be presented alongside masterworks by ABS's namesake in a Festival line-up that promises to be the best in the five-year history of the Festival.

Festival highlights include our annual performances of Bach's Mass in B Minor along with Handel's L'Allegro, il Penseroso ed il Moderato, Vivaldi's Concerto in B Minor for Four Violins, Kuhnau's Wie schön leuchtet der Morgenstern, Bach's Brandenburg Concerto No. 2, and a work by Bach's elder cousin Johann Christoph Bach, Es erhub sich ein Striet. The performances of the Mass, a popular and always highly anticipated Festival tradition, will be performed by the ABS Festival Orchestra—an ensemble comprised of ABS and members of the ABS Academy—under the direction of Jeffrey Thomas.

The 2014 Festival opens with
"Bach's Inspiration" (Parts I and II on two consecutive evenings)
featuring the American Bach Soloists including soprano Mary Wilson, countertenor Eric Jurenas, and tenor Derek Chester, along with Elizabeth Blumenstock (violin & viola), Max van Egmond (voice), Corey Jamason (harpsichord), Steven Lehning (violone), Judith Malafronte (voice), Robert Mealy (violin & viola), Sandra Miller (flute), Debra Nagy (oboe), William Sharp (voice), Kenneth Slowik (viola da gamba & violoncello), William Skeen (violoncello), John Thiessen (trumpet), and Jeffrey Thomas (conductor).

The opening night concert on Friday, July 11, showcases composers who greatly influenced J.S. Bach including Dieterich Buxtehude, Johann Christoph Bach, Frederick the Great, and Johann Kuhnau. Rounding out this program will be Tilge, Höchster, meine Sünden, an extraordinary transcription and arrangement of Pergolesi's Stabat Mater, with vocal soloists Mary Wilson and Eric Jurenas.

On Saturday, July 12, festivalgoers will not want to miss a thrilling and diverse program featuring Bach's second Brandenburg Concerto and the trio from his "Musical Offering," as well as works by Johann Adam Reincken, Nicolaus Bruhns, Melchior Hoffmann, and Buxtehude.

A regular feature of the ABS Festival is a concert performance of an opera or oratorio from the Baroque era. On Friday, July 18, Jeffrey Thomas will conduct the ABS Festival Orchestra and vocal soloists from the Academy in a performance of Handel's pastoral ode, L'Allegro, il Penseroso ed il Moderato.

The Distinguished Artist Recital on July 19 will again feature soprano Mary Wilson, an extraordinary artist and beloved favorite of ABS audiences. Wilson will sing virtuoso works including Vivaldi's In furore iustissimae irae, Bach's Non sa che sia dolore, and Tra le fiamme by Handel, the composer whose works Wilson is renowned for interpreting with brilliance and compassion.

The second week of the Festival will open with three Academy-In-Action concerts July 14-16. These concerts offer unique opportunities to hear the Academy participants in beautiful and rarely performed works. A Bach Concerto for Three Harpsichords will be among the many exciting works performed by the outstanding next generation of historically informed performance virtuosi.

Following a banner year for the ABS Festival in 2013 when every main stage concert sold out, patrons are strongly encouraged to purchase their tickets early. As an attraction for music fans from all over the country and beyond, the 2014 ABS Festival & Academy—San Francisco's Summer Bach Festival—promises to be one of this summer's greatest highlights.

The Festival website is: sfbachfestival.org or americanbach.org/sfbachfestival


CALENDAR EDITORS PLEASE NOTE


AMERICAN BACH SOLOISTS FESTIVAL & ACADEMY
All Concerts held at the San Francisco Conservatory of Music
50 Oak Street, San Francisco


Friday, July 11: Opening Night dinner at Dobbs Ferry Restaurant
409 Gough Street, San Francisco

Friday, July 11: Opening Night
Bach's Inspiration – Part I
J.C. BACH: Es erhub sich ein Striet
BUXTEHUDE: Jesu, meines lebens Leben, BuxWV 62
KUHNAU: Wie Schön leuchtet der Morgenstern
FREDERICK THE GREAT: Concerto in C Major for Flute and Strings
BACH: Tilge, Höchster, meine Sünden, BWV 1083 (Bach's arrangement of Pergolesi's Stabat Mater)
American Bach Soloists; American Bach Choir; Mary Wilson, soprano; Eric Jurenas, countertenor, Derek Chester, tenor
Jeffrey Thomas, conductor

Saturday, July 12
Bach's Inspiration – Part II
REINCKEN: Sonata from "Hortus Musicus"
BRUHNS: Mein Herz is bereit
BUXTEHUDE: Mit Fried und Freud & Klaglied, BuxWV 76
J.S. BACH: Brandenburg Concerto No. 2 in F Major, BWV 1047
HOFFMANN: Meine Seele rühmet und preis (formerly attributed to Bach as BWV 189)
J.S. BACH: Amore traditore, BWV 203
J.S. BACH: Musical Offering Trio Sonata, BWV 1079
American Bach Soloists
Jeffrey Thomas, conductor

Sunday, July 13
J.S. BACH: Mass in B Minor, BWV 232
ABS Festival Orchestra; American Bach Choir
Jeffrey Thomas, conductor

Monday – Wednesday, July 14-16
Academy-in-Action concerts

Friday, July 18
HANDEL: L'Allegro, il Penseroso ed il Moderato, HWV 55
ABS Festival Orchestra; American Bach Choir
Jeffrey Thomas, conductor

Saturday, July 19: Distinguished Artist Series: Mary Wilson, soprano
HANDEL: Tra le fiamme, HWV 170
BACH: Concerto after Vivaldi, BWV 972
J.S. BACH: Non sa che sia dolore, BWV 209
VIVALDI: Concerto in B Minor for 4 Violins, RV 580
VIVALDI: In furore iustissimae irae, RV 626
Mary Wilson, soprano

Sunday, July 20
J.S. BACH: Mass in B Minor, BWV 232
ABS Festival Orchestra; American Bach Choir
Jeffrey Thomas, conductor


Subscriptions range from $127 to $295
Single tickets range from $10 to $64

For more information, visit americanbach.org or call 415-621-7900.


ABOUT AMERICAN BACH SOLOISTS
The American Bach Soloists engage and inspire audiences through historically informed performances, recordings, and educational programs that emphasize the music of the Baroque, Classical, and Early Romantic eras. Founded in 1989, the ensemble has achieved its vision of assembling the world's finest vocalists and period-instrument performers to bring this brilliant music to life. For more than two decades, Jeffrey Thomas has brought thoughtful, meaningful, and informed perspectives to his performances as Artistic and Music Director of the American Bach Soloists. Fanfare Magazine proclaimed that "Thomas's direction seems just right, capturing the humanity of the music…there is no higher praise for Bach performance."

 [more...]



ABOUT JEFFREY THOMAS
Renowned for his experience, knowledge and sensitivity for the music of the Baroque, Jeffrey Thomas's preparation of the major works of the repertory such as Bach's Mass in B Minor, St. Matthew Passion, and Handel's Messiah have led to inspired, definitive performances that have become synonymous with the ensemble he has led with such distinction, American Bach Soloists. San Francisco Classical Voice said, "Jeffrey Thomas is still pushing the musical Baroque envelope."

Before devoting all of his time to conducting, he was one of the first recipients of the San Francisco Opera Company's prestigious Adler Fellowships. Cited by The Wall Street Journal as "a superstar among oratorio tenors," Mr. Thomas's extensive discography of vocal music includes dozens of recordings of major works for Decca, EMI, Erato, Koch International Classics, Denon, Harmonia Mundi, Smithsonian, Newport Classics, and Arabesque. He is a Professor of Music at the University of California, Davis, where he holds the Barbara K. Jackson Chair in Choral Conducting. Mr. Thomas currently hosts two shows on one of the nation's premiere classical music radio stations, KDFC, the most recent major commercial classical station in America to make the transition to public radio. Through worldwide streaming audio, he brings his experience and love for baroque and choral music to a global audience. [more...]
High resolution images and more information, including full artist biographies, available at: americanbach.org/press
---
---
American Bach Soloists
44 Page Street, Suite 403
San Francisco, California 94102-5975
US


Read the VerticalResponse marketing policy.