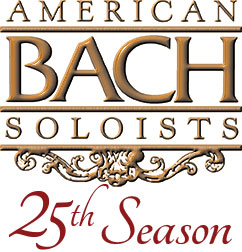 2013-2014
JEFFREY THOMAS
ARTISTIC DIRECTOR
AMERICAN BACH SOLOISTS PRESENT
BACH'S HERCULES FEBRUARY 21-24, 2014

25th Season Celebration Continues With An All-Bach Program Including
Missa Brevis, Hercules At The Crossroads Cantata, and Orchestral Suite


SAN FRANCISCO, CA, January 21, 2014—American Bach Soloists 25th season celebration continues February 21-24 with "Bach's Hercules," an all-Bach program of favorite works chosen by ABS Artistic and Music Director Jeffrey Thomas. The program showcases the composer's genius for creating masterpieces within different musical formats and settings: liturgical, intimate instrumental suite, and dramatic secular cantata. Thomas and his orchestra of Baroque specialists, "some of the greatest period-instrument players in the world" (San Francisco Classical Voice), will present this diverse and engaging program in four Northern California venues: Belvedere, Berkeley, San Francisco, and Davis.

"Bach's Hercules" features three exquisite works: the Missa Brevis in G Major, the Orchestral Suite No. 1 in C Major, and Cantata 213.
Laßt uns sorgen, laßt uns wachen,
about the mythic Hercules, includes an opening chorus, arias, and duets that were later utilized in the "Christmas Oratorio."

Elegantly streamlined, the Missa Brevis in G Major is one of Bach's four "Little Masses" or settings of the Gloria and Kyrie portions of the Mass. Thomas will direct the esteemed American Bach Choir and four superb soloists: soprano Kathryn Mueller, countertenor Ian Howell, tenor Derek Chester, and baritone Jesse Blumberg. The Orchestral Suite (or Ouverture) in C Major is a tour de force for the ensemble's two oboes and bassoon, which will be played by oboists Debra Nagy and Stephen Bard and bassoonist Dominic Teresi.

The vocal and instrumental forces take on altogether different roles in the secular cantata, Laßt uns sorgen, laßt uns wachen, which is also known as "Hercules at the Crossroads." This morality tale depicts the famous Greek hero being given a choice between a virtuous path and one of indulgence. Composed to celebrate the 11th birthday of Crown Prince Frederick Christian--who went on to rule Saxony with extraordinary grace, diplomacy, and civility--the work praised the young prince's wisdom and, by example, his musical gifts. Countertenor Ian Howell will portray the role of the conflicted hero, Hercules. Well known to ABS audiences for the 2009 recording 1685 and the Art of Ian Howell, Howell was the Distinguished Artist at the 2012 ABS Festival and Academy and has been acclaimed for his moving performances of Handel's Messiah with ABS. As Lust and Virtue respectively, Kathryn Mueller and Derek Chester will attempt to sway Hercules like a devil or angel on either shoulder. Mueller has been praised by SFCV for her "lovely tone and easy agility," while the Miami Herald hailed Chester for his effortless coloratura and firm, secure voice. Baritone Jesse Blumberg, who Opera Today praised for his "richly nuanced voice" and the "stage presence of a veteran actor," sings the role of the god Mercury whose final aria closes the work with an appeal sung directly to the Prince and the audience alike.


CALENDAR EDITORS PLEASE NOTE


BACH'S HERCULES

Friday, February 21, 2014, 8:00 pm
St. Stephen's Church, 3 Bayview Avenue, BELVEDERE
Saturday, February 22, 2014, 8:00 pm
First Congregational Church, 2345 Channing Way, BERKELEY
Sunday, February 23, 2014, 4:00 pm
St. Mark's Lutheran Church, 1111 O'Farrell, SAN FRANCISCO
Monday February 24, 2014 7:00 pm
Davis Community Church, 412 C Street, DAVIS

BACH: Missa Brevis in G Major, BWV 236
BACH: Orchestral Suite No. 1 in C Major, BWV 1066
BACH: Laßt uns sorgen, laßt uns wachen (known as "Hercules at the Crossroads"), BWV 213

Kathryn Mueller, soprano
Ian Howell, countertenor
Derek Chester, tenor
Jesse Blumberg, baritone
American Bach Choir
Jeffrey Thomas, conductor

Single Tickets range from $20 to $64

These performances are generously sponsored in part by Jan Goldberg and a gift from an anonymous donor.

ABOUT AMERICAN BACH SOLOISTS
The American Bach Soloists engage and inspire audiences through historically informed performances, recordings, and educational programs that emphasize the music of the Baroque, Classical, and Early Romantic eras. Founded in 1989, the ensemble has achieved its vision of assembling the world's finest vocalists and period-instrument performers to bring this brilliant music to life. For more than two decades, Jeffrey Thomas has brought thoughtful, meaningful, and informed perspectives to his performances as Artistic and Music Director of the American Bach Soloists. Fanfare Magazine proclaimed that "Thomas's direction seems just right, capturing the humanity of the music…there is no higher praise for Bach performance."

 [more...]



ABOUT JEFFREY THOMAS
Renowned for his experience, knowledge and sensitivity for the music of the Baroque, Jeffrey Thomas's preparation of the major works of the repertory such as Bach's Mass in B Minor, St. Matthew Passion, and Handel's Messiah have led to inspired, definitive performances that have become synonymous with the ensemble he has led with such distinction, American Bach Soloists. San Francisco Classical Voice said, "Jeffrey Thomas is still pushing the musical Baroque envelope."

Before devoting all of his time to conducting, he was one of the first recipients of the San Francisco Opera Company's prestigious Adler Fellowships. Cited by The Wall Street Journal as "a superstar among oratorio tenors," Mr. Thomas's extensive discography of vocal music includes dozens of recordings of major works for Decca, EMI, Erato, Koch International Classics, Denon, Harmonia Mundi, Smithsonian, Newport Classics, and Arabesque. He is a Professor of Music at the University of California, Davis, where he holds the Barbara K. Jackson Chair in Choral Conducting. Mr. Thomas currently hosts two shows on one of the nation's premiere classical music radio stations, KDFC, the most recent major commercial classical station in America to make the transition to public radio. Through worldwide streaming audio, he brings his experience and love for baroque and choral music to a global audience. [more...]
High resolution images and more information, including full artist biographies, available at: americanbach.org/press
---
---
American Bach Soloists
44 Page Street, Suite 403
San Francisco, California 94102-5975
US


Read the VerticalResponse marketing policy.