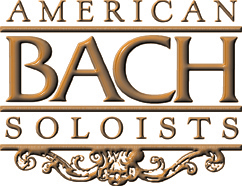 JEFFREY THOMAS ~ ARTISTIC DIRECTOR
FOR IMMEDIATE RELEASE

PRESS & MEDIA RELATIONS:
Contact: Jeff McMillan
(415) 621-7900 ext. 204
jmcmillan@americanbach.org

AMERICAN BACH SOLOISTS PRESENT ALEXANDER'S FEAST FEBRUARY 26-29

Jeffrey Thomas conducts period-instrument specialists, the American Bach Choir, and vocal soloists in Handel's 1736 ode about Alexander the Great and The Power of Music

Performances will include two interpolated instrumental concertos

Acclaimed Baroque harpist Maria Christina Cleary will make her ABS debut in
Handel's Harp Concerto in B-Flat Major


American Bach Soloists: Handel's Alexander's Feast
Friday, February 26 2016 8:00 pm - St. Stephens Church, BELVEDERE
Saturday, February 27 2016 8:00 pm - First Congregational Church, BERKELEY
Sunday, February 28 2016 4:00 pm - St. Mark's Lutheran Church, SAN FRANCISCO
Monday, February 29 2016 7:00 pm - Davis Community Church, DAVIS
Tickets: $30-$72 / americanbach.org / (415) 621-7900

JANUARY 19, 2016--SAN FRANCISCO, CA--American Bach Soloists continue their 27th annual subscription season with four performances of Handel's powerful Alexander's Feast in the Bay Area and in Davis from February 26-29.

Based on a poem by John Dryden subtitled "The Power of Music," Handel's musical ode for orchestra, chorus, and vocal soloists recounts a banquet held by Alexander the Great in the conquered city of Persepolis. Through his performance, the musician Timotheus moves the great military commander through a course of emotions until he is compelled to seek revenge for his perished Greek soldiers, killed by the Persian King Darius III. Handel's richly scored setting expresses the narrative in a direct manner that is, at times, surprising in its intensity.

ABS Music Director Jeffrey Thomas leads the period-instrument virtuosi of ABS, the American Bach Choir, and a trio of vocal soloists in this evening-length work of some of Handel's most ambitious and glorious music. The American Bach Choir, praised for "its round and transparent tone" by San Francisco Classical Voice, will perform the thrilling choruses that punctuate the work, such as "The many rend the skies" and "Let old Timotheus yield the prize." Along with the commentary provided by the choruses, the composer assigns Dryden's narrative to three soloists who relate the power of music to excite Alexander's passions in a series of expressive recitatives and arias that amplify the effect of the words. The vocal soloists for Alexander's Feast will be soprano Anna Gorbachyova (making her ABS debut) whose "captivating presentation with effortless coloratura" was praised by the Westdeutsche Allgemeine Zeitung, Grammy winning tenor Aaron Sheehan who "set a standard for exposed, emotional singing" according to the Berkshire Review, and esteemed baritone William Sharp, "a sensitive and subtle singer" (The New York Times).

Following Handel's tradition of inserting instrumental concertos between the work's different parts, ABS will interpolate the composer's Concerto Grosso in C Major and his Harp Concerto in B-Flat Major. Acclaimed early music harpist Maria Christina Cleary, "a pioneer of period harp practice" (The Oregonian), will make her ABS debut as the soloist in the harp concerto. The "ace baroque instrumentalists of American Bach Soloists" (Opera News), will perform Handel's Concerto Grosso in C Major to open the second half of the program.



Single Tickets: $30-$72
Tickets for ABS subscribers $26-$61

Discounted tickets available for students (21 and under with Valid ID). Please call the ABS Office, (415) 621-7900.

CALENDAR EDITORS PLEASE NOTE

American Bach Soloists present Alexander's Feast

Handel: Alexander's Feast
Handel: Concerto Grosso in C Major
Handel: Harp Concerto in B-Flat Major

Anna Gorbachyova, soprano [Debut]
Aaron Sheehan, tenor
William Sharp, baritone
Maria Christina Cleary, harp [Debut]
American Bach Soloists
American Bach Choir
Jeffrey Thomas, conductor

Friday, February 26 2016 8:00 pm
St. Stephen's Church, 3 Bayview Avenue BELVEDERE

Saturday, February 27 2016 8:00 pm
First Congregational Church, 2345 Channing Way, BERKELEY

Sunday, February 28 2016 4:00 pm
St. Mark's Lutheran Church, 1111 O'Farrell Street, SAN FRANCISCO

Monday, February 29 2016 7:00 pm
Davis Community Church, 412 C Street, DAVIS

---
ABOUT AMERICAN BACH SOLOISTS
The American Bach Soloists engage and inspire audiences through historically informed performances, recordings, and educational programs that emphasize the music of the Baroque, Classical, and Early Romantic eras. Founded in 1989, the ensemble has achieved its vision of assembling the world's finest vocalists and period-instrument performers to bring this brilliant music to life. For more than two decades, Jeffrey Thomas has brought thoughtful, meaningful, and informed perspectives to his performances as Artistic and Music Director of the American Bach Soloists. Fanfare Magazine proclaimed that "Thomas's direction seems just right, capturing the humanity of the music…there is no higher praise for Bach performance."

 [more...]



ABOUT JEFFREY THOMAS
Renowned for his experience, knowledge and sensitivity for the music of the Baroque, Jeffrey Thomas's preparation of the major works of the repertory such as Bach's Mass in B Minor, St. Matthew Passion, and Handel's Messiah have led to inspired, definitive performances that have become synonymous with the ensemble he has led with such distinction, American Bach Soloists. San Francisco Classical Voice said, "Jeffrey Thomas is still pushing the musical Baroque envelope." Before devoting all of his time to conducting, he was one of the first recipients of the San Francisco Opera Company's prestigious Adler Fellowships. Cited by The Wall Street Journal as "a superstar among oratorio tenors," Mr. Thomas's extensive discography of vocal music includes dozens of recordings of major works for Decca, EMI, Erato, Koch International Classics, Denon, Harmonia Mundi, Smithsonian, Newport Classics, and Arabesque. He is a Professor of Music at the University of California, Davis, where he holds the Barbara K. Jackson Chair in Choral Conducting. Mr. Thomas currently hosts two shows on one of the nation's premiere classical music radio stations, KDFC, the most recent major commercial classical station in America to make the transition to public radio. Through worldwide streaming audio, he brings his experience and love for baroque and choral music to a global audience. [more...]
High resolution images and more information, including full artist biographies,
---
American Bach Soloists
44 Page Street, Suite 403
San Francisco, California 94102-5975
US


Read the VerticalResponse marketing policy.