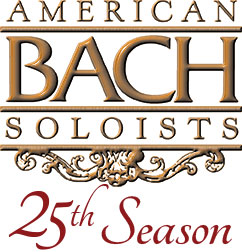 JEFFREY THOMAS
ARTISTIC DIRECTOR
BAROQUE 'CELLIST GRETCHEN CLAASSEN
WINNER OF AMERICAN BACH SOLOISTS
2nd ANNUAL JEFFREY THOMAS AWARD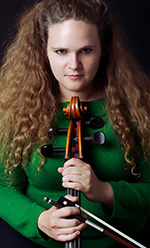 SAN FRANCISCO, CA—February 18, 2014—American Bach Soloists (ABS) are pleased to announce that the winner of the second annual Jeffrey Thomas Award is Gretchen Claassen. A San Francisco Bay Area based violoncellist, Ms Claassen has steadily developed as an artist and emerged as one of the leading newcomers within Northern California's historically informed performance community.

Gretchen Claassen is a recent graduate of the San Francisco Conservatory of Music where she was an accomplished performer in the Conservatory Baroque Ensemble. She was a two-time winner of the Conservatory's Baroque Concerto Competition and was also awarded the Artist Certificate in Chamber Music. While still a graduate student, Ms Claassen began her affiliation with ABS through participation in the organization's summer program in historical performance—the ABS Academy—three times between 2011 and 2013 and by joining the ensemble for performances of works by Bach in 2012 & Handel's Messiah in 2013.

She began her musical training in Arizona and then at the Juilliard School of Music where she studied 'cello performance with Bonnie Hampton. She studied chamber music with members of the Juilliard String Quartet, Cleveland Quartet, Calder Quartet, and the Chiara Quartet and has participated in several distinguished music festivals including the Kneisal Hall Chamber Music Festival and American Bach Soloists Festival & Academy. Her avid interest in historically informed performance began while pursuing graduate studies at the San Francisco Conservatory of Music where her teachers included Jennifer Culp and Elisabeth Reed. In addition to ABS, she has performed with several of the Bay Area's finest musical organizations and is a founding member of the Cello Street Quartet and period ensembles MUSA and the Alchemy Trio.

ABS established the Jeffrey Thomas Award in 2013 to honor and encourage emerging early music professionals of remarkable merit. The award is the newest initiative within the group's robust and lengthy history of educational efforts, today headed by the ABS Academy. One of the leading programs of its kind, the Academy brings eminent faculty and participants together for two weeks of immersive, multi-disciplinary training each July, running concurrently with the ABS Festival, known as San Francisco's Summer Bach Festival.

The Jeffrey Thomas Award is given annually at the discretion of ABS Artistic and Music Director Jeffrey Thomas to a young professional showing exceptional promise in the field of early music performance. In tandem with a cash prize, recipients of this esteemed award are invited to perform as a soloist with American Bach Soloists. Ms Claassen is the winner of the second award, following the inaugural recipient, tenor Guy Cutting.

ABOUT AMERICAN BACH SOLOISTS
The American Bach Soloists engage and inspire audiences through historically informed performances, recordings, and educational programs that emphasize the music of the Baroque, Classical, and Early Romantic eras. Founded in 1989, the ensemble has achieved its vision of assembling the world's finest vocalists and period-instrument performers to bring this brilliant music to life. For more than two decades, Jeffrey Thomas has brought thoughtful, meaningful, and informed perspectives to his performances as Artistic and Music Director of the American Bach Soloists. Fanfare Magazine proclaimed that "Thomas's direction seems just right, capturing the humanity of the music…there is no higher praise for Bach performance."

 [more...]



ABOUT JEFFREY THOMAS
Renowned for his experience, knowledge and sensitivity for the music of the Baroque, Jeffrey Thomas's preparation of the major works of the repertory such as Bach's Mass in B Minor, St. Matthew Passion, and Handel's Messiah have led to inspired, definitive performances that have become synonymous with the ensemble he has led with such distinction, American Bach Soloists. San Francisco Classical Voice said, "Jeffrey Thomas is still pushing the musical Baroque envelope."

Before devoting all of his time to conducting, he was one of the first recipients of the San Francisco Opera Company's prestigious Adler Fellowships. Cited by The Wall Street Journal as "a superstar among oratorio tenors," Mr. Thomas's extensive discography of vocal music includes dozens of recordings of major works for Decca, EMI, Erato, Koch International Classics, Denon, Harmonia Mundi, Smithsonian, Newport Classics, and Arabesque. He is a Professor of Music at the University of California, Davis, where he holds the Barbara K. Jackson Chair in Choral Conducting. Mr. Thomas currently hosts two shows on one of the nation's premiere classical music radio stations, KDFC, the most recent major commercial classical station in America to make the transition to public radio. Through worldwide streaming audio, he brings his experience and love for baroque and choral music to a global audience. [more...]
High resolution images and more information, including full artist biographies, available at: americanbach.org/press
---
---
American Bach Soloists
44 Page Street, Suite 403
San Francisco, California 94102-5975
US


Read the VerticalResponse marketing policy.