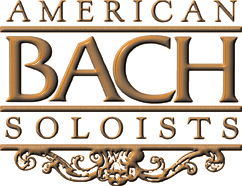 JEFFREY THOMAS ~ ARTISTIC DIRECTOR
AMERICAN BACH SOLOISTS PRESENT
BACH'S ST MATTHEW PASSION, FEBRUARY 27—MARCH 2

Jeffrey Thomas to Conduct Outstanding Assemblage of Artists Including
Tenor Derek Chester (Evangelista), Baritone William Sharp (Christus),
and The Pacific Boychoir

FOR IMMEDIATE RELEASE

PRESS & MEDIA RELATIONS:
Contact: Jeff McMillan
(415) 621-7900 ext. 204
jmcmillan@americanbach.org

January 29, 2015—SAN FRANCISCO, CA—The American Bach Soloists (ABS) will present Johann Sebastian Bach's monumental St. Matthew Passion (BWV 244) from February 27—March 2. Noted for its majestic scope and dramatic intensity, the work is a towering artistic achievement and remains one of Bach's most vivid creations 280 years after its composition. Under the leadership of Artistic and Music Director Jeffrey Thomas, "unsurpassable as a Bach interpreter" (San Francisco Classical Voice), ABS has become closely associated with this epic masterpiece. The experience of their 2012 performances of an early version of the work made a profound impact on audiences and critics alike, leading one patron to remark, "I am so grateful I was there." SFCV wrote, "Thanks to Thomas and ABS for such a profoundly beautiful, moving evening."



Thomas and ABS will perform the St. Matthew Passion in its most familiar form, the version Bach prepared for Good Friday in 1736 and left for posterity in a beautiful, "fair copy" manuscript. Its double choruses and double orchestras (each with their own continuo), working both together and as antiphonal "call and response" units, require a conductor of clear interpretative vision and firm control over the ensembles. Maestro Thomas will direct with his accustomed focus on transparent textures, direct expression, and intense intimacy.



At the core of Thomas's musical forces are the ABS orchestra—"some of the greatest period-instrument players in the world" (San Francisco Classical Voice)— and the standard-setting American Bach Choir. Tenor Derek Chester will perform the role of the Evangelist, Bach's expressive orator. In both the St. John Passion and St. Matthew Passion settings of Bach, Mr. Chester is an accomplished Evangelist and has been praised by the New York Times for his "beautifully shaped, carefully nuanced phrasing."



GRAMMY award winning baritone William Sharp will perform the role of Christus. A renowned vocal interpreter, especially in the music of Bach, Sharp has been a frequent ABS collaborator since the inaugural season. The Baltimore Sun recently observed him as "a superbly communicative vocal artist, [who] reached deeply into the heart of the texts as he sculpted the melodic lines."

Chester and Sharp will be joined by a distinguished group of vocal soloists in the work's exquisite arias and smaller roles, including sopranos Hélène Brunet and Clara Rottsolk, mezzo soprano Agnes Vojtko and countertenor Jay Carter, tenors Charles Blandy and Jon Lee Keenan, and baritones Joshua Copeland and Thomas Meglioranza. Ms. Brunet and Ms. Vojtko, who are both making their ABS debuts, and Mr. Keenan are former ABS Academy participants.

The Oakland-based Pacific Boychoir will join the ensemble to sing the chorales that float over two of the work's largest choruses, including the scene-setting opening chorus "Kommt, ihr Töchter, helft mir Klagen!" Directed by Kevin Fox, the Pacific Boychoir is one of the nation's top youth choruses and appears regularly with leading ensembles, including frequent appearances with the San Francisco Symphony. This will be their third appearance with ABS in Bach's St. Matthew Passion.

ABS oboist Debra Nagy will present a free, pre-concert lecture—"Insights"—one hour before each performances.

CALENDAR EDITORS PLEASE NOTE

Single tickets: $27-$66

For tickets or information, please visit americanbach.org or call (415) 621-7900

AMERICAN BACH SOLOISTS

BACH: St. Matthew Passion, BWV 244

Derek Chester, tenor (Evangelista)
William Sharp, baritone (Christus)

Hélène Brunet [debut] & Clara Rottsolk, sopranos
Agnes Vojtko, mezzo soprano [debut] & Jay Carter, countertenor
Charles Blandy & Jon Lee Keenan, tenors
Joshua Copeland & Thomas Meglioranza, baritones
Jeffrey Thomas, conductor
American Bach Choir & Pacific Boychoir

Friday, February 27, 2015, 7:30 pm
St. Stephen's Church, 3 Bayview Avenue, BELVEDERE

Saturday, February 28, 2015, 7:30 pm
First Congregational Church, 2345 Channing Way, BERKELEY

Sunday, March 1, 2015, 4:00 pm
St. Mark's Lutheran Church, 1111 O'Farrell Street, SAN FRANCISCO

Monday, March 2, 2015, 7:00 pm
Davis Community Church, 412 C Street, DAVIS

ABOUT AMERICAN BACH SOLOISTS
The American Bach Soloists engage and inspire audiences through historically informed performances, recordings, and educational programs that emphasize the music of the Baroque, Classical, and Early Romantic eras. Founded in 1989, the ensemble has achieved its vision of assembling the world's finest vocalists and period-instrument performers to bring this brilliant music to life. For more than two decades, Jeffrey Thomas has brought thoughtful, meaningful, and informed perspectives to his performances as Artistic and Music Director of the American Bach Soloists. Fanfare Magazine proclaimed that "Thomas's direction seems just right, capturing the humanity of the music…there is no higher praise for Bach performance."

 [more...]



ABOUT JEFFREY THOMAS
Renowned for his experience, knowledge and sensitivity for the music of the Baroque, Jeffrey Thomas's preparation of the major works of the repertory such as Bach's Mass in B Minor, St. Matthew Passion, and Handel's Messiah have led to inspired, definitive performances that have become synonymous with the ensemble he has led with such distinction, American Bach Soloists. San Francisco Classical Voice said, "Jeffrey Thomas is still pushing the musical Baroque envelope." Before devoting all of his time to conducting, he was one of the first recipients of the San Francisco Opera Company's prestigious Adler Fellowships. Cited by The Wall Street Journal as "a superstar among oratorio tenors," Mr. Thomas's extensive discography of vocal music includes dozens of recordings of major works for Decca, EMI, Erato, Koch International Classics, Denon, Harmonia Mundi, Smithsonian, Newport Classics, and Arabesque. He is a Professor of Music at the University of California, Davis, where he holds the Barbara K. Jackson Chair in Choral Conducting. Mr. Thomas currently hosts two shows on one of the nation's premiere classical music radio stations, KDFC, the most recent major commercial classical station in America to make the transition to public radio. Through worldwide streaming audio, he brings his experience and love for baroque and choral music to a global audience. [more...]
High resolution images and more information, including full artist biographies,
---
American Bach Soloists
44 Page Street, Suite 403
San Francisco, California 94102-5975
US


Read the VerticalResponse marketing policy.