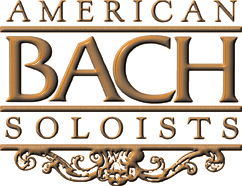 JEFFREY THOMAS ~ ARTISTIC DIRECTOR
AMERICAN BACH SOLOISTS PRESENT
HANDEL'S ACIS AND GALATEA, JANUARY 23-26

Program also includes J.S. Bach's Brandenburg Concerto No. 4 in G Major


FOR IMMEDIATE RELEASE
Contact: Jeff McMillan
(415) 621-7900, ext. 204
jmcmillan@americanbach.net

American Bach Soloists: Handel's Acis and Galatea
Friday, January 23, 2015 8:00 pm – St. Stephen's Church, BELVEDERE
Saturday, January 24, 2015 8:00 pm – First Congregational Church, BERKELEY
Sunday, January 25, 2015 4:00 pm – St. Mark's Lutheran Church, SAN FRANCISCO
Monday, January 26, 2015 7:00 pm – Davis Community Church, DAVIS
Tickets: $27-$66 / americanbach.org / (415) 621-7900


SAN FRANCISCO, CA—The American Bach Soloists (ABS) subscription season opens with an attractive pairing of masterworks by two musical giants. Jeffrey Thomas directs the renowned ABS orchestra in Bach's Brandenburg Concerto No. 4 in G Major, a tour de force for violino principale and two recorders. The balance of the program is devoted to Handel's pastoral masque, Acis and Galatea, composed in 1718 for the lavish private estate known as "Cannons," and revised two decades later for performances in London, Oxford, and Dublin. Full of buoyant, witty, charming melodies, it is one of the composer's most popular operatic works.

Adapted from Ovid's Metamorphosis, the mythological tale of Acis and Galatea depicts how the shepherd, Acis, pursues a nymph Galatea against the advice of his cohort, Damon. The young lovers' delight angers the envious man-eating giant, Polyphemus, whose murderous actions are annulled by a magical transformation. From the joyful duet of "Happy we!" to Polyphemus's "I rage–I melt–I burn," the arias, ensembles, and choruses of Acis and Galatea convey a rich emotional journey within a relatively short drama.



ABS Artistic & Music Director, Jeffrey Thomas, comments: "From the beginnings of Handel's journeys through Italy to his establishment as London's most successful composer-celebrity, he enjoyed the social circles of some of the most important artists, poets, musicians, and philosophers of his day. As followers of utopian pastoral ideals, Handel and his comrades took savoring delight in the subject matter of Acis and Galatea. Luckily, Handel revived the work for public audiences in the 1730s-40s, and we now enjoy its enchanting music almost 300 years later. For our performances, we welcome three graduates of the ABS Academy, all now leading impressive careers. In each of those artists, and in an additional debut singer, our audiences will find irresistibly engaging performers, perfectly matched to their roles. And, of course, Handel's inimitable choruses will be impeccably sung by the American Bach Choir. I look forward to these performances with great excitement."



Tenor Kyle Stegall sings the role of Acis. Enjoying a career that encompasses concert, opera, recital, and chamber repertoire, Stegall has appeared as soloist under the direction of Jeffrey Thomas, Simon Carrington, Joseph Flummerfelt, Masaaki Suzuki, Nicholas McGegan, and David Hill among others. Of his appearance as the Evangelist in Juilliard415's recent performance of Bach's St. John Passion, the New York Times observed: "The most impressive by far was Kyle Stegall, the tenor who sang the demanding part of the Evangelist with lovely tone, ardent expression, and good diction." A graduate of the ABS Academy (2012), Stegall's portrayal of Acis will be his second regular season appearance with ABS following his December 2014 debut in Handel's Messiah at Grace Cathedral.



Singing the role of Galatea is soprano Nola Richardson. Possessing a voice of "confidence and dramatic conviction, full of redolent passion" (The Washington Post), Richardson's artistic accomplishments span musical epochs and she is particularly admired in the works of Handel, Bach, and Scarlatti. In a recent performance with the Bach Sinfonia, The Washington Post observed how she "…blew through the runs of the aria … with astonishing balance and accuracy, lavishing crystalline diction on everything she touched and managing, throughout, to shape phrases with natural-sounding ease." Richardson is an ABS Academy alumna (2012 and 2013) and makes her ABS debut with these performances.



The role of the giant Polyphemus, one of Handel's most colorful musical characterizations, will be sung by baritone Mischa Bouvier. A graduate of the inaugural ABS Academy in 2010, Bouvier is well known to ABS audiences for his memorable performances in Handelian works including La Resurrezione, Messiah, and Apollo & Dafne as well as the music of Bach and Lotti. He is also an accomplished interpreter of contemporary music and recently appeared as soloist in the New York premiere of Jocelyn Hagan's amass with Musica Sacra. Bouvier has established himself as an engaging artist of considerable compass and versatility, earning praise for his "rich timbre and a fine sense of line" (New York Times) and his "soothing, cavernous baritone that can soar to heights of lyric beauty" (Opera News).



Tenor Zachary Wilder sings the role of the shepherd Damon. A leading performer in Baroque opera, Wilder has appeared in productions around the United States and abroad including appearances at the Festival D'Aix-en-Provence and the Boston Early Music Festival. A frequent guest artist with esteemed ensembles including Apollo's Fire, Les Arts Florissants, and Ars Lyrica Houston, the Boston Globe praised Wilder's recent performance in Mozart's Il Re Pastore with the Harvard-based Grand Harmonie as "nonchalantly confident in voice and bearing, his bright tenor running through the character's roulades with easygoing swagger." Mr. Wilder will make his ABS debut in these performances

A free, pre-concert lecture-"Insights"-by ABS's Steven Lehning will begin one hour prior to each performance.

CALENDAR EDITORS PLEASE NOTE

Single tickets: $27-$66
Subscriptions also available
For tickets or information, please visit americanbach.org or call (415) 621-7900

AMERICAN BACH SOLOISTS

HANDEL: Acis and Galatea
J.S. BACH: Brandenburg Concerto No. 4 in G Major, BWV 1049

Nola Richardson, soprano - Galatea
Kyle Stegall, tenor – Acis
Mischa Bouvier, bass – Polyphemus
Zachary Wilder, tenor – Damon
Jeffrey Thomas, conductor
American Bach Soloists & American Bach Choir

Friday, January 23, 2015 8:00 pm
St. Stephen's Church, BELVEDERE
Saturday, January 24, 2015 8:00 pm
First Congregational Church, BERKELEY
Sunday, January 25, 2015 4:00 pm
St. Mark's Lutheran Church, SAN FRANCISCO
Monday, January 26, 2015 7:00 pm
Davis Community Church, DAVIS


ABOUT AMERICAN BACH SOLOISTS
The American Bach Soloists engage and inspire audiences through historically informed performances, recordings, and educational programs that emphasize the music of the Baroque, Classical, and Early Romantic eras. Founded in 1989, the ensemble has achieved its vision of assembling the world's finest vocalists and period-instrument performers to bring this brilliant music to life. For more than two decades, Jeffrey Thomas has brought thoughtful, meaningful, and informed perspectives to his performances as Artistic and Music Director of the American Bach Soloists. Fanfare Magazine proclaimed that "Thomas's direction seems just right, capturing the humanity of the music…there is no higher praise for Bach performance."

 [more...]



ABOUT JEFFREY THOMAS
Renowned for his experience, knowledge and sensitivity for the music of the Baroque, Jeffrey Thomas's preparation of the major works of the repertory such as Bach's Mass in B Minor, St. Matthew Passion, and Handel's Messiah have led to inspired, definitive performances that have become synonymous with the ensemble he has led with such distinction, American Bach Soloists. San Francisco Classical Voice said, "Jeffrey Thomas is still pushing the musical Baroque envelope." Before devoting all of his time to conducting, he was one of the first recipients of the San Francisco Opera Company's prestigious Adler Fellowships. Cited by The Wall Street Journal as "a superstar among oratorio tenors," Mr. Thomas's extensive discography of vocal music includes dozens of recordings of major works for Decca, EMI, Erato, Koch International Classics, Denon, Harmonia Mundi, Smithsonian, Newport Classics, and Arabesque. He is a Professor of Music at the University of California, Davis, where he holds the Barbara K. Jackson Chair in Choral Conducting. Mr. Thomas currently hosts two shows on one of the nation's premiere classical music radio stations, KDFC, the most recent major commercial classical station in America to make the transition to public radio. Through worldwide streaming audio, he brings his experience and love for baroque and choral music to a global audience. [more...]
High resolution images and more information, including full artist biographies,
---
American Bach Soloists
44 Page Street, Suite 403
San Francisco, California 94102-5975
US


Read the VerticalResponse marketing policy.