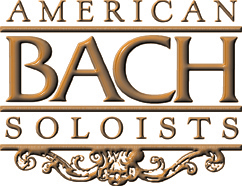 JEFFREY THOMAS ~ ARTISTIC DIRECTOR
FOR IMMEDIATE RELEASE

PRESS & MEDIA RELATIONS:
Contact: (415) 621-7900
press@americanbach.org

AMERICAN BACH SOLOISTS PRESENT HANDEL'S MESSIAH
IN SAN FRANCISCO'S HISTORIC GRACE CATHEDRAL
DECEMBER 14, 15, & 16, 2016

October 13, 2016­—SAN FRANCISCO, CA—American Bach Soloists, led by Artistic & Music Director Jeffrey Thomas, present their annual performances of Handel's masterpiece, Messiah, in one of San Francisco's most awe-inspiring, sacred spaces. ABS, Handel, and Grace Cathedral are perennially a winning combination and a highlight of the holiday season. A beloved Bay Area tradition now in its 18th consecutive year, ABS's performances of Handel's timeless work attract music lovers from around the world.

Since 1998, ABS has presented Messiah in San Francisco's historic Grace Cathedral to more than 38,000 attendees. This holiday tradition has become an essential part of the musical year for many music lovers and was voted "Best of the Bay" by the readers of San Francisco Classical Voice in 2015. The Bay Area Reporter observed, "For those who treasure Messiah, Thomas' version is revelatory." Maestro Thomas will conduct the period-instrument specialists of ABS, the renowned American Bach Choir, and a quartet of brilliant vocal soloists.



Soprano Hélène Brunet returns to perform Messiah with ABS for a second year after thunderous acclaim in 2015. Praised for her interpretations of the works of Bach, Handel, and Mozart, the Montreal native has also performed in a diverse array of works including Lully's Persée and Rossini's Il Barbiere di Siviglia. In recent seasons, Ms Brunet has collaborated with American Bach Soloists, the Orchestre Métropolitain de Montréal, Seattle Baroque Orchestra, Columbus Symphony Orchestra, Tafelmusik Baroque Orchestra, I Musici de Montréal, Arion Baroque Orchestra, as well as Ensemble Caprice, Ensemble Thirteen Strings, Ensemble Les Boréades, and l'Harmonie des Saisons. She has sung under such renowned conductors as Jeffrey Thomas, Yannick Nézet-Séguin, Jean-Marie Zeitouni, Eric Milnes, Kevin Mallon, Raffi Armenian, David Fallis, Ivars Taurins, and Alexander Weimann.

"Brunet sang with some of her finest intonation, expression, mature interpretation, clearest Affekt … in essence, Ms Brunet was perfect." – Calgary Herald

Contralto Emily Marvosh (debut) has been gaining recognition for her "sterling voice," and "graceful allure," on the stages of Carnegie Hall, Jordan Hall, Disney Hall, Lincoln Center, Prague's Smetana Hall, and in Vienna's Stefansdom. Following her solo debut at Boston's Symphony Hall in 2011, she has been a frequent soloist with the Handel and Haydn Society under the direction of Harry Christophers. Other recent solo appearances include the Charlotte Symphony, Tucson Symphony Orchestra, Chorus Pro Musica, Music Worcester, L'Academie, Back Bay Chorale, the Brookline Symphony, and the Chorus of Westerly. She is often featured on the Music at Marsh Bach Cantata Series. Awards include the prestigious Adams Fellowship at the Carmel Bach Festival (2013), the American Prize in the Oratorio and Art Song divisions (2013), and second place in the New England Regional NATSAA competition (2014).

"[Marvosh] combined elegance and earthiness with engaging composure." – The Boston Globe

Tenor Derek Chester was last heard with American Bach Soloists as the Evangelist in Bach's St. Matthew Passion. A frequent soloist with ABS, his recent concert appearances include the Fort Worth Symphony, Chicago's Beethoven Festival, the Berkshire Choral Festival, the Korean Broadcasting System Symphony Orchestra, Buffalo Philharmonic Orchestra and Chorus, Dallas Bach Society, Highland Park Chorale, St. Thomas Fifth Avenue, Bach Collegium San Diego, Houston's Ars Lyrica, Handel Society of Dartmouth, and the Richmond Symphony Orchestra.

"Chester's easeful and wondrously pliant tenor was deployed to maximum expressive effect." – Dallas Morning News

Baritone Mischa Bouvier was a member of ABS's inaugural 2010 Academy and is in constant demand as a soloist and collaborator. Recent debuts include performances in Carnegie Hall Stern Auditorium with Orchestra of St. Luke's and Musica Sacra, in Alice Tully Hall with Musica Sacra, with his hometown Alabama Symphony Orchestra, at Puerto Rico's Casals Festival under the baton of Helmuth Rilling, and with the esteemed ensemble TENET. He also sings regularly with the American Bach Soloists, Bach Collegium San Diego, Princeton Glee Club, Columbus Symphony, Pittsburgh's Chatham Baroque, and the Colorado Symphony in Denver and Beaver Creek.

"...a baritone with a rich timbre and a fine line…" – The New York Times

Single Tickets: $35-$118

Discounted tickets available for students (21 and under with valid ID); special discounts for ABS subscribers. Please call the ABS Office, (415) 621-7900.

CALENDAR EDITORS PLEASE NOTE

DECEMBER 14, 15, 16, 2016
HANDEL'S MESSIAH

Hélène Brunet, soprano
Emily Marvosh, contralto
Derek Chester, tenor
Mischa Bouvier, baritone
American Bach Soloists
American Bach Choir
Jeffrey Thomas, conductor

Wednesday, December 14, 2016 7:30 pm
Thursday, December 15, 2016 7:30 pm
Friday, December 16, 2016 7:30 pm
Grace Cathedral, 1100 California Street, San Francisco

---
ABOUT AMERICAN BACH SOLOISTS
The American Bach Soloists engage and inspire audiences through historically informed performances, recordings, and educational programs that emphasize the music of the Baroque, Classical, and Early Romantic eras. Founded in 1989, the ensemble has achieved its vision of assembling the world's finest vocalists and period-instrument performers to bring this brilliant music to life. For more than two decades, Jeffrey Thomas has brought thoughtful, meaningful, and informed perspectives to his performances as Artistic and Music Director of the American Bach Soloists. Fanfare Magazine proclaimed that "Thomas's direction seems just right, capturing the humanity of the music…there is no higher praise for Bach performance."

 [more...]



ABOUT JEFFREY THOMAS
Renowned for his experience, knowledge and sensitivity for the music of the Baroque, Jeffrey Thomas's preparation of the major works of the repertory such as Bach's Mass in B Minor, St. Matthew Passion, and Handel's Messiah have led to inspired, definitive performances that have become synonymous with the ensemble he has led with such distinction, American Bach Soloists. San Francisco Classical Voice said, "Jeffrey Thomas is still pushing the musical Baroque envelope." Before devoting all of his time to conducting, he was one of the first recipients of the San Francisco Opera Company's prestigious Adler Fellowships. Cited by The Wall Street Journal as "a superstar among oratorio tenors," Mr. Thomas's extensive discography of vocal music includes dozens of recordings of major works for Decca, EMI, Erato, Koch International Classics, Denon, Harmonia Mundi, Smithsonian, Newport Classics, and Arabesque. He is a Professor of Music at the University of California, Davis, where he holds the Barbara K. Jackson Chair in Choral Conducting. Mr. Thomas currently hosts two shows on one of the nation's premiere classical music radio stations, KDFC, the most recent major commercial classical station in America to make the transition to public radio. Through worldwide streaming audio, he brings his experience and love for baroque and choral music to a global audience. [more...]
High resolution images and more information, including full artist biographies,
---
American Bach Soloists
44 Page Street, Suite 403
San Francisco, California 94102-5975
US


Read the VerticalResponse marketing policy.