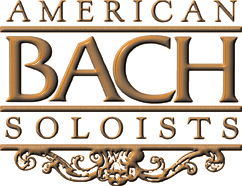 JEFFREY THOMAS ~ ARTISTIC DIRECTOR
VIOLINIST TATIANA CHULOCHNIKOVA WINNER OF
THE 2016 JEFFREY THOMAS AWARD

SAN FRANCISCO, CA— February 12, 2015—The American Bach Soloists (ABS) are pleased to announce violinist Tatiana Chulochnikova as the winner of the 2016 Jeffrey Thomas Award. Splitting her time between Washington, DC, New York City, and San Francisco, Chulochnikova is a talented and enterprising artist who has performed with many of the nation's leading Baroque ensembles. Her thrilling technique and bravura style have dazzled audiences around the country and across continents.

Born in Ukraine, Chulochnikova began playing violin at the age of 7 and made her professional debut at 14 playing Bruch's violin concerto with the Kharkov Philharmonic. Around the same time, her own Trio for violin, flute, and cello was awarded Second Prize at the International Young Composers Competition in Kiev. Chulochnikova received her professional training at the Tchaikovsky College of Music and Tchaikovsky Conservatory in Moscow. She was first introduced to historically informed performance practice at the Conservatory where she quickly developed a passion for the early music repertory. Her interest in the Baroque brought her to the United States where she continued her studies under the direction of Marilyn McDonald at the Oberlin Conservatory.

She attended the 2010 ABS Academy and has performed with renowned Baroque orchestras including American Bach Soloists, Tafelmusik, and Handel and Haydn Society Orchestra. In 2012 she completed her studies at the Juilliard School under Monica Huggett and Cynthia Roberts and continues to perform both as a soloist and within ensembles including Four Nations Ensemble and The Rubinstein Players. Most recently she was featured in the ABS 2014 gala "A Red Carpet Evening" where she premiered her own violin transcription of Bach's Toccata and Fugue in D Minor. This season she also is performing as concertmistress and as a soloist with the Symphony Orchestra of the Benjamin T. Rome School of Music as well as leading the Washington Bach Consort in their Cantata Series at the Church of the Epiphany in Washington, D.C.

Founded in 2013 to recognize and encourage young leaders within the early music community, The Jeffrey Thomas Award is given annually to a musician of unusual promise and precocious achievement. Selected by ABS Artistic and Music Director Jeffrey Thomas, winners are awarded a cash prize and invited to perform with American Bach Soloists. Past recipients of the Award include tenor Guy Cutting (2014) and violoncellist Gretchen Claassen (2015). As the winner of the 3rd annual award, Ms. Chulochnikova will perform in ABS's 2016 season as a soloist in works by J.S. Bach.


ABOUT AMERICAN BACH SOLOISTS
The American Bach Soloists engage and inspire audiences through historically informed performances, recordings, and educational programs that emphasize the music of the Baroque, Classical, and Early Romantic eras. Founded in 1989, the ensemble has achieved its vision of assembling the world's finest vocalists and period-instrument performers to bring this brilliant music to life. For more than two decades, Jeffrey Thomas has brought thoughtful, meaningful, and informed perspectives to his performances as Artistic and Music Director of the American Bach Soloists. Fanfare Magazine proclaimed that "Thomas's direction seems just right, capturing the humanity of the music…there is no higher praise for Bach performance."

 [more...]



ABOUT JEFFREY THOMAS
Renowned for his experience, knowledge and sensitivity for the music of the Baroque, Jeffrey Thomas's preparation of the major works of the repertory such as Bach's Mass in B Minor, St. Matthew Passion, and Handel's Messiah have led to inspired, definitive performances that have become synonymous with the ensemble he has led with such distinction, American Bach Soloists. San Francisco Classical Voice said, "Jeffrey Thomas is still pushing the musical Baroque envelope." Before devoting all of his time to conducting, he was one of the first recipients of the San Francisco Opera Company's prestigious Adler Fellowships. Cited by The Wall Street Journal as "a superstar among oratorio tenors," Mr. Thomas's extensive discography of vocal music includes dozens of recordings of major works for Decca, EMI, Erato, Koch International Classics, Denon, Harmonia Mundi, Smithsonian, Newport Classics, and Arabesque. He is a Professor of Music at the University of California, Davis, where he holds the Barbara K. Jackson Chair in Choral Conducting. Mr. Thomas currently hosts two shows on one of the nation's premiere classical music radio stations, KDFC, the most recent major commercial classical station in America to make the transition to public radio. Through worldwide streaming audio, he brings his experience and love for baroque and choral music to a global audience. [more...]
High resolution images and more information, including full artist biographies,
---
American Bach Soloists
44 Page Street, Suite 403
San Francisco, California 94102-5975
US


Read the VerticalResponse marketing policy.