Come walk with us on Sunday, May 9th!
A team of avid walkers (you included!)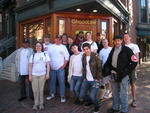 from
H
al
e
y
House will be
walking 20 miles on Sunday, May 9th, along with over 700,000 people. Sign up to join or sponsor the team
here
and then join us
for a pre-walk snack at 7:00am at Haley House's Soup Kitchen at 23 Dartmouth Street in the South End. Haley House has been a long-time beneficiary of the Walk for Hunger, so join us in celebrating Project Bread's generous and continual support!
A Sweeter Life's Dashing Success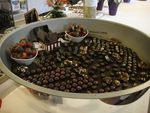 Last Sunday, April 29th, Haley House Bakery Cafe was brimming with desserts, renowned chefs, and enthusiastic supporters of the Transitional Employment Program (TEP). Dessert samplers can rest assured that their sweet tooth cravings will benefit the TEP men and women who are employed at the Bakery while transitioning back into the community from incarceration. A special "thank you" is owed to chocolatier Lee Napoli, who brought together a fantastic group of dessert chefs from around Boston. See photos of the chefs, desserts, and attendees here!

Want to garden with Haley House?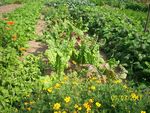 Haley House is proud to announce a renewed ga
rden
collaboration with the McKinley South End
Academy. Haley House seeks experienced and/or enthusiastic volunteers to help
build raised beds, plant vegetables and flowers, and tend to the garden througout the summer. Produce will go to the McKinley School's summer programming and Haley House's food programs. If interested, please email Mary Ashton at minglis@haleyhouse.org.
Upcoming Evenings at Art is Life Itself!
All programs start at 7:00pm at Haley House Bakery Cafe
5/3 - Fulani Haynes Jazz Collaborative & Storytelling

5/10 - Black Power Poetry & Desegregation & Boston Busing: What's Your Story?

5/17 - Program Pending

5/24 - Locked UP, Locked DOWN, and Locked OUT!: Life After Incarceration? Part Two - Women's Stories

5/31 - Program Pending
See AiLi's Facebook page for event details.
Save the Dates
6/2 - Annual Silent Auction at our Soup Kitchen (23 Dartmouth Street)
6/5 - Gordon Hamersley Fundraiser Dinner at HHBC

6/16 - Dinner & A Movie at HHBC during Roxbury Film Festival