Just Around the Corner: Annual Block Party!
Have you marked you calendar yet for
Haley House's 15th Annual Block Party
& Fundraiser? On Saturday, June 2, 4-7pm, all are invited to a day of fun with the whole family outside 23 Dartmouth Street (South End).
Festivities include a silent auction with amazing prizes (including gift certificates for restaurants, excursions, sporting events, art, and much more!), a raffle, activities for kids, a wine and beer tasting (thanks to our amazing partners at the Wine & Emporium and Harpoon Brewery), live music, and delicious food. This year's special guests include DJ WhySham, Desperate Measures Street Band, and South End Dynamite.
Tickets are available at the event (suggested donation of $10 for adults includes drink tickets) and free admission for kids. For more information, click
here
. We hope you can join us!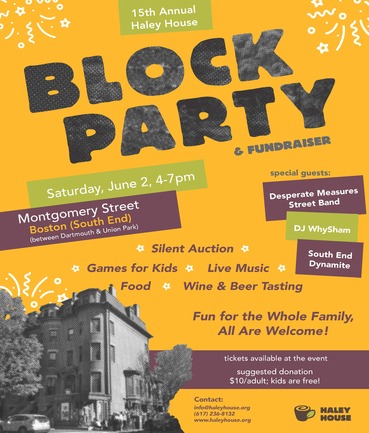 ---
2018 House Slam Team + OOMPA
Twice a month, some of the city's most talented poets gather together under HHBC's roof to bare their souls to a full house. On April 27, after much anticipation, the team that will represent the House Slam at nationals was announced.
Julissa Emile Moolenaar, Anita D., Porsha Olayiwola, Brandon Melendez, and Golden will be representing the House Slam at the 2018 National Poetry Slam in Chicago, IL. Congratulations, poets!
You can support the
House Slam Team
as they carve out a space for themselves, their art, and the city of Boston by donating
here
and help them to continue to be a certified venue for poets to compete at a national level and support each other as individuals and a community.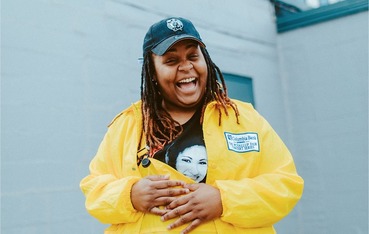 In related news, if you've ever been to a House Slam or Rap Slam at the Bakery Cafe then you've probably heard of
Oompa
. The 27-year-old poet and rapper from Roxbury is making waves everywhere she goes, whether in the Slam Poetry World (
winner of the 2017 Women of the World Poetry Slam and finalist at the 2017 National Poetry Slam) or the Boston Music Scene (recently headlining and selling out Great Scott). Read about Oompa's life, inspiration, and next steps here in DigBoston.
---
It's Growing Season: Head Outside With Us!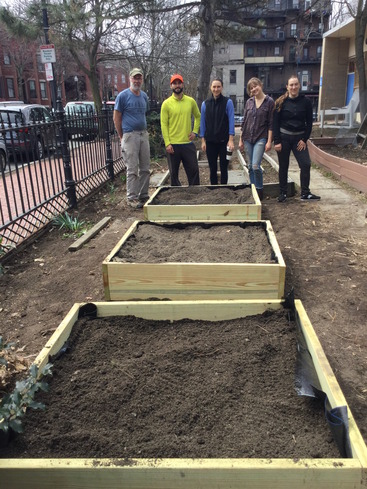 As temperatures warm up, a
ll the rainy spring days are paying off as both McKinley Garden and Thornton Street Farm are being prepared for the growing season. At the first spring workday at McKinley Garden (South End), the garden was cleaned up and the crew, comprised of volunteers and members of the HH community, built five new raised beds (elevated garden boxes for growing veggies and flowers).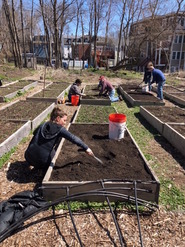 During the Thornton Street Farm workday in Roxbury, 30 (!) volunteers helped fill raised beds with soil to get them ready for planting. The farm team continues to sow seeds in the greenhouse, plant early spring crops, and dream up creative menu ideas for HHBC and foster our partnership with Hawthorne Youth and Community Center!
---
Artist Spotlight: Tom King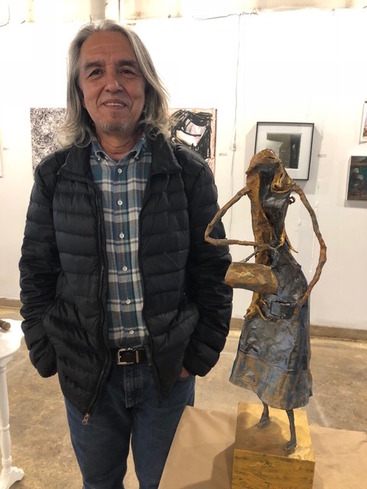 Tom King, local artist and Haley House resident, was recently featured at the Post Cubicle Gallery at Hotel Buckminster in a show titled "Tales From the Gut".
One of his intricate pieces, "The Server" (pictured here) was created in 2016 and inspired by the volunteers at the Haley House Soup Kitchen who were always there to pour Tom a hot cup of coffee in the wee hours of the morning at a time when he was experiencing homelessness. Look out for Tom's work around Boston! He has a show coming up in the Prudential Center on Saturday, May 5th and also does commission work. Contact Tom
for more info.
---
Walk for Hunger: Make Hunger History
Project Bread's 50th Walk for Hunger is happening in full force on Sunday, May 6th! Money raised by the Walk supports hundreds of anti-hunger programs in MA, including Haley House. Consider joining the Haley House team on Boston Common on Sunday, May 6 by registering for the walk or donating here and help #MakeHungerHistory!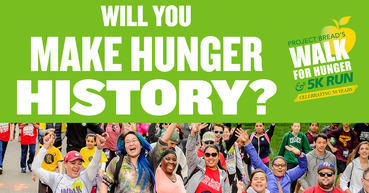 ---
Celebration For Mothers of All Kinds!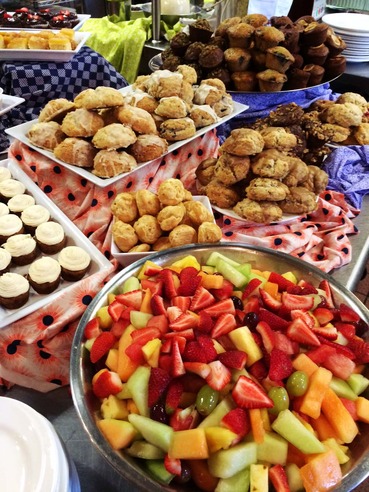 Looking for a way to celebrate the special mother-figures in
your life? Why not invite them to the annual Mother's Day Brunch Buffet Extra
vagan
za at the Bakery Café (Sunday, May 13th)!
There are three ticketed seatings: 10:30 am-12 pm, 12:30 - 2 pm, and
2:30 - 4 pm. This year, our phenomenal team is pulling out all the stops for this special meal: feast on omelets, waffles, chicken, veggies, desserts, plus FREE mimosas for all moms. Tickets are available right now – grab
yours before they sell out.
Click here for tickets and more info
.
---
TBK'S Recipe of the Month: Tortilla Espanola
Looking for kitchen inspiration? This month, learn to make a
Tortilla Espanola
(Spanish Omelet)! Take Back the Kitchen recipes are created and illustrated by TBK's own Chef Ricardo Monroy. Click the image below for a larger view and learn more about Take Back the Kitchen
here
.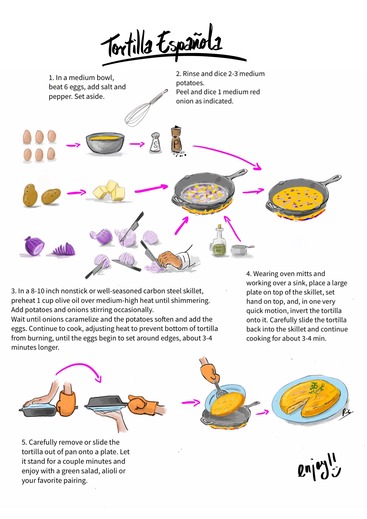 ---
Good Neighbors: Thanks Liberty Mutual!
Shout out to our neighbors who are volunteering this week and next through the Serve With Liberty program. Over the course of two weeks, 40 people will contribute a total of 170 volunteer hours of work in the soup kitchen. We are so grateful for their service!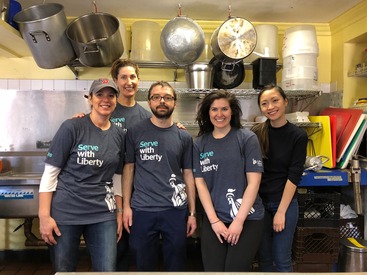 ---
EVENTS
5/3: Jazz By Any Means Necessary,
7 pm
at
HHBC
5/4: Author/ Poet Series: Toni Morrison,
7pm at
HHBC
(
more info
)
5/5: The Yung House Finals,
6-10 pm
at Bolling Building (
more info
)
5/5: Walk For Hunger,
7am
at Boston Common (
more info
)
5/5: Sam Sad Tot Lot Dedication Ceremony,
11:30am
at Marcella Playground, 260 Highland St. in Roxbury (
more info
)
5/10: Lifted Boston, 7 pm at HHBC
5/11: The House Slam,
6:30 pm at HHBC (
more info
)
5/13: Mother's Day Brunch Extravaganza,
5/16: The Yung House Slam + Open Mic,
5/19: Roxbury Cultural District Inaugural Launch Celebration,
11am-1pm at First Church of Roxbury + 12-4pm at Blair Lot (
more info
)
5/24: Boston Day and Evening Academy presents Lyricists' Lounge,
6:30
pm
at
HHBC
5/25: The House Slam,
6:30 pm at
HHBC
5/30: Sanaa With Friends,
6:30
pm
at
HHBC
5/31: Linda and Sumner McClain present: Stories Celebrating Life,
7
pm
6/1: Author/ Poet Series: What is Freedom?,
7pm at
HHBC
(
more info
)
6/2: 15th annual Block Party + Silent Auction,
4-7 pm at 23 Dartmouth Street (South End) (
more info
)
SAVE THE DATE:
8/11: 6th Annual Outdoor Community Tables,
---
Haley House Bakery

Café

Hours
MONDAY- WEDNESDAY
7:30 am - 6 pm
THURSDAY
7:30 am - 10 pm*
*food until 9 pm
FRIDAY:
7:30 am - 8 pm
SATURDAY:
9 am - 4 pm
** COMMUNITY TABLES WILL NOT TAKE PLACE ON 6/2 **
SUNDAY:
10 am - 4 pm
---
Help Us Clean!
Help the Live-In Community make the Soup Kitchen sparkle! Volunteers are wanted on Friday, June 3rd to help with an annual deep clean of the Soup Kitchen at 23 Dartmouth from 9am-2pm. Refreshments will be provided.
Please wear comfy clothes that can get dirty. C
ontact Harriet for more information or to RSVP.
---
THANK YOU PULSE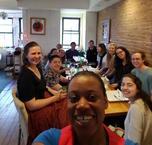 We are grateful for this year's wonderful team of 10 students from Boston College's Pulse Program who served twice a week all year long. Pulse students have served at Haley House every year since September 1976!
---
Donation Wish List
Clothing For Guests: On Monday mornings, we host the "clothing room" for soup kitchen guests. Gently used and new men's clothing and personal hygiene projects are very appreciated, especially:
NEW underwear (medium- extra large)
Men's pants (30's range)
Men's summer wear (T-shirts/ shorts)
Travel-sized toiletries (soap, body wash, shampoo, conditioner in travel sizes,

lipbalm

)
Toothbrushes & Toothpaste
Deodorant
Shaving cream & razors
Soup Kitchen & Live-In Community:
Silverware (especially forks and spoons)
Mugs
Books & magazines (Spanish & English)
Checkers, chess, & scrabble sets
Roof Rack for Vehicle
---
Report: Disabling Punishment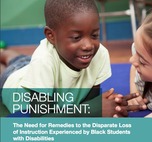 A new study conducted by the Charles Hamilton Institute for Race & Justice at Harvard Law School and UCLA's Center for Civil Rights Remedies at the Civil Rights Project has found that black children with disabilities face dramatic disparities to their white peers when it comes to suspension, resulting in the loss of approximately 77 days of instruction for students on average. Click
here
to read more.
---
We're Hiring
---