Our Pies Change Lives!
Announcing the 2014 Thanksgiving PIE DRIVE line-up!

'Tis the season, folks: made-from- scratch with natural (and mostly local) ingredients by the stellar Haley House Bakery Cafe team, our pies have become legendary over the years for good reason! Proceeds from the sale of pies benefit the Transitional Employment Program (TEP) for women and men transitioning from incarceration. Our Thanksgiving Pie Drive 2014 is already underway. This year's choices:
Apple Crumb (Granny Smith Apples from Brookdale Farm in Hollis, NH)
Blueberry Crumble (wild Maine blueberries)
Pecan (using AGAVE- no corn syrup!)
Pumpkin (a Thanksgiving classic)
Sweet Potato (the real deal!)
New flavors this year:
Gluten-Free Blueberry
Gluten-Free Sweet Potato
Pies are $20 ($25 for gluten-free) and should be ordered in advance. Pick-up is at Haley House Bakery Cafe (12 Dade Street) on Monday, November 24-Wednesday, November 26, with complimentary delivery for orders of 10 or more pies (within Boston & Cambridge). Group orders may be coordinated by "Pie Captains" (see link below for more information). The deadline for orders is Tuesday, November 18. Call 617.939.6837 or click here for the order form to order your pies today!

---
Farewell Friend: Mayor Tom Menino
Your vision for Dudley lives on. We thank you for your service.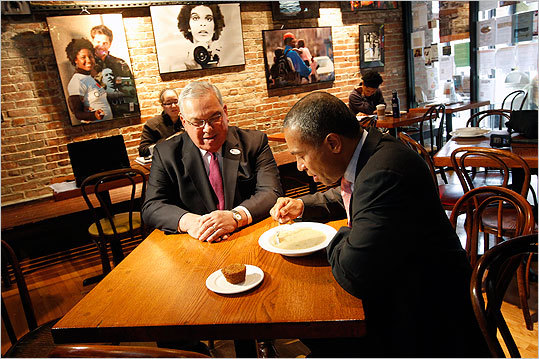 "Bold, big-hearted and Boston Strong" was how President Obama aptly described beloved Mayor Tom Menino. A frequent visitor to Haley House Bakery Cafe (blueberry pie was his favorite dish), he was always a strong advocate for Haley House and our Dudley community. We were saddened by the news of his passing last week, just as his vision to revive the commercial district around Dudley Station is coming to fruition, but we know that his hard work and vision will live on. This photo (above) was taken during a visit to Haley House Bakery Cafe when Governor Patrick was elected for a second term, on Election Day 2010.

---
On Our Minds: Who Gets a Slice of the Pie?
Wealth creation for whom, and at what cost?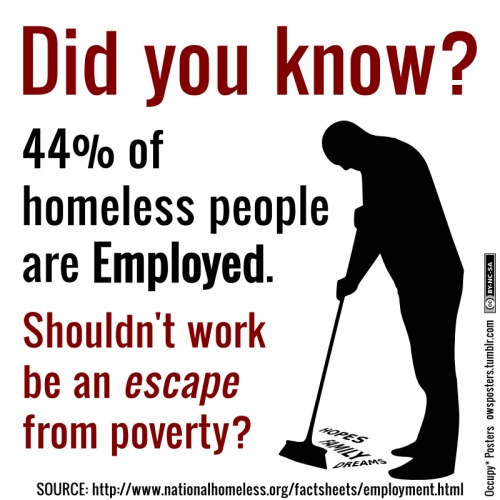 What good is economic growth and prosperity if it excludes those living at the margins of our society? Put clearly by the Economic Policy Institute, the central economic challenge of our time is "ensuring that economic growth benefits hard-working Americans in the form of higher wages and rising living standards" (links to research).

Economic justice for those forced to piece together several jobs in order to survive is at the forefront of our minds. Thanks to a generous research grant from the Herman and Frieda Miller Foundation, we are developing an Economic Inclusion Initiative that will feature profit-sharing among those workers who generate them. Our first steps will take shape in the Ferdinand Building in 2015. Updates will be forthcoming.

---
Garden Update: Mapping & Winterizing
An update from our Garden Coordinator, Carmine Leighton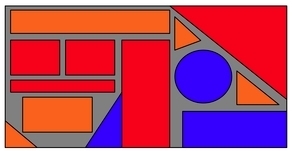 Check out this neat map from our "McKinley Temperature in the Garden Project"! With help from researcher Evan Kuras, McKinley students determined the coolest and warmest places in the garden and learned all sorts of things about our environment in the process. Visit the McKinley Garden Blog for more.

Interested in learning about winter gardening? Come join us for this month's Garden Workday on Saturday, November 15th from 10 am-12 pm. Meet around the corner from 23 Dartmouth Street at the McKinley Collaborative Garden on Montgomery Street. We will spread compost on the raised garden beds, plant winter crops, and build new hoop houses to protect the crops for the season. We will also organize and store our summer garden gear in preparation for the winter freeze. All ages and no experience needed. All tools and gloves provided. RSVP to Carmine by Friday, Nov. 14.
Calendar & Needs
---
**HHBC Closed
Thurs. 11/ 27 (Thanksgiving)-
Sun. 11/30**
---
November Events
11/7: Dinner & A Movie: A documentary about an 81 year old jewel thief with a 60 year career... Come find out more! 6 pm at HHBC (more info)

11/14: The House Slam featuring poet Neiel Israel, doors open 6:30 pm at HHBC (more info)
11/15: McKinley Garden Workday
10 am-12 pm, meet at 23 Dartmouth Street (more info)

11/22: Thanksgiving Community Tables (expanded to 2 seatings)
5-6:30 pm and 6:45-8:15 pm at HHBC
12/5: Annual Charlie King Concert
(Save the Date)
---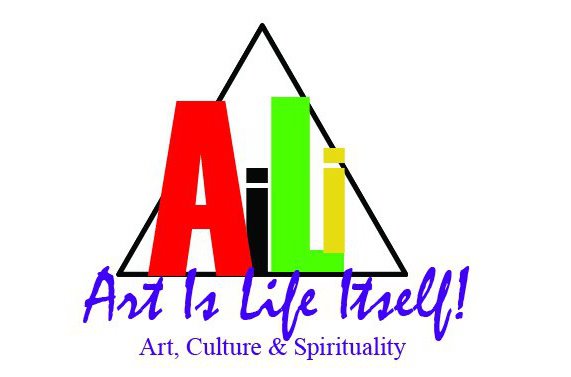 The Performance Series Embracing Art, Culture & Spirituality. Every Thursday from 7- 10 pm at HHBC.

11/6: Fulani Haynes Jazz Collaborative + Open Mic

11/13: Pentimenti Women's Writing Group, Jamaica Plain + Open Mic

11/20: Committee of Friends & Relatives of Prisoners (CFROP) + Poet L.U.C.C.I. + Open Mic
---
Donation Needs:
Clothing:
As the weather gets colder, our guests are especially in need of:
Men's pants (all kinds and sizes)

Sweaters & sweatshirts

Coats & jackets (all kinds)

New men's underwear

New men's cotton or wool socks

Men's shoes, sneakers and boots
Soup Kitchen Needs:
Coffee mugs

Bowls (soup/cereal)

Silverware

Plates
---
Community Tables
Enjoy a locally-sourced, healthful meal with friends and family every Saturday evening
—
all are welcome!
Doors open at

5:00 pm and dinner is served promptly at 5:30 pm.*

First to come are first served for a delicious 3-course full-service meal, and folks are invited to pay whatever they can. Read more here.
*Special Expanded Seating
for
Pre-Thanksgiving Celebration (11/22):
Seating 1: 5-6:30 pm

Seating 2: 6:45-8:15 pm
NO Community Tables on 11/29
(Thanksgiving Weekend)