Congrats to THE Best Slam Poets in the Nation!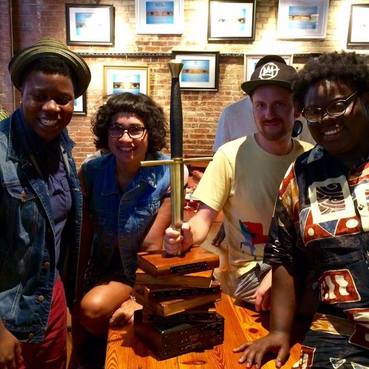 We couldn't be more proud to announce that our very own House Slam team was named the NATIONAL CHAMPION and swept ALL THREE TITLES at the National Slam Poetry Competition in Oakland, CA last month. The five-poet team –Porsha Olayiwola (co-founder), Janae Johnson (co-founder), Melissa Lozada-Oliva, Jonathan Mendoza, and Erich Haygun – topped 71 teams from around the country, defeating competitors from Hawaii, California, and Colorado in the thrilling final round.
To read more about the team, check out
this article
from WBUR's ARTery.
Special thanks to all those who supported the team
in SO MANY WAYS: by attending and participating each month in this awesome community, by donating to the cause, and generally being cheerleaders. All are invited to come down to Haley House Bakery Café
this Friday
for a
special poetry slam
to celebrate the victory –
click here
for more details!
---
Are You Ready For Pizza & Economic Justice?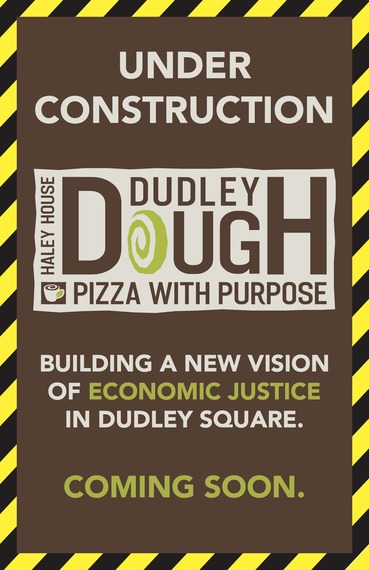 Dudley Dough, Haley House's new social enterprise pizza shop, is just weeks away from opening! Our menu, crafted by Founding Haley House Bakery Café Chef Didi Emmons, includes an exciting assortment of healthy, locally sourced pizzas (with vegan and gluten-free options), alongside salads, our signature HH baked goods, local Toscanini's ice cream, coffee drinks, tea, craft beer, wine, and more. Beyond good food, this business is grounded in economic inclusion and profit sharing for workers.
Make sure to follow us on
Facebook
,
Twitter
, and
Instagram
for the latest updates and check out
dudleydough.org
for more information about our plans. We look forward to welcoming you and sharing some delicious food & drink soon!
---
FREE HER Conference: Women & Incarceration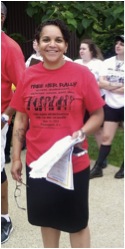 In August, Nimita Iyer, a new member of the Haley House Live-In Community, attended the Free Her Conference on Women and Incarceration. Here are her reflections:
For two days, more than a hundred women gathered to share personal stories of struggle and growth related to their experiences with incarceration, and the ways these experiences have inspired them to work for justice and healing. The groundbreaking conference was hosted by the Charles Hamilton Houston Institute for Race & Justice (at Harvard Law School) and the non-profit Families for Justice as Healing. Powerhouse grassroots organizer, criminal defense attorney, and author Andrea James planned the conference (pictured above).
The campus of Harvard Law School was filled with the extraordinary passion and energy of women who had experienced incarceration first hand, along with those indirectly affected: mothers, grandmothers, daughters, and sisters. Along with decrying the national epidemic of mass incarceration, the group identified the need to address the violence inherent throughout the prison-industrial complex and the dangers of a culture of criminalization of specific populations. To learn more about Families for Justice as Healing click here.
---
10 Years & Going Strong: Now Open Evenings With A NEW DINNER MENU!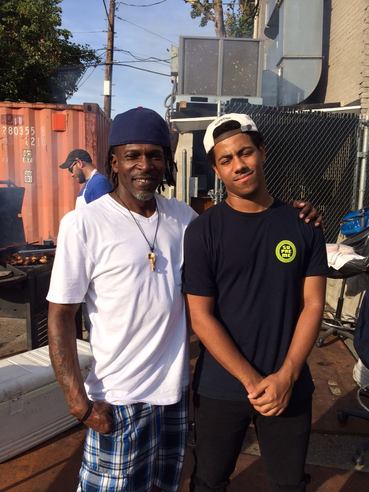 On Saturday, August 29th, we celebrated
10 years of Haley House Bakery Café
with a staff cookout and gathering of friends from the past 10 years.
Thanks to YOU
for supporting this communal labor of love and helping to make HHBC what it is today and for the many lovely birthday serenades last month (earning you free cookies!). We look forward to celebrating future decades in Roxbury.
And we're so excited to announce that starting September 22nd
,
HHBC will now be open for
dinner
Tuesday

through
Friday evenings, featuring a brand n
ew dinner menu
available from 5 - 8:30 pm (closing at 9 pm). New additions include: grass-fed beef burger on homemade brioche bun with fried egg, homemade mustard pickles and baked home fries, Steve's chicken and waffles with maple butter, and fresh salad picked from our very own Thornton Farm! Also, keep your eyes peeled for
new items
on the Café Lunch menu!
---
Safe Travels & Good Luck, Claire!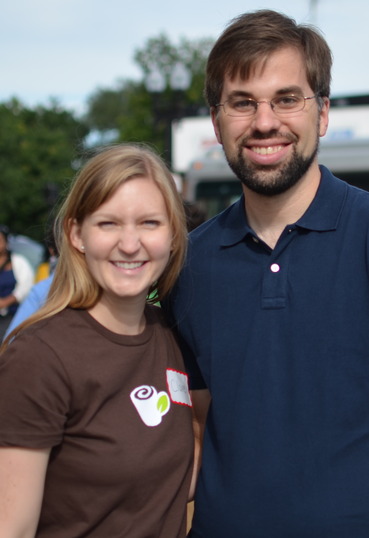 Last week, we bid a fond farewell to
Claire (Davis) Posey
, who has served as our Manager of Programs for the past year. Prior to this role, Claire was a member of the Live-In Community. She first came to Haley House as a summer intern and wrote her master's thesis on the Transitional Employment Program at Haley House. Claire and her husband David will make their new home in Nashville, much closer to their families.
Claire brought with her a passion for measurement and evaluation, a deep love of grammar and pranks, and, most importantly, a strong commitment to the work and mission of Haley House. She will be missed. Thank you, Claire, for all the ways you have contributed to the growth of Haley House and best wishes to you and David during this next chapter of your journey!
---
Farm Updates: Loads of Tomatoes & Fun!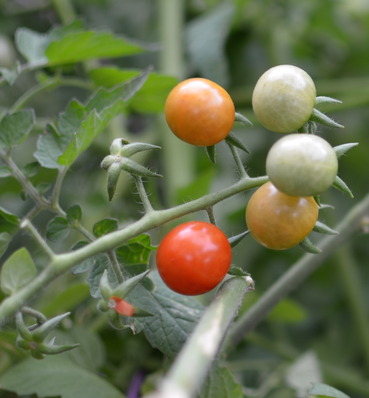 The harvest is bountiful this time of year, and we're excited to be using lots of produce grown in our urban farm plots throughout our programming. We hope you'll come and check out our plots!
All are invited to join us at Thornton Farm Workday (located at 95 Thornton Street in Roxbury) on Saturday, September 12 from 10 am - 12 pm. RSVP to Karsten.
This month's McKinley Garden Workday will be Saturday, September 19 from 10am - 12pm (meet at 23 Dartmouth Street, South End). No tools needed, all experience levels and ages welcome, please bring water. RSVP to Cara.
To read the latest Garden Newsletter, click here and contact Carmine if you'd like to receive the monthly newsletter.
---
Haley House In the News...

Events
9/9: Victory Mini-Slam Celebration
4 pm at the Grand Staircase at Boston State House, hosted by Sen. Sonia Chang-Diaz (
more info
)
9/10: OUTDOOR Art is Life Itself
! featuring the Fulani Haynes Jazz Collaborative, The GroovaLottos, spoken word artist Neiel Israel, & Open Mic., 7-10 pm at HHBC (
more info
)
9/11: Outdoor House Slam: NATIONAL CHAMPIONS return
home for a celebration, featuring guest poet

Clint Smith, s
tarting at 6:30 at HHBC (
more info
)
9/12: Thornton Farm Workday
10 am - 12 pm at 95 Thornton St., Roxbury (RSVP to
Karsten
)
9/17: Art is Life Itself!
, 7-10 pm at HHBC (
more info
)
9/19: McKinley Garden Workday
10 am - 12 pm, meet at 23 Dartmouth St. (RSVP to
Cara
)
9/24: Art is LIfe Itself!
, 7-10 pm at HHBC (
more info
)
9/25: The House Slam
doors open at 6:30 pm at HHBC (
more info
)
10/21: Roxbury History Series "
Through Snow, Strikes, and Strain: The Archaeology of Moving Boston," 7 pm at HHBC (
more info
)
---
Volunteer Opportunities
Special Event: 9/10 Outdoor Art Is Life Itself Celebration,
5 - 11 pm at HHBC.
Tasks include set up, break down, and during the event.
Click here to sign up
.
---
Free-Range HHBC
HHBC will be sampling food at the following fundraising events this fall. Come visit and support these great causes:


Thursday, 9/17 Taste of Jamaica Plain
, 6-9 pm at Franklin Park Zoo (
more info
)
Thursday, 10/1 Men of Boston Cook for Women's Health
, 6 pm at Codman Square Health Center (
more info
)
---
Donation Needs
Soup Kitchen:
Silverware
Bowls
Mugs
Plates
Ice Cube Trays
For Our Guests:
Each Monday morning, we open the "clothing room" for our soup kitchen guests. Our supply during the summer is low, so all clothing donations are very much appreciated.
T-shirts & polo-shirts
Men's shorts and pants
Baseball caps
Men's belts
Men's sneakers & shoes
NEW men's SOCKS & UNDERWEAR
Long-sleeved shirts & sweatshirts
Toiletries of all kinds, especially travel size (including razors)
Garden Wish-list:
Any gently-used garden tools would be appreciated including:
Pitchforks
Hoes
Watering Cans
Wood Chips
Top Soil
Handsaws
Chainsaw Safety Equipment
Contact Karsten if you can help with any of these items.
---
*NEW* Café Hours (starting 9/22)
MONDAY
7:30 am - 6 pm
TUESDAY & WEDNESDAY
7:30 am - 9 pm
THURSDAY
7:30 am - 10 pm
FRIDAY:
7:30 am - 9 pm
SATURDAY:
9 am - 4 pm
SUNDAY:
10 am - 4 pm