Join us for Soup + Ceramics + HHLove
All are invited to the 10th annual SOUP-er Bowl Fundraiser this
Sunday, February 11
at Haley House Bakery Cafe (12 Dade Street,
Roxbury
)-- tickets are going fast, so get yours while they're still available (the first entrance at 2 pm is already sold out, but at the time of this newsletter, we've still got tickets for 3, 4 and 5 pm).
At this popular annual event, guests begin by choosing a unique, handmade ceramic bowl created by our friends at Clay for Change at MassArt (yours to take home at the end!). You'll then be invited to enjoy more than 16 delicious soups made by talented chefs including our friends at Mei Mei, Future Chefs, Cuisine en Locale, The Food Project, Fresh Food Generation, Daily Table, Global Local Gourmet, Fulani's Kitchen, Paraclete Center, Paige Academy, and chefs from across Haley House Programs. Inventive and delicious soups are crafted using locally-grown ingredients donated from amazing farms and local businesses.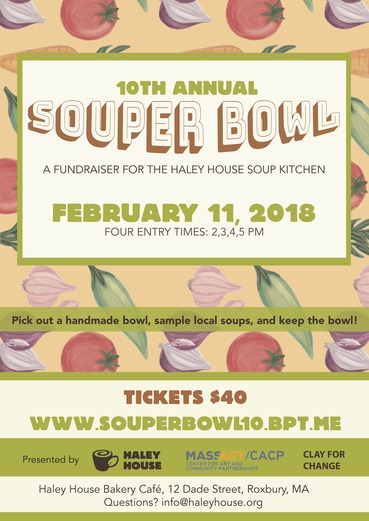 This event is presented in partnership with MassArt's Center for Art and Community Partnerships (
CACP
) and Ceramics Department. For more info or to purchase your ticket, visit
souperbowl10.bpt.me
.
---
Listen & Learn: the Pats + TEP @
HHBC
On January 5th, staff and graduates of the TEP program at Haley House Bakery Cafe welcomed Devin McCourty, Johnson Bademosi, Brandin Cooks, and Matthew Slater of the
Patriots
, alongside criminal justice advocates from nearby universities, nonprofits, local government, and others fighting for criminal justice reform and racial equality.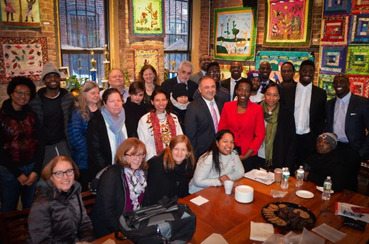 Starting at Harvard University and finishing at Haley House Bakery Cafe, the group participated in a panel discussion entitled "Racial Profiling and Barriers to Successful Reentry and Possible Solutions." The private round table event was co-hosted by the Fair Punishment Project and the Committee for Public Counsel Services. #FairPunishmentProject #PlayersCoalition Click below to watch a overview of the day's activities.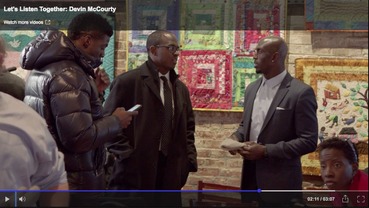 ---
Handmade Soap for Our Guests!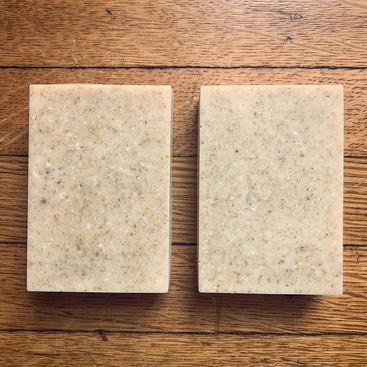 We're so grateful for our friends at HAMMac Soap for their donation of handmade soups to our soup kitchen guests.
With every bar of soap that they sell, one is donated.
Click here
for more information about this project.
---
Thank You, City on a Hill Dudley Square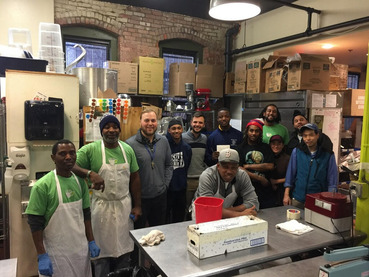 This month, members of the National Honor Society from our neighbors at City On a Hill Dudley Square hosted a "penny fundraiser" that raised $524.09 and students and staff collectively chose Haley House as their designated charity. We are so grateful! If you're interested in making a donation or organizing a drive of some kind, contact Rachel (
here
).
---
Want to Live at Haley House?
Living and working at 23 Dartmouth Street (Haley House's home-base in the South End since 1967) offers a unique opportunity to experience intentional community living (5-7 people), self-growth, consensus-based decision making, contemplative discussion, interactions with new people each day, hard work, volunteer delegation, lots of cooking, and much joy along the way!
Both short and long-term members of the "Live-In Community" help to collaboratively manage the soup kitchen (23 Dartmouth Street), which has the mission to serve nutritious, made-from-scratch meals and create an atmosphere where friendship and community is fostered across all societal boundaries. Room and board is included as part of the experience. Currently, the Live-in Community is reviewing applications for summer interns (short term stay) and full Live-in Community Members (two year stay). Click on the links below for more information about this special experience:


---
EVENTS
2/7: The

Yung

House Slam + Open Mic,

6 pm

at

HHBC

(

more info

)
2/8: LIFTED Boston (Open Mic + Playback

Theatre

)

, 7:30 pm at

HHBC

(

more info

)
2/9: The House Slam ft. Mahogany Browne,
6:

30 pm
at
HHBC
(
more info
)
2/11:

Souper

Bowl 10

, 2,3,4,

5 pm

at

HHBC

(

more info

)
2/16: The Vagina Monologues
, 7:30 pm at
HHBC
(
more info
)
2/21: The

Yung

House Slam + Open Mic

,

6 pm

at

HHBC

(

more info

)
2/22: Locked Up: Mass Incarceration Rates in the United States,
7 pm
at
HHBC
(
more info
)
2/23: The House Slam, 6:30 pm at HHBC
3/1: Jazz by Any Means Necessary, 7 pm at HHBC
3/2: Author/ Poet Series: Zora Neale Hurston
, 7:30 pm at HHBC (
more info
)
SAVE THE DATE: 6/2/18: 15th annual Block Party + Silent Auction
---
Haley House Bakery

Café

Hours
MONDAY- WEDNESDAY
7:30 am - 6 pm
THURSDAY
7:30 am - 10 pm*
*food until 9 pm
FRIDAY:
7:30 am - 8 pm
SATURDAY:
9 am - 4 pm
SUNDAY:
10 am - 4 pm
---
Donation Wish List
Clothing For Soup Kitchen Guests: Monday mornings, we host the "clothing room" for soup kitchen guests. All men's clothing and personal hygiene projects are very appreciated, especially:
NEW underwear (any size except small)
Men's socks!!
Travel-sized toiletries (soap, body wash, shampoo, conditioner in travel sizes,

lipbalm

)
Toothbrushes & Toothpaste
Deodorant
Shaving cream & razors
Soup Kitchen & Live-In Community:
Silverware (especially forks and spoons)
Mugs
Books & magazines (Spanish & English)
Checkers, chess, & scrabble sets
---
HELP WANTED
Be sure to check out our help wanted page (
here
) for our latest job postings, including an urban farm coordinator and office coordinator.
---
Special Request: A Vehicle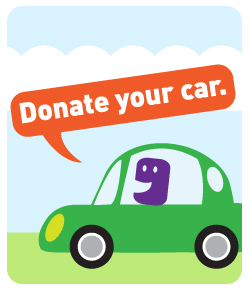 The SUV that is used for all food pick-ups for the soup kitchen and farming chores by the live-in community is on its last legs. Do you have a vehicle that you're willing to donate to a good cause?
Contact us
if you are able to help!
---
Rox-in-Motion
Last winter, Roxbury in Motion surveyed community members about their top priorities related to green space, urban agriculture, and physical activity spaces around Dudley Square. Full survey results will be shared soon, but if you're interested in getting involved or learning more about this project, fill out an interest form
here
.