Feast on This: Outdoor Community Tables!
Come hungry, come all! Haley House's 6th Annual Outdoor Community Tables is back this summer on Saturday, August 11, from 5-8 pm. T
his year's outdoor pay-what-you-can extravaganza will feature a delicious, made-from-scratch buffet dinner (including dessert), with vegetarian and vegan options.
We encourage folks to come together to enjoy a locally-sourced meal, prepared by Haley House Chefs and volunteers, inspired by our weekly Community Tables meal. There will also be music and performances. Bring the whole family along for hours of fun and entertainment!
Suggested donation is $10/ adult and kids are free. More info
here
.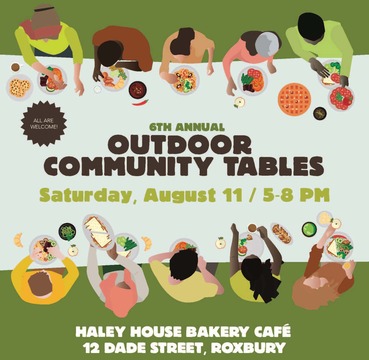 ---
Bruce Western Presents: Homeward at HHBC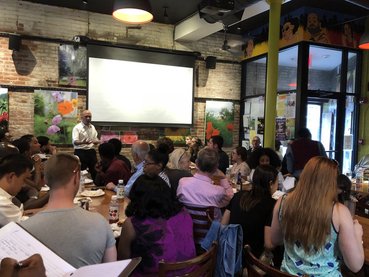 Sociologist and Harvard Professor Bruce Western stopped by the bakery cafe on June 20 to give a special presentation on his book "Homeward," which chronicles the difficulties faced by Bostonians in their first year after incarceration.
Informed by more than one hundred comprehensive interviews of those who left the Massachusetts State Prison System, "Homeward" highlights how poverty, racial inequality, and lack of social support traps so many individuals into "a cycle of vulnerability despite their efforts to rejoin society." Click here to learn more and purchase "Homeward".
---
Remembering Roxbury Icon, Sam Sadd
On Sunday June 10, our friends at Hawthorne Youth and Community Center paid tribute to their late longtime director, Sam Sadd at the first annual HYCC Legacy Day. During the event, the
garden space was dedicated to Sam for her decades of service to the community and the organization celebrated 45 years of making a difference in the Roxbury community. Guests enjoyed a meal, planted sunflowers, and celebrated together.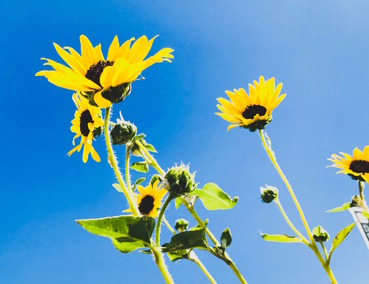 HYCC Executive Director Liz Miranda presente
d several awards, including one that honored Haley House for its longtime partnership. Together, Haley House and HYCC have licensed a piece of land on Thornton Street in the South End from the City of Boston, creating an urban farm and offering programming such as "Grow It, Cook it, Share It", which engages local youth to learn about environmental sustainability and urban farming. Learn more about HYCC
here
.
---
HHBC Cape Shark Wins at Boston Jerkfest!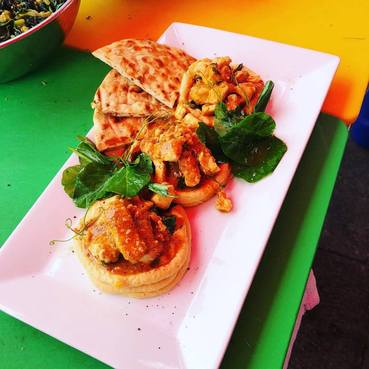 The HHBC team turned up the heat at this year's 6th Annual Boston Jerkfest on June 22, taking home the title of Seafood Throwdown Champion.
The winning recipe was Pineapple Jerk Cape Shark with Mango- Hummus and Grilled Naan Bread, created by Haley House Chef, Ricardo Monroy.
Boston Jerkfest
is a two day food festival celebrating Caribbean fare and culture, featuring all things jerk- flavored! Click
here
for more info.
---
Best of Luck, Chef Michael Cooley!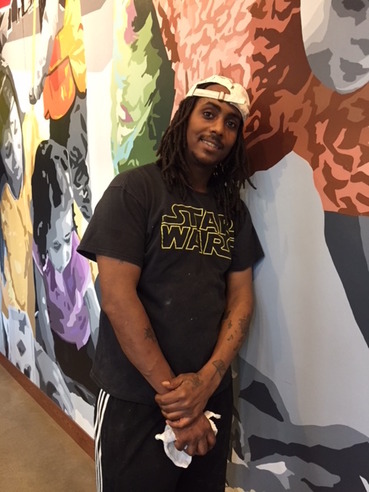 After dedicating 10 years to HHBC, Michael Cooley is moving onto new culinary endeavors! Michael first began at Haley House as part of the Bakery Training Program and is one of the longest-serving members of the HHBC team.
With his charming personality, infectious laugh, and mouth-watering dishes, Michael built a fan base of regular customers who will miss him.
You can catch him whipping up his culinary creations at his own food truck, Bob Cat's: Food for the Soul (255 Cape Highway, Taunton, MA). We wish you the best of luck, Michael and you will be missed!
---
Op-ed: Food Wisdom From Chef Fulani Haynes
What comes to mind when you think of seniors? Do you think of depression? Suffering from loneliness? Dull wit due to aging? Do you think they are unproductive; less creative? After spending the past two months with a vivacious group of local Boston Seniors, I've realized the answer to these questions are all false.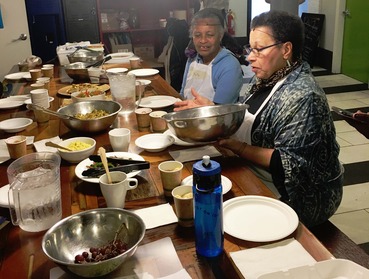 My name is Marilyn Fulani Haynes (Chef Instructor for Haley House's TBK program) and I have the opportunity to be the chef in an environment of progressive thinkers and like-minded people who are senior citizens. The senior community includes eager-to-learn individuals who care about their bodies and are disciplined enough to listen when the instructor is teaching. We begin our course focusing on NO SALT diets and giving the colon the break its been asking for. We round out introductions with the importance of fiber in our digestive systems.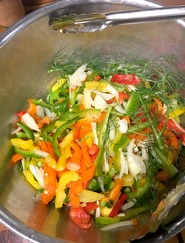 My focus is self-sufficiency with balanced nutrition and extending the quality of our lives. The cool thing is that I am a senior too, so I practice what I preach and eat to live. We must re-adjust our taste buds to the essential herbs and spices and stop poisoning our bodies with processed foods, trans-fat and preservatives. Fruits and vegetables are the rock stars of my extensive workshop. When our students sift through the many variations of spices available to them, go home and try out their experimental rubs, they feel like movie stars. My passion is life and I'll spread my timeless art of 'cooking to live' wherever I go, one organic carrot at a time. Many thanks to all who are involved in Take Back the Kitchen.
-Chef Fulani
---
Shout Out to Haley House Interns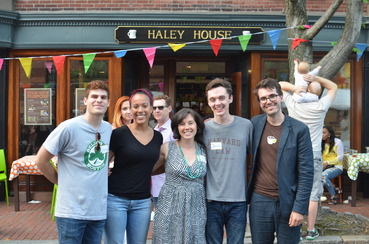 It's been a full house at 23 Dartmouth since we have welcomed interns throughout the various programs at Haley House this summer.
In the time they have been here, interns have led tours, served meals in the soup kitchen, worked on the farm, eaten many cookies, and learned a lot along the way. We have interns from the Gabelli Presidential Scholars Program at BC, the Forest Fellowship Program, the Tisch Scholar Program at Tufts, and others from across the country and around the world!
Thank you Grace, Chris, Arturo, Jacob, Jack, Leah, Andrew, Thomas, Maria, and Massimo!
---
Farm Updates: The Growing Continues!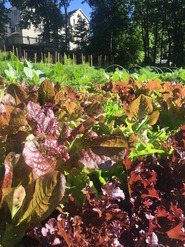 Haley House's Thornton Farm is in full bloom! Summer crops like tomatoes, peppers, okra, eggplants and squash are just around the corner for peak growth and greens like collards, kale, lettuces are growing faster every day!
The Thornton Street Farm Team continues to send in lots of nutritious, colorful food into the Haley House Bakery Cafe - some days it doesn't even touch the refrigerator and is prepped and served as soon as it's brought in. Swing by the bakery cafe for fresh fare and then visit the farm yourself (a short walk away)!
We continue to welcome volunteers every week - please contact
Rachel
for more information.


---
EVENTS
7/12: Lifted Boston,
7 pm at HHBC (
more info
)
7/13: The House Slam Anniversary,
6:30 pm at
HHBC
(
more info
)
7/19: Boston Day and Evening Academy presents Lyricists' Lounge,
6:30
pm
at
HHBC
7/20: Meta Arts presents: Gender Equality in The Black Community (A Literary Discussion),
7 pm at
HHBC
(
more info
)
7/26: Sanaa with Friends presents Art Expressions (Paint Night),
6 pm at HHBC (
more info
)
7/27: The House Slam,
6:30 pm at
HHBC
(
more info
)
8/2: Jazz By Any Means Necessary,
7 pm at
HHBC
(
more info
)
8/3: The Vagina Monologues,
7 pm at
HHBC
8/8: Transformative Culture Project presents: A Wrinkle in Time (outdoors),
8/9: Lifted Boston, 7 pm at HHBC
SAVE THE DATE:
8/11: 6th Annual Outdoor Community Tables,
8/15: Stuck on Replay,
6-9 pm at HHBC
---
Haley House Bakery

Café

Hours
MONDAY- WEDNESDAY
7:30 am - 6 pm
THURSDAY
7:30 am - 9pm
FRIDAY:
7:30 am - 8 pm
SATURDAY:
9 am - 4 pm
SUNDAY:
10 am - 4 pm
---
Wish List
Clothing:
Any gently used/new men's clothing and personal hygiene products, especially:
-NEW underwear (M-XL)
-Men's pants (30's range)
-Men's summer wear (T-shirts/ shorts)
-Travel-sized toiletries (soaps/shampoo/conditioner/
lip-balm
)
-Toothbrushes & Toothpaste
-Deodorant
-Shaving cream & razors
Goods:
-Silverware (forks + spoons especially)
-Mugs
-Books/ magazines (Spanish + English)
-Checkers, chess, scrabble
-Seedlings/ transplants
-Potting soil
-Tarps
-Wood/ stakes
-Paint
-Paintbrushes
---
Read All About It!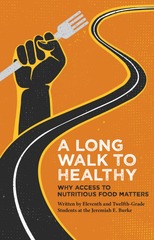 826 Boston recently published a 3 book collection authored by high school students on everyone's favorite topic: food, and its relationship with math, chemistry, and public health.
All Kinds of Flavor
,
A Long Walk to Healthy,
and
With a Crunch and a Slurp
, were written in 826 Boston Writers' Rooms over the course of the academic year, in which students kept food journals, reinvented family recipes, and advocated for food justice in their communities.
---
Abolish Prisons?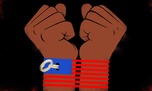 Could prison abolition be the solution to mass incarceration?
Click
here
to read a piece in The Guardian on the history of prison abolition in the United States.
---
Amazon Smile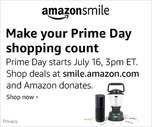 Support Haley House while you shop! Amazon donates a portion of their sales to a non-profit of your choice when you shop. Click
here
to choose Haley House.