We Owe, We Owe, We Owe: New TEP Video
Charles Hamilton Houston Institute of Race and Justice has chosen to spotlight Haley House's Transitional Employment Program, as a part of their effort to spotlight community justice initiatives. This short video (
here
), made by filmmaker Meghan McDonough, features TEP founder, Daniel Cordon, and current TEP leader, Jerome Pitts.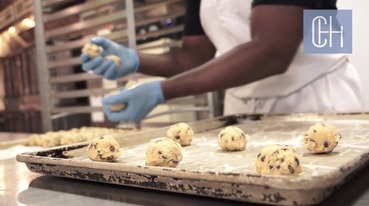 For more info about the Charles Hamilton Houston Institute,
click here
.
---
Come Celebrate the Roxbury Cultural District!
In May, the Roxbury Cultural District (RCD) was formally designated as the third cultural district in the City of Boston. Recognized by the Mayor, the Boston City Council, and the Commonwealth of Massachusetts, the formation of the RCD fulfills a long-standing community goal and is the result of a two-year community effort by residents and over 40 community partners.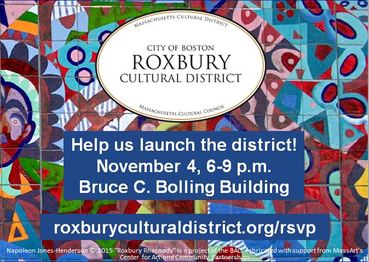 To mark this milestone, the RCD will host a free community celebration on November 4 in the Bruce C. Bolling Municipal Building,
featuring local food and artists (e.g. spoken word, music, visual arts) and will provide an opportunity to thank the Roxbury community and key stakeholders for their support and help in establishing the district. For more information, click here. Also, check out the new RCD
events
page.
---
Tech Goes Home & Breweries at Dudley Dough
In addition to hosting after school math tutoring with Pie R Squared, Dudley Dough also is now serving as a classroom on the weekends! Pictured here are trainees from the current Transitional Employment Program, residents of our housing programs, and Dudley Dough staff all taking part in Tech Goes Home, a computer and technology class.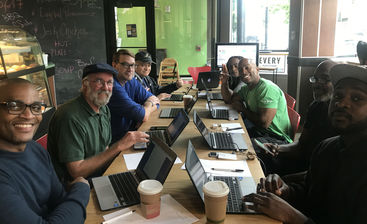 On November 4th, Dudley Dough will be hosting Michael Reiskind, Vice President and historian of the Jamaica Plain Historical Society, for a exciting tour on the history of breweries in Roxbury and Jamaica Plain. Brazo Fuerte, a locally owned and woman-founded brewery will also be present to share their story and provide samples of their beer. This event is free and open to the public. For more info, click
here
.
---
Coming Soon: Annual Thanksgiving Pie Drive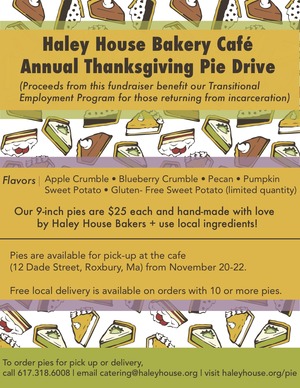 Each year at Thanksgiving, our kitchen is bustling with activity for the annual pie drive to benefit the Transitional Employment Program. Our 9-inch pies are $25 each and hand-made by our bakers using locally sourced ingredients.
Choose from six flavors: Apple Crumble, Blueberry Crumble, Pecan, Pumpkin, Sweet Potato, and Gluten-Free Sweet Potato. Your friends and family will love how delicious they are, and the important work these pies support. For more info and to place an order, click
here
.
---
Glorious Greens: Thornton Farm Updates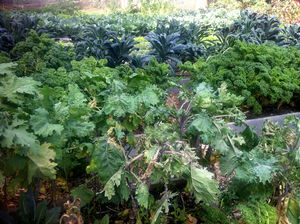 If you've eaten at the Bakery Cafe or Dudley Dough during the last few months, you've undoubtedly eaten our Roxbury-grown collard greens. The farm team has harvested more than 1,200 pounds of collard greens this year! We expect to harvest enough to meet the Cafe's needs for several more weeks ( depending on the fall weather, of course)! To provide a continuous supply of arugula, we seeded arugula in smaller quantities every other week in succession plantings, with some of our plantings yielding three harvests this season!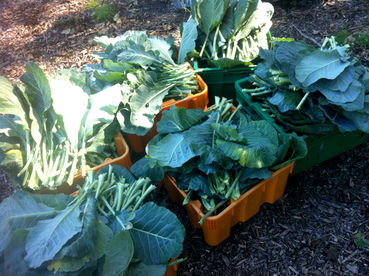 Many industrial farms today grow just one crop or one variety of a crop. We were recently reminder of the value of a diversity of crops. One of the three types of kale growing in beds right next to each other was decimated by aphids. The team decided to pull the sick (red Russian) kale from the beds, but were able to leave the curly and lacinato varieties, which both remained strong. When pests invade, the large farms resort to using pesticides and harsh chemicals to attempt to save the crop. We're committed to using organic growing practices on Thornton Street, so our crop diversification is necessary and beneficial!
---
We're Hiring: Co

me Join the HH Team!
Haley House is hiring several full-time positions including:
General Manager of the Bakery Cafe

Supervisor at the Bakery Cafe

Bakery Cafe Catering Driver (HHBC)

Bookkeeper (Organization-wide)
For more information about these positions, click
here
.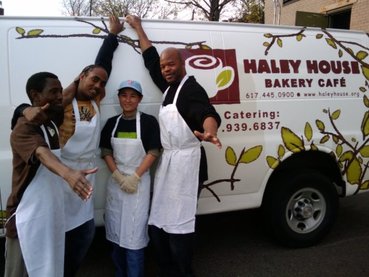 ---
New Volunteer Shift at HHBC: Can You Help?
Looking for something fun to do on Saturday to support your community? We're looking for some volunteers to help out in the kitchen at Haley House Baker Cafe for a "Saturday Transition Shift" from 11am- 4pm. Each week, we're looking for 1-2 people from to help transition from Saturday Brunch into Community Tables (our weekly pay-what-you-can meal at HHBC). Tasks may include bussing tables, working the register, cleaning, prepping food, and more. To sign up, fill out the form on
the volunteer page of our website.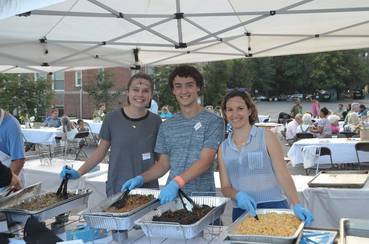 Also, be on the lookout for our new system of scheduling volunteers. Once you fill out the application on our website, the volunteer coordinator will send along a link to our online schedule where you can see all the open shifts and sign up for as many as you'd like! Before your shifts, you'll receive a reminder email with all the relevant information.


EVENTS
---
Donation Wish List
Clothing For Soup Kitchen Guests: Monday mornings, we host the "clothing room" for soup kitchen guests. All men's clothing and personal hygiene projects are very appreciated, especially:
NEW underwear (all sizes except small)!!
Men's socks!!
Travel-sized toiletries (soap, body wash, shampoo, conditioner in travel sizes, lipbalm)
Toothbrushes & Toothpaste
Deodorant
Shaving cream & razors
Soup Kitchen & Live-In Community:
Washcloths
Forks + Spoons
Mugs
Books & magazines (Spanish & English)
Checkers, chess, & scrabble sets
Large Mason Jars with Lids (for canning)
Large pots with thick bottoms
---
Haley House Bakery Café Hours
MONDAY- WEDNESDAY
7:30 am - 6 pm
THURSDAY
7:30 am - 10 pm*
*food until 9 pm
FRIDAY:
7:30 am - 8 pm
SATURDAY:
9 am - 4 pm
SUNDAY:
10 am - 4 pm
---
Dudley Dough Hours
MONDAY-FRIDAY
7 am- 9 pm
SATURDAY
11 am- 9 pm
---
Special Request: A Vehicle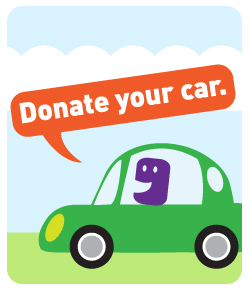 The SUV that is used for all food pick-ups for the soup kitchen and farming chores by the live-in community is on its last legs. Do you have a vehicle that you're willing to donate to a good cause?