Neighborhood Harvest Festival: October 17th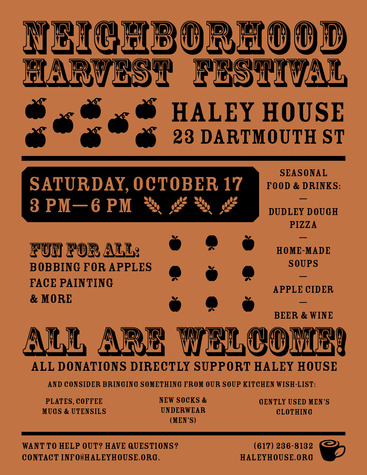 Please join us on Saturday, October 17th from 3-6 pm at the Haley House Soup Kitchen in the South End (23 Dartmouth Street) for a neighborhood harvest festival. Admission is free, and any donations will support the essential services offered by Haley House to those most in need in our community. Families are especially welcome!
The menu will feature delicious, inventive pizzas from Haley House's new social enterprise, Dudley Dough, alongside seasonal soups, dessert prepared by Lee Napoli, and apple cider, wine, and Sam Adams beer. Drink tickets will be available at the event ($10 suggested donation for 3 samples). Along with delicious food and beverage offerings, there will be a variety of fun activities for children and entertainment at this family-friendly, neighborhood event. All are invited to join us in celebrating autumn. For more info, click here.
---
Friend of Haley House: Dorothy Day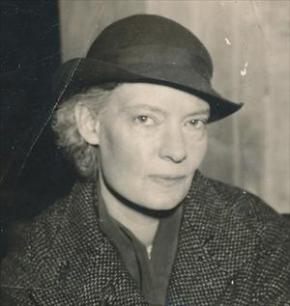 We were pleased to hear a familiar name in the news recently. In the
Pope's speech before Congress
, he praised
Dorothy Day
, calling her a "representative of the American people."
Haley House was originally founded as a Catholic Worker house,
part of the radical movement pioneered
by Dorothy Day; many in our ranks have their our own potent personal memories of Dorothy Day, who visited Haley House many times. We harbor the hope that Dorothy's radical vision of personalism and anti-war militancy is not diluted by widespread acclaim. For a great introduction to the vision of this extraordinary woman, we recommend checking out
this article
in which author Mike Scahill reflects on his own relationship with Day and the Catholic Worker Movement.
---
Dudley Dough... Rising Fast!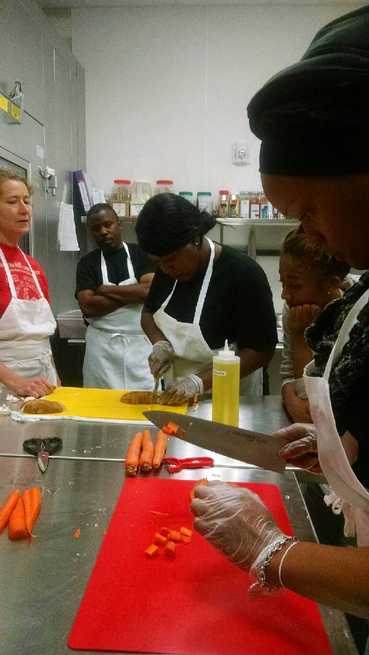 Dudley Dough
, Haley House's
new social enterprise pizza shop
, is weeks away from opening! Our menu, crafted by HHBC Founding Chef Didi Emmons, includes an exciting assortment of healthy, locally sourced pizzas (with vegan and gluten-free options), alongside salads, our signature HH baked goods, local Toscanini's ice cream, coffee drinks, tea, craft beer, wine, and more. Beyond good food, this business is grounded in economic inclusion and profit sharing for workers. Make sure to follow us on
Facebook
,
Twitter
, and
Instagram
for the latest updates and check out
dudleydough.org
for more information about our plans. We look forward to welcoming you and sharing some delicious food & drink soon!
---
Start Saving Your Appetite: Dessert Fundraiser
S
ave the date on
Sunday, November 8th
from
3-5 pm
for our annual
"A Sweeter Life" dessert fundraiser
at Haley House Bakery Café. Boston's finest dessert chefs will showcase their signature treats at a "tasting" fundraiser honoring Haley House's Transitional Employment Program, which supports individuals transitioning from incarceration. Tickets for this event cost $50. From 2-3 pm, the pastry and dessert chefs will host a special meet & greet reception – an early-admission ticket ($100) is required for this pre-event gathering.
Check back soon to see the complete listing of our guest dessert chefs. Our sponsors include the
Mayo Group, Bank of America Charitable Foundation
and
Shawmut Construction
. For more information or to purchase tickets,
click here
.
---
Now Open Nights: New Evening Menu at HHBC!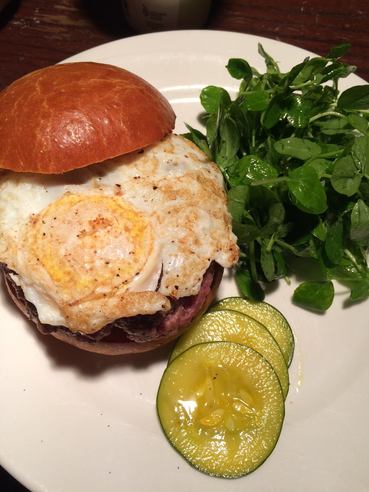 Haley House Bakery Café is now open for
dinner
! Please join us between
5-8:30 pm
on
Tuesdays
-
Fridays to try out some fabulous new additions to our repertoire!
Our new menu has a strong local focus: our beef comes from Walden Local Meat and our seasonal produce comes from Re-Vision Urban Farms, Eva's Garden, and our own Thornton Gardens and Farm in Roxbury.
New favorites include Steve's fried chicken and waffles with sriracha butter, a grass-fed beef burger on a brioche rolls, and tea and wine cocktails.
Click here
to view the full menu, or better yet, stop by soon to try these new treats yourself!
---
Bountiful Harvest in Roxbury!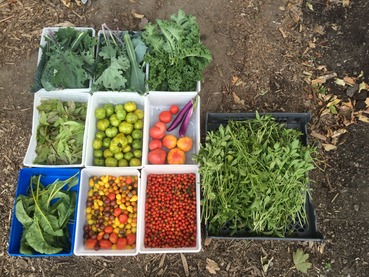 We officially have a BOUNTIFUL first full growing season on the books at 95 Thornton Street in Roxbury! Thanks to the installation of a watering system and our partnership with Hawthorne Youth & Community Center for Grow It, Cook It, Share It this summer, we successfully built, filled, planted, and harvested from 20 raised beds, 2 Hügelkultur beds, and several movable/experimental growing containers. AND we've been able to integrate the produce into soup kitchen meals, Community Tables, and daily menu items at HHBC.
This month's McKinley Garden Workday will be Saturday, October 17th from 10 am-12 pm (meet at 23 Dartmouth Street, South End). No tools needed, all experience levels and ages welcome. RSVP to Cara.
All are invited to join us in celebration of Food Day with Hawthorne Youth & Community Center on Saturday, October 24th from 1-3 pm at HYCC (9 Fulda Street Roxbury). If you're interested in participating or volunteering, please contact Danielle Sommer. This month's Thornton Garden Workday will be Sunday, October 25th from 2-4 pm, at 95 Thornton Street. Contact Karsten to RSVP.
And contact Cara if you'd like to be put on the monthly garden mailing list.
---
'Tis the Season: Haley House Pie Drive
The weather is getting cooler, the leaves are changing color, it can only mean one thing...
Haley House Pie Drive
season! Time to start plotting your order of made-from-scratch pies with natural (and mostly local) ingredients, hand-made by our wonderful bakers. Proceeds from the sale of
pies
benefit the
Transitional Employment Program
(TEP), which assists women and men transitioning from incarceration. To whet your appetite for our Thanksgiving
Pie
Drive
2015, here's a list of this year's pies: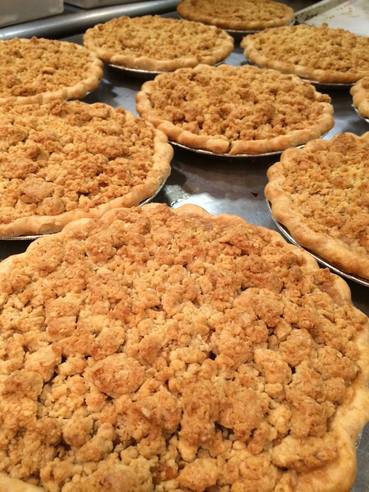 Apple Crumb (featuring Granny Smith apples from Brookdale Farm in Hollis, NH)
Blueberry Crumble (with wild Maine blueberries)
Pecan (using agave – no corn syrup!)
Pumpkin (a Thanksgiving classic)
Sweet Potato (the real deal!)
Gluten-Free Sweet Potato (the real deal, minus the gluten!)
Pies are $22 ($25 for gluten-free) and should be ordered in advance. Pick-up is at Haley House Bakery Café (12 Dade Street, Roxbury) from Monday, November 23rd to Wednesday, November 25th, with complimentary delivery for orders of 10 or more pies (within Boston & Cambridge). Group orders may be coordinated by "Pie Captains" – the deadline for group orders is Tuesday, November 17. Call (617) 939-6837 to order your pies today, or check our Facebook page next week for an electronic order form.
---
Save the Date! Souper Bowl Kick-Off 2/21/16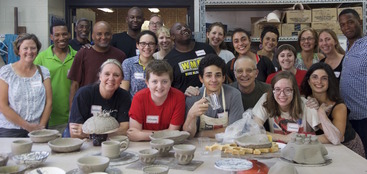 Our 8th Annual Souper Bowl Fundraiser will be on
February 21st, 2016,
kicking off the start of our year long celebration of
Haley House's 50th Anniversary
. Pictured above, friends of Haley House making bowls for this event with
MassArt's Clay for Change Program
!

Events
10/8: Art Is Life Itself! – Get Out The Vote
featuring Future Boston + extended open mic, 7-10 pm at HHBC (
more info
)
10/9: House Slam featuring Ashley Davis, doors open at 6:30 pm at HHBC (
more info
)
10/15: Art Is Life Itself!
featuring Boston's own Alexandria King + open mic, 7-10 pm at HHBC (
more info
)
10/17: McKinley Garden Workday
10 am-12 pm, meet at 23 Dartmouth St. (RSVP to
Cara
)
10/17: Neighborhood Harvest Festival
All welcome, 3-6 pm at 23 Dartmouth Street (South End) (
more info
)
10/21: Roxbury History Series
"Through Snow, Strikes, and Strain: The Archaeology of Moving Boston" by Miles Shugar, 7 pm at School Committee Room, Bruce C. Bolling Municipal Building –
NOTE LOCATION CHANGE!
(
more info
)
10/22: Art Is Life Itself!
featuring D. Ruff, spoken word artist & co-host of " If You Can Speak It," 7-10 pm at HHBC (
more info
)
10/23: The House Slam
doors open at 6:30 pm at HHBC (
more info
)
10/24: Food Day Celebration with HYCC 1-3
pm at HYCC (contact
Danielle
with questions)
10/25: Thornton Garden Workday
2-4 pm, meet at 95 Thornton Street (RSVP to
Karsten
)
10/29: Art Is Life Itself!
featuring Queen Peleiah Auset, Sumner & Linda McLean, and alumni of SpelHouse (Historically Black Colleges & Universities Spelman & Morehouse), 7-10 pm at HHBC (
more info
)
11/17: Roxbury History Series
"African Americans in the Military," 7-9 pm at HHBC (
more info
)
---
Volunteer Opportunities
We're especially in need of volunteers when our college regulars are out of town. Dates include: Oct. 12th (Columbus Day), Nov. 23rd-30th (Thanksgiving break), and December 10th-January 31st (holiday break). Please
click here to register and view available dates
.
---
Donation Needs
Soup Kitchen:
Silverware
Bowls
Mugs
Plates
Food Processor
Tool Boxes
Clothing For Our Guests:
Each Monday morning, we open the "clothing room" for our soup kitchen guests. All men's clothing donations are very much appreciated, especially:
T-shirts & polo-shirts
Men's shorts and pants
Baseball caps
Men's belts
Men's sneakers & shoes
NEW men's SOCKS & UNDERWEAR
Long-sleeved shirts & sweatshirts
Toiletries of all kinds, especially travel size (including razors)
Garden Wishlist:
Any gently-used garden tools would be appreciated.
Contact Karsten if you can help with any of these items.
---
Café Hours
**Now open for Dinner with NEW DINNER MENU ITEMS Tuesday- Fridays**
MONDAY
7:30 am - 6 pm
TUESDAY & WEDNESDAY
7:30 am - 9 pm
THURSDAY
7:30 am - 10 pm
FRIDAY:
7:30 am - 9 pm
SATURDAY:
9 am - 4 pm
SUNDAY:
10 am - 4 pm
---
Mel King's "Technology of the Heart"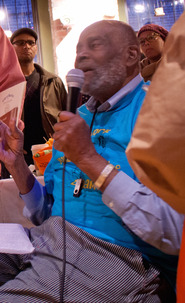 The Christian Science Monitor recently published
a great article
profiling our beloved friend and neighbor Mel King and his work with the South End Technology Center. In response to a question about what motivates him, he shared: "the major piece is love. The technology of the heart is love, the art of relationships with people." Thanks to Mr. King for a lifetime of deep commitment to the community...we wish him many more good years.
---
Thanks To Our Friends At Barbour
A huge shout-out to our friends at Barbour for their generous donation of 3 cases of beautiful, warm sweaters for guests of our morning soup kitchen. Fred, JR, and Jay happily posed for the image in our header as part of an impromptu glamour photo shoot! Thank you, Barbour!