Remembering Miguel DeJesus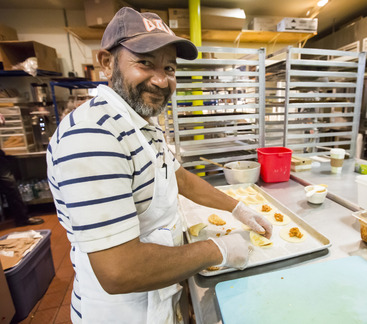 Miguel DeJesus, beloved Haley House Bakery Cafe employee and jack-of-all-trades passed away on May 7th. He was a devoted father, husband and friend to so many people and he is deeply missed. He left behind his twin 13-year old daughters, three older children, wife Eva, and many friends and family. Donations to support his family during this difficult time can be made
here
.
---
Ice Cream & Scholarships at Pie-R-Squared
Pie-R-Squared, the awesome free math tutoring program that makes its home in Dudley Dough, is wrapping up the school year. Pictured here are some of the students with Mayor Marty Walsh!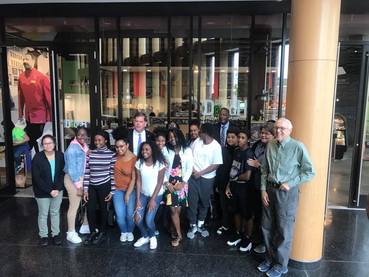 During the end-of-the-year Ice Cream Social (Wed. J
une 21 at 3 pm,
Dudley Dough) scholarships will be awarded to two outstanding seniors who plan to attend college in the fall. Awards will be granted to students who have showed great dedication as math students and peer tutors. Funds for these scholarships are being gathered now. (The daily operating budget covers food costs, which average $600/week.)
If you would like to help send our scholars off to college, please consider making a donation and supporting our community-based math program. Link to donation page
here
.
---
Special Donation Request: A VEHICLE
Do you have a large vehicle that you're willing to donate to a good cause? The SUV that is used for all food pick-ups for the soup kitchen and farming chores by members of the live-in community is on its last legs.
Contact us
if you can help Haley House out!
---
Networking & New Faces at DD

Dudley Dough was featured in a story on WGBH about gentrification in Roxbury and Boston (click
here
to check it out) and team leader Luther Pinckney was featured along with Mayor Marty Walsh for an interview with WCVB Chronicle discussing liquor licenses.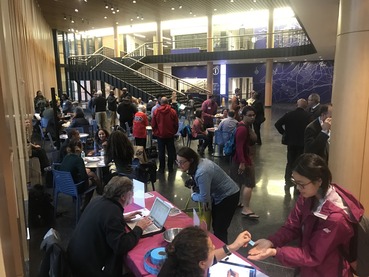 On June 5th, the Non-Profit Networking Series kicked off with a bang, with representatives from many non-profits and community groups. The series will continue as
Social Justice Mondays
, during which a different community organization will be present each Monday, starting with our friends from Alternatives for Community and Environment (ACE) on June 12. In the following weeks, we will host Dudley Street Neighborhood Initiative (6/19) and Right to the City (6/26- tentatively). You also might notice a familiar face when you walk into Dudley Dough in the morning: chef Michael Cooley (from HHBC) is now spending some time working at Dudley Dough, including cooking up some delicious new menu items like breakfast calzones!
---
Springing into Summer: Farm Team Updates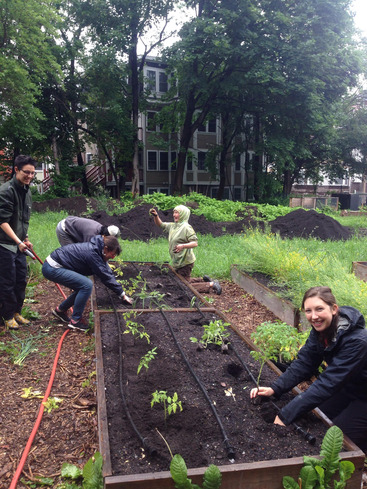 The farm team is growing with the addition of four summer interns: Inma, Paula, Wren, and Molly?Although this spring's grey weather has been bringing down many of us, Thornton's tomato plants soaked up the rain and the season is off to a great start!
Special thanks to Youth Build Boston and City on a Hill who helped to build 3 new hugulkultur beds and make other improvements to make Thornton ready for major planting. The team is also in the final stages of finishing farm site expansion and improvements funded by MDAR. And make sure to look out for fresh kale smoothies at Dudley Dough, featuring produce from Thornton as early as next week, as well as collard greens on HHBC's menu.
The next farm workday will be on June 10 from 9am-12pm with a community potluck to follow and all are welcome to participate! Contact
Laura
if you'd like attend!
---
Limited Opportunity for Home Ownership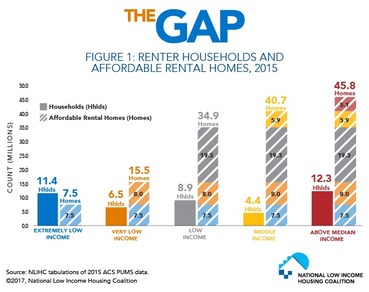 The National Low-Income Housing Coalition recently released "The Gap: A Shortage of Affordable Homes." The extensive report
highlights critical unmet housing needs of the nation's lowest income households. More than 11.4 million extremely low income renter households in the U.S (classified as those whose income is no greater than 30% of their area median income (AMI) or the poverty guideline), face a shortage of 7.4 million affordable/available rental homes. In perspective, nationally, for every 100 ELI renter households, only 35 affordable homes are available. A shortage exists in every state and major metropolitan area. (To read the full report, click here)
---
Wrap-up: 14th Annual Haley House Party
Haley House would like to extend a huge thank you to everyone who attended our 14th Annual Block Party and fundraiser on Saturday, June 3rd at 23 Dartmouth Street! There was a fabulous silent auction, live music and performances, games and activities for kids, wine and beer tasting (thanks to The Wine Emporium and Harpoon), delicious juice and sampling (thanks to Purity and MEM Tea), and delicious food from Haley House Bakery Cafe and Dudley Dough. We can't wait until next year's festivities!
Click here
to see some photos on Facebook from Board Member Kathy Kim!

EVENTS
6/8: Roxbury Historical Society Presents Remembering Henry Hampton in Roxbury (Film)
,
6:30pm at First Church in Roxbury (
more info
)
6/9: House Slam + LGBTQIA Open Mic
, 6:30 pm at HHBC (
more info
)
6/10: Thornton Farm Work Day
, 9am-12 pm, with potluck to follow (contact
Laura
to RSVP)
6/12: Social Justice Mondays featuring ACE
, 6pm-9pm at Dudley Dough (
more info
)
6/15: Outdoor AiLi Live (season finale)
+ open mic, 7 pm at HHBC (
more info
)
6/20: Thornton Farm presents Tasting Tuesday
5 pm at HHBC (
more info
)
6/21: Pie-R-Squared Ice Cream Social & Scholarship Awards, 3 pm at Dudley Dough
6/22: Locked Up: A Discussion on Mass Incarceration Rates in the U.S.
, 6pm- 7:30pm at HHBC (
more info
)
6/23: House Slam, 6:30 pm at HHBC (more info)
6/26: Dinner & A Movie
, 6:30 pm at HHBC (
more info
)
6/29: Outdoor Rap Slam, 6:30pm-10:30pm at HHBC (outdoor)
6/29: Sumner and Linda McClain present Stories Celebrating Life: Celebrating our Musical Gifts in Community + open mic, 7- 9:30pm at HHBC (indoors)
6/30: Youth Voice Project Art Show, 6pm-9pm at HHBC
7/6: Jazz By Any Means Necessary
, 7pm-10pm at HHBC (
more info
)
7/7: First Friday Family Game Night
, 5-8 pm at Dudley Dough (
more info
)
8/12: Outdoor Community Tables
, 4:30pm-8:30 pm at HHBC (
more info
)
8/16 & 8/17: HHBC & Vday Belmont present Vagina Monologues,
7:30-10:30 pm at HHBC (
more info
)
---
Donation Wish List
Clothing For Soup Kitchen Guests:
Each Monday morning, we open the "clothing room" for our soup kitchen guests. All men's clothing and personal hygiene projects are very much appreciated, especially:
NEW underwear (all sizes except small)!!
Men's socks!!
Shoelaces
Belts & Suspenders
Pants (especially between size 30-40) & shirts (men's)
T-shirts
Vests, sweaters & sweatshirts
Travel-sized toiletries (soap, body wash, shampoo, conditioner in travel sizes, lipbalm)
Toothbrushes & Toothpaste
Deodorant
Shaving cream & razors
Tote bags and reuseable grocery bags
Soup Kitchen & Live-In Community:
Forks
Mugs
Bowls
Plates
Books & magazines (Spanish & English)
Checkers, chess, & scrabble sets
Patio Furniture
Large Mason Jars with Lids (for canning)
Etc.
Black Cloth or Curtain (at least 6' x 10')
---
Haley House Bakery Café Hours
MONDAY & TUESDAY
7:30 am - 6 pm
THURSDAY
7:30 am - 10 pm*
*food until 9 pm
FRIDAY:
7:30 am - 8 pm
SATURDAY:
9 am - 4 pm
SUNDAY:
10 am - 4 pm
---
Dudley Dough Hours
MONDAY-FRIDAY
7 am- 9 pm
SATURDAY
11 am- 9 pm