Giving Thanks & #GivingTuesday
Haley House exists because of an extraordinary network of volunteers and supporters of all kinds. We are genuinely grateful to work alongside all of YOU to make our vision for a more connected and loving community possible!

Donations of all kinds have kept Haley House going for nearly 50 years! If you are getting ready to make
donations at the end of the year
, consider supporting the vital work of Haley House by making a monetary contribution (
click here
to donate online), contributing to our clothing room, or joining us in the kitchen or garden as a volunteer. (We're especially in
need of volunteers
in the soup kitchen while our regular college volunteers are on holiday break--see sidebar for our volunteer & donation needs).
You can also
click here
for a full list of our current wish-list.
---
Honoring Two Haley House Heroes: John McKenna & Alden Poole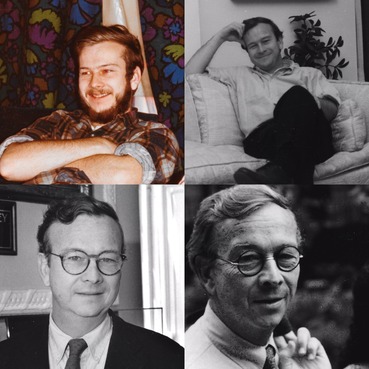 On October 17th,
John McKenna
, co-founder of Haley House, died surrounded by his loving family and friends after a long illness. Born in Roxbury in 1944, John was a man of action whose life was rooted in fairness and justice.There will be a memorial service for John on
Saturday, December 5th
at
2 pm
in the
Bruce C. Bolling Building
.
Click here to read the full obituary
.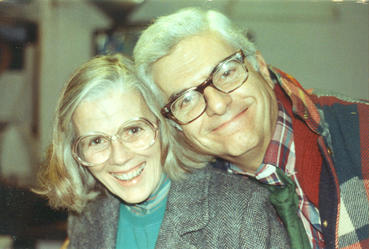 On the same day, long-time friend of Haley House,
Alden Poole
also passed away. Alden and his wife Janet have been connected to the Haley House community for many decades, serving in our soup kitchen and as steady beacons of social justice and leaders in non-violent actions.
Click here
to read about his extraordinary life and legacy.
---
Setting the Table for the Next 50 Years

In February of 2016, Haley House will begin a year-long celebration of our
50th anniversary
, culminating in a big ol' Haley House style party on
December 3, 2016
(details to follow)... but in the meantime, make sure to
SAVE THE DATE!
And if you can't wait for the USPS any longer,
click here
to check out our annual newsletter for some really fun stories from the last 50 years and some updates from this past year.
Got a great story
you'd like to share or want to get more involved in the 50th celebration?
Email us
, give us a ring at 617-236-8132, or stop by!
---
Gifts that Keep on Giving!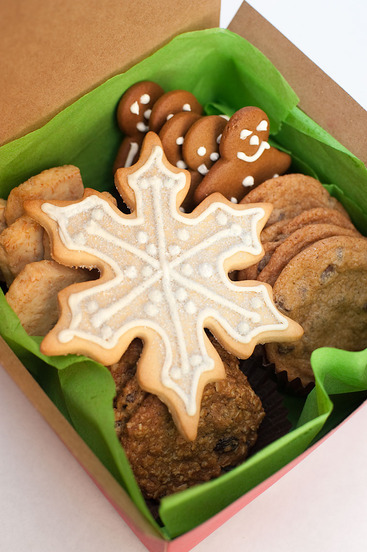 Looking for a
holiday gift with purpose
? Consider supporting Haley House by purchasing:
Holiday Cookie Boxes ($22 each)
Haley House t-shirts ($18)
Gift cards to Haley House Bakery Café and Dudley Dough
Order by phone (617-939-6837),
email
, or in-person at Haley House Bakery Café. (For Dudley Dough gift cards, please call 617-308-3058.)
---
Thanks For Eating Our Desserts & Pies!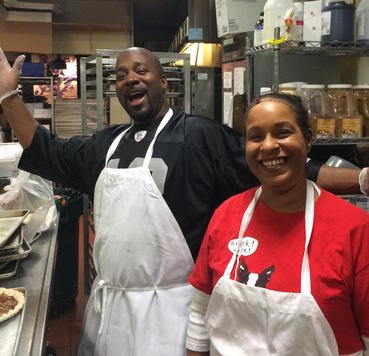 We can't thank you enough for supporting Haley House this past month by eating so many sweets! Thanks to all who helped make our annual "
A Sweeter Life
" dessert fundraiser such a beautiful celebration of the Transitional Employment Program (Sunday, November 15).
Special shout out to our incredible pastry chefs: organizer Lee Napoli (Chocolee Chocolates), Brian Mercury (Harvest Restaurant), Gus Rancatore (Toscanini's Ice Cream), Julius Johnson (Sifted Cakes), Maria Farrah Howell (chocolate + sel), Jessica Morris (Flour Bakery + Café), Tara (Blackbird Doughnuts), Gaitskell Cleghorn, Jr. (Paraclete Center), and Haley House Bakery Café's own pastry chefs, Bettina Scemama and the men and women of TEP. Thanks also to our generous sponsors: MG2, Shawmut Construction, and Sasaki Associates.
We're also grateful for the tremendous support for our Annual Thanksgiving Pie Drive. A special thanks to the outstanding team at Boston College High School who purchased 105 pies (captain Ulrich Alvarez)!
---
Support Haley House While You Shop
If you're purchasing from Amazon this holiday season, please consider supporting Haley House by ordering through Amazon Smile. At no extra cost, Amazon will donate
0.5%
of the price of your
eligible AmazonSmile purchases
to Haley House, Inc. whenever you shop using their AmazonSmile site, if you choose us as your charity of choice. Bookmark
this link
(or click on the button below) to support Haley House with your shopping! Thank you!

---
Harvesting in Roxbury: Get Your Hands Dirty
We'd love to have a few extra hands to help out with end-of-season chores at Thornton Gardens & Farm in Roxbury. Come join us this Saturday 12/5 from 10 am-12 pm; meet at 95 Thornton Street. Contact Karsten to RSVP or with questions. No special skills or prior experience necessary – all are welcome!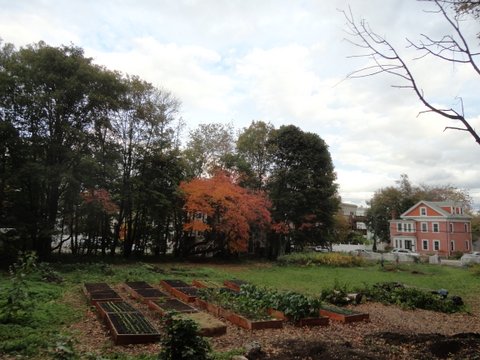 ---
Split a Pie & Raise a Glass at Dudley Dough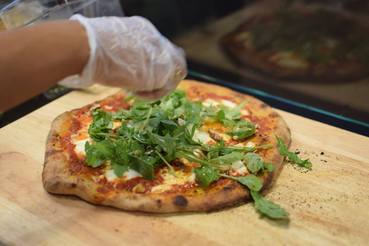 Thanks to everyone who has already supported us by visiting Dudley Dough, Haley House's newest social enterprise. If you haven't visited yet, come on down to try one of our delicious pizzas, soups, salads, HH baked goods, Toscanini's ice cream, Equal Exchange coffee drinks, MEM tea, smoothies,
and now... local beer & wine
! In case you missed it, check out
this article from Boston.com
with some beautiful pictures of the fabulous staff in action. Open Monday - Friday, 7 am – 8 pm. (We hope to be open on Saturdays early in 2016.)

HHBC closed Fri. 12/25 - Sun. 12/27 + Fri. 1/1
(NO Community Tables Sat. Dec. 26)
---
Dudley Dough closed Fri. 12/25 + Fri. 1/1
---
Events
12/3: Art Is Life Itself!
featuring Fulani Haynes Jazz Collaborative +
VCR Community Poet + open mic
, 7-10 pm at HHBC (
more info
)
12/4: Annual Charlie King Holiday Concert
6:30 pm at HHBC (
more info
)
12/5: Roxbury Farm Workday
10 am-12 pm, meet at 95 Thornton Street (RSVP to
Karsten
)
12/5: Memorial Service for John McKenna 2 pm, lobby of Bruce C. Bolling Building (Roxbury)
12/9: Stokely Carmichael: A Conversation (Roxbury History Series)
7 pm at Central Boston Elder Services, come early for a seat! (
more info
)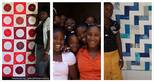 12/10 Quilting is Believing, Artists' Reception for Haiti Peacequilts
, 5:30 - 7 pm at HHBC (
more info
)
12/10: Art Is Life Itself!
featuring actress Obehi Janice and Singer Songwriter Shea Rose + open mic, 7-10 pm at HHBC (
more info
)
12/11: House Slam featuring
Terisa Siagatonu,
doors open at 6:30 pm at HHBC (
more info
)
12/17: Last Art Is Life Itself! of 2015:
featuring House Slam Champions, Poets Porsha & Janae, killer vocalist Eesha Ramanujam + open mic, 7-10 pm at HHBC (
more info
)
12/21: TEP graduation
at 6:30 pm at HHBC (contact
Jeremy
for more info)
2/21/16: Souper Bowl Fundraiser & Kick-off to 50th Anniversary Year
at HHBC (
more info + tickets
)
---
Volunteer Opportunities
---
Donation Needs
Soup Kitchen:
Bowls
Silverware
Mugs
Plates
Tool Boxes
Food Processor
Screwdrivers
Clothing For Our Guests:
Each Monday morning, we open the "clothing room" for our soup kitchen guests. All men's clothing donations are very much appreciated, especially:
winter coats
winter hats, gloves and scarves
boots and shoes
pants
new men's underwear
new wool or cotton socks
thermal underwear
sweaters and sweatshirts
backpacks
toiletries
---
Dudley Dough Hours & Menu
---
Haley House Bakery Café Hours
**Now open for Dinner with NEW DINNER MENU ITEMS Tuesdays-Fridays**
MONDAY
7:30 am - 6 pm
TUESDAY & WEDNESDAY
7:30 am - 9 pm
THURSDAY
7:30 am - 10 pm
FRIDAY:
7:30 am - 9 pm
SATURDAY:
9 am - 4 pm
SUNDAY:
10 am - 4 pm