A Celebration of Live Well Lived: Daniel Berrigan, SJ, Presente! (5.9.21-4.30.16)
"I'm remembering sitting at the kitchen table upstairs at Haley House and
Daniel Berrigan
is "holding forth," as so many of our visitors did. And I know he's a poet, but he's speaking in a language that transcends any convention (forget about iambic pentameter). I am struggling to grasp any thread while being aware that I'm listening to pure mystery, eye of the storm kind of thing. I'm telling you, it was something else. Rest in Peace, Daniel Berrigan, SJ."
-Tricia Beaird (former member of HH Live-In Community)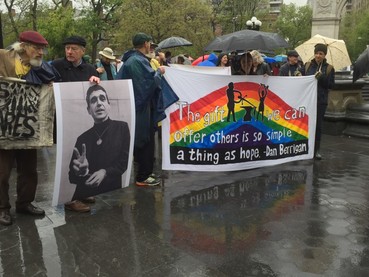 "And into plowshares beat their swords, nations shall learn war no more!" We sang, in driving rain, during our "Peace March" to the funeral mass for Fr. Dan Berrigan S.J.. We began at Mary House Catholic Worker in New York, led by a brass band on a route designed by the activist Frida Berrigan, Dan's niece. A joyful, celebratory tone was maintained throughout the celebration of Dan's life.
The funeral mass was the most remarkable in which I have ever participated, because of the atmosphere in the Jesuit Church. The crowd's energy and enthusiastic participation in the singing, the homily, the eulogies, and prayers for the faithful lead to numerous standing ovations. We applauded during the homily, the prayers of petition, Elizabeth McAlister's reading of Dan's "
Catonsville Nine Declaration
" and, most movingly, as the choir sang "Ode to Joy" while his casket was carried down the long aisle.
It was a celebration of an extraordinary life well lived. Dan was inspirational in many ways: his antiwar and antinuclear weapons actions, prison ministry, teaching on nonviolent theory and action, work with AIDS patients, and his poetry and other writings and speeches, all based on his Christian beliefs. Remembered also was his love of family and his constant use of humor even in the most difficult of circumstances. The message to be carried away was not merely to admire him, but to continue to act in the spirit in which he lived."
--Michael Carey, former member of AILANTHUS and current member of CFROP: Committee of Friends and Relatives of Prisoners
---
Congratulations to TEP Graduates!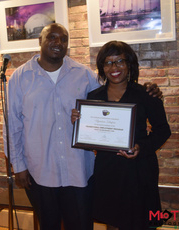 On May, 17th, we celebrated the the three newest graduates of the Transitional Employment Program: Gerald Simmons, Ricardo Greene, and Nyambura Taliaferro. We also honored Justine Durfee who was not able to complete the program (due to a move out-of-state) and is doing well.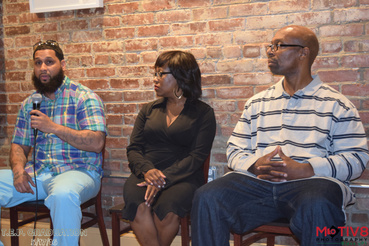 During the program, our phenomenal trainees learned culinary skills (mastering the art of making our famous chocolate chip cookies!), completed a computer and technology course, attended workforce readiness workshops, and practiced meditation and stress relief
Please join us in celebrating our newest TEP graduates and congratulating them next time you see them at the cafe!
---
Remembering Muhammad Ali: Athlete and Activist (1.17.42-6.3.16)
Following the news of his passing last week, we joined the thousands of people around the world to remember and celebrate Muhammad Ali, celebrated as much for his athletic prowess (often recognized as the greatest boxer of all time and an Olympic) as for his activism and dedication to Black liberation. His famous response to being drafted for war in 1967, unfortunately, continues to have relevance for our community today: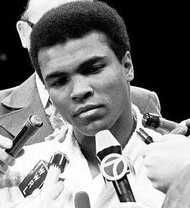 "Why should they ask me to put on a uniform and go 10,000 miles from home and drop bombs and bullets on Brown people in Vietnam while so-called Negro people in Louisville are treated like dogs and denied simple human rights? No I'm not going 10,000 miles from home to help murder and burn another poor nation simply to continue the domination of white slave masters of the darker people the world over. This is the day when such evils must come to an end. I have been warned that to take such a stand would cost me millions of dollars. But I have said it once and I will say it again. The real enemy of my people is here. I will not disgrace my religion, my people or myself by becoming a tool to enslave those who are fighting for their own justice, freedom and equality.… If I thought the war was going to bring freedom and equality to 22 million of my people they wouldn't have to draft me, I'd join tomorrow. I have nothing to lose by standing up for my beliefs. So I'll go to jail, so what? We've been in jail for 400 years."
May we do better in the future to honor your memory, and may you rest in peace, Muhammad Ali.
---
Scaling Up at the Farm!
In May, our farmers and Roxbury neighbors kept busy planting fruit trees, bushes, and native plants, all of which will serve the long term benefit of the site. The team also travelled to Glastonbury Abbey in Hingham to pick up oak logs for growing mushrooms in exchange for providing some Thornton maple branches for Farmer John's baby goats!
As the summer approaches, we are excited to share that all 40 of our beds have been planted. More than 100 pounds of vegetables have already been harvested this year, and have been served at HHBC and Dudley Dough, as well as a special salad for our Silent Auction and Block Party-- we predict the

total yield to be at least three times greater than last year's harvest!

The farm team is also excited to welcome 3 new interns to work with us this season.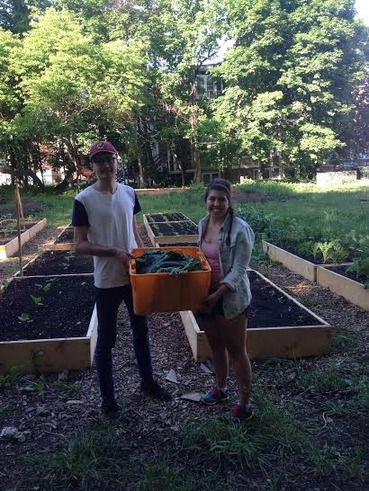 And a huge thanks to the Massachusetts Department of Agricultural Resources (MDAR), whose grant makes many developments possible this year. as well as the staff of the Dudley Community Greenhouse. The magnitude of our operation would not be possible without their work in raising our seedlings.
Our next open farm work day is
Saturday, June 25th from 9am-noon
(meet at 95 Thornton Street)--all are welcome to join! If you'd like to get more involved, or need more information, contact
Cara
,
Karsten
or
Laura
.
---
Possible Changes at McKinley School
The Haley House community turned out at a recent Boston School Committee meeting to support our neighbor and community partner, McKinley South End Academy, as the Boston School Department explores the possibility of relocating the school.
McKinley's students are among the most vulnerable in the city and are in need of upgraded facilities. Parents, teachers, students, and community members offered moving testimonials about the need for a space where McKinley students can thrive and how critical the South End location is to student success and safety. At the meeting, Haley House live-in community member Laura Kakalecz attested to the importance of our neighborhood partnership with McKinley through Take Back the Kitchen classes in the Soup Kitchen and our school garden classes. (Read More)
---
Thank you, Kathleen O'Connor for Decades of Service!
For the past several decades, Kathleen O'Connor has served Haley House in countless ways. After stepping back last year from her full-time duties managing Haley House finances and operations, she served her last Sunday elder meal a few weeks ago, a monthly commitment she has held, along with a group of friends, for more than a couple of decades.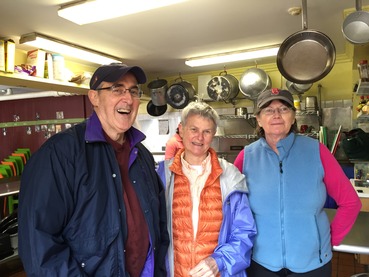 It's nearly impossible to find words to thank Kathleen (and her husband, Larry Manchester) for their generosity and dedication to Haley House. So for now, we'll just say: thank you, and we will see you soon. (Above, from left to right: Br. Daniel Walters, OSB, Kathe McKenna, with Kathleen, during her last shift in the Soup Kitchen).
---
13th Annual Block Party: THANK YOU!
It was wonderful to see so many shining faces showing out for our 13th Annual Block Party and Silent Auction on Saturday, June 4th.
We welcomed a record crowd, who enjoyed phenomenal live music from the JP Honk Band, the BLS Jazz Combo, Mary Ashton Inglis and Karsten Frey, delicious
food
from HHBC, Dudley Dough and Chocolee Chocolates (among others), an incredible
Silent Auction
(made possible by wonderful friends and neighbors), fun
games for kids
, and, most importantly of all,
fantastic company.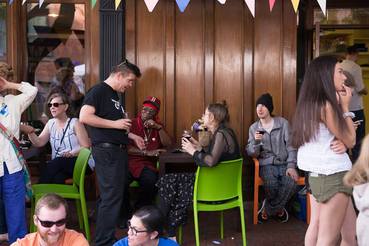 As with everything we do, it wouldn't have been possible without your support! We are so grateful for everyone who makes up this loving community. If you weren't able to come by, check out the awesome photos from our BC Presidential Scholar Intern, Shaan Bijwadia (
here
) and our long-time friend, Tony Irving (
here
).
---
New Research on Gentrification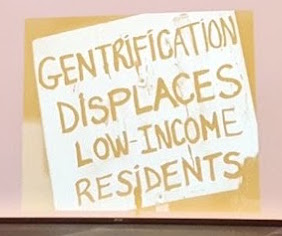 The Gentrification Learning Community recently released its findings at the Mel King Institute for Community Building on strategies to fight urban displacement. The group, co-hosted by LISC Boston and Massachusetts Association of CDCs, spent 15 months conducting research on effective measures to counter gentrification in its members' communities.
Their goal is to stem the pressure on low-
income communities when development drives up housing prices. The report features a wide range of strategies including intervening on property speculators and preserving affordable housing options.
Read more from the GLC's report.

Events
6/16: Last Art is Life Itself for the Season!
, 7 pm at HHBC (
more info
)
6/25: Thornton Farm Workday
, 9 am-12 pm, meet at 95 Thornton (RSVP to
Cara
)
6/27:Dinner & A Movie
, "Life's Too Short," at 6:30 pm at HHBC (
more info
)
6/30: Stories Celebrating Life
, 7 pm at HHBC (
more info
)
8/20: Outdoor Community Tables, 5:30 pm at HHBC (more details to follow)
12/2-4: 50th Anniversary Weekend Gala Celebration
, details to follow (
more info
)
---
50th anniversary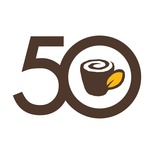 We will be celebrating our 50th anniversary BIG TIME the weekend of
December 2-4, 2016
.
Details can be found here
, including information about reserving reduced-rate hotel rooms if you're coming from out of town.
---
Donation Needs
Soup Kitchen:
Bowls
New Paintbrushes
New Paint Trays
Hand Tools
Clothing For Our Guests:
Each Monday morning, we open the "clothing room" for our soup kitchen guests. All men's clothing donations are very much appreciated, especially:
NEW men's underwear & socks
Backpacks
Toiletries
---
Dudley Dough Hours & Menu
MONDAY-FRIDAY
7 am - 8 pm
SATURDAY
11 am - 8 pm
---
Haley House Bakery Café Hours
MONDAY
7:30 am - 6 pm
TUESDAY & WEDNESDAY
7:30 am - 8 pm
THURSDAY
7:30 am - 10 pm*
*food until 9 pm
FRIDAY:
7:30 am - 9 pm
SATURDAY:
9 am - 4 pm
SUNDAY:
10 am - 4 pm
---
For Rent: South End Parking Space
Need a place to park your car in the South End and want to support Haley House at the same time? We have a spot available behind John Leary House at 418 Mass Ave (our internally subsidized housing site) Cost is $300/month. Contact
Jill
for more information.
---
First Fridays: Games & Pizza @DudleyDough
You're invited to gather on the first Friday of each month to compete in Family Game Night at Dudley Dough.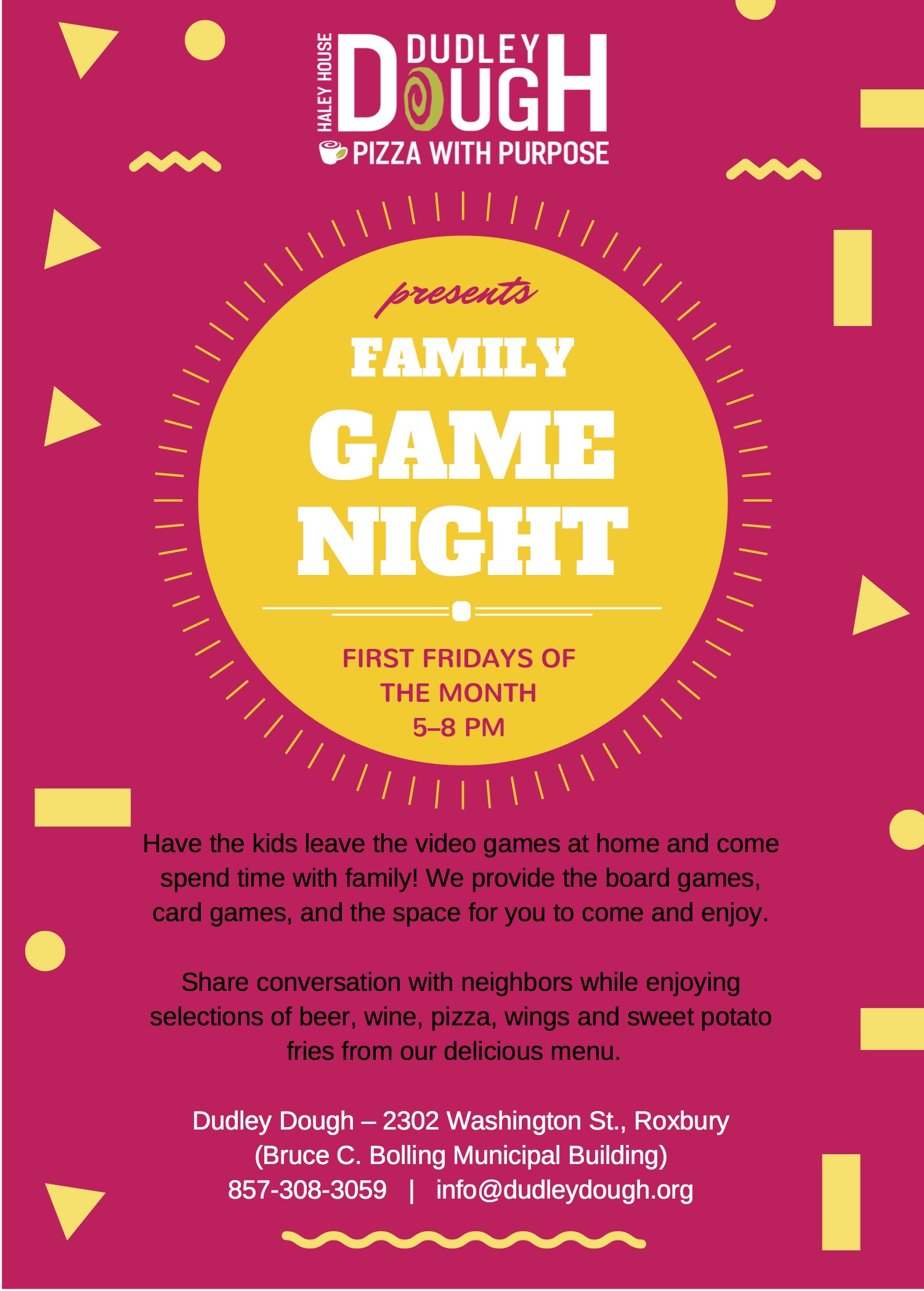 From 5-8 pm, we'll provide the cards and board games and you just need to bring your appetite and A-game! In addition to our delicious pizza, Fridays are a great night to try out our wings, sweet potato fries, and ice cream, as well as beer & wine (all for purchase). The next Game Night will be Friday, July 1!
---
Community Quarterbacks!
A big thanks to our friends at
Eastern Bank f
or awarding Haley House a partnership grant this year in support of Dudley Dough! Bing and Mary Lou are pictured here with Doug Flutie, his Dancing with the Stars partner, Karina Smirnoff, and Eastern Bank Chairman and CEO and Richard E. Holbrook.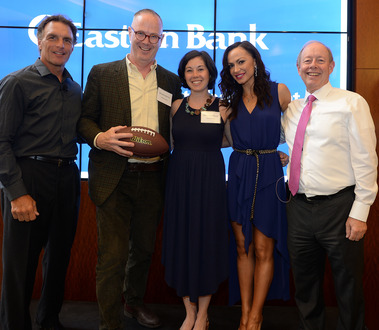 ---
Support Haley House when Shopping Online!
If you have an account with Amazon.com, consider choosing Haley House as the charity to receive part of each purchase through Amazon Smile: