Thursday Night Arts @ HHBC
For the last 10 years, Nina LaNegra has faithfully stewarded Thursday nights at Haley House Bakery Café with the popular weekly Art Is Life Itself! series celebrating food, art, culture, and spirituality. Thursday Night Arts @ HHBC will continue to offer opportunities for folks to express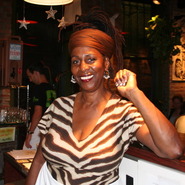 themselves through music, poetry, and storytelling:
1st Thursdays: Jazz by Any Means Necessary with Fulani Haynes

2nd Thursdays: #LiftedBoston from Outside the Box

3rd Thursdays: Nina LaNegra's Art Is Life Itself!

4th Thursdays: Lyricists' Lounge featuring students from Boston Day & Evening Academy

5th Thursdays (March, June): Stories Celebrating Life with Sumner & Linda McClain
We're kicking things off with Jazz by Any Means Necessary this Thursday, January 7th (more info) – hope to see you there!
---
Get Ready: Souper Bowl 8 Tickets Available!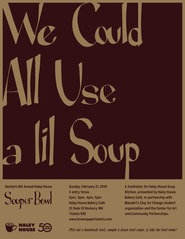 Need some news to keep you warm during this latest stretch of cold winter weather? Tickets are now available for the
8th Annual Souper Bowl
on
Sunday, February 21st.
This fun annual event at the Bakery Café is a celebration of local food, creative cooking, and community. More than a
dozen chefs
will serve
soups made from locally sourced ingredients
as a
fundraiser
for Haley House's
Soup Kitchen
in the South End. Upon entering, attendees will select a
handcrafted
ceramic bowl,
courtesy of
MassArt's Clay for Change
student group (this event is co-sponsored by
MassArt's Center for Art and Community Partnership
). In sampling a variety of these soups, people realize that with a little creativity, it's possible to eat locally all year round! At the end of the event, the attendees are invited to take their beautiful
handmade
bowls
home with them. Please note, there are
four separate entrance times
:
2, 3, 4, and 5 pm
. More information and tickets for all time slots are available
here
.

And in case you need further incentive, this event is the kick-off of our year long celebration of Haley House's 50th anniversary! We'll send more information as the other events draw near, but for now, save the date for our gala weekend: December 2-4, 2016. Many familiar faces from 50 years of HH history will be there – we hope you can join us!
---
Haley House is HIRING!
Haley House is excited to share that we are hiring a new member of our team to serve as
Volunteer Coordinator & Development Assistant
. This person will help manage our service opportunities, communicate with volunteers, and assist with our fundraising activities. If this sounds like your kind of job, check out the full job posting
here
and apply by January 20th! Cover letters and resumes can be sent to
Mary Lou
.
---
Congratulations Tony, Danielle & Roy!
On December 21st, we celebrated the graduation of the latest class in the Transitional Employment Program: Tony Soares, Danielle Hicks, and Roy Singh! We'd like to offer our thanks to these three fabulous individuals for their hard work over the course of the program and best wishes in this next stage of their lives. We're proud that they are part of the Haley House family!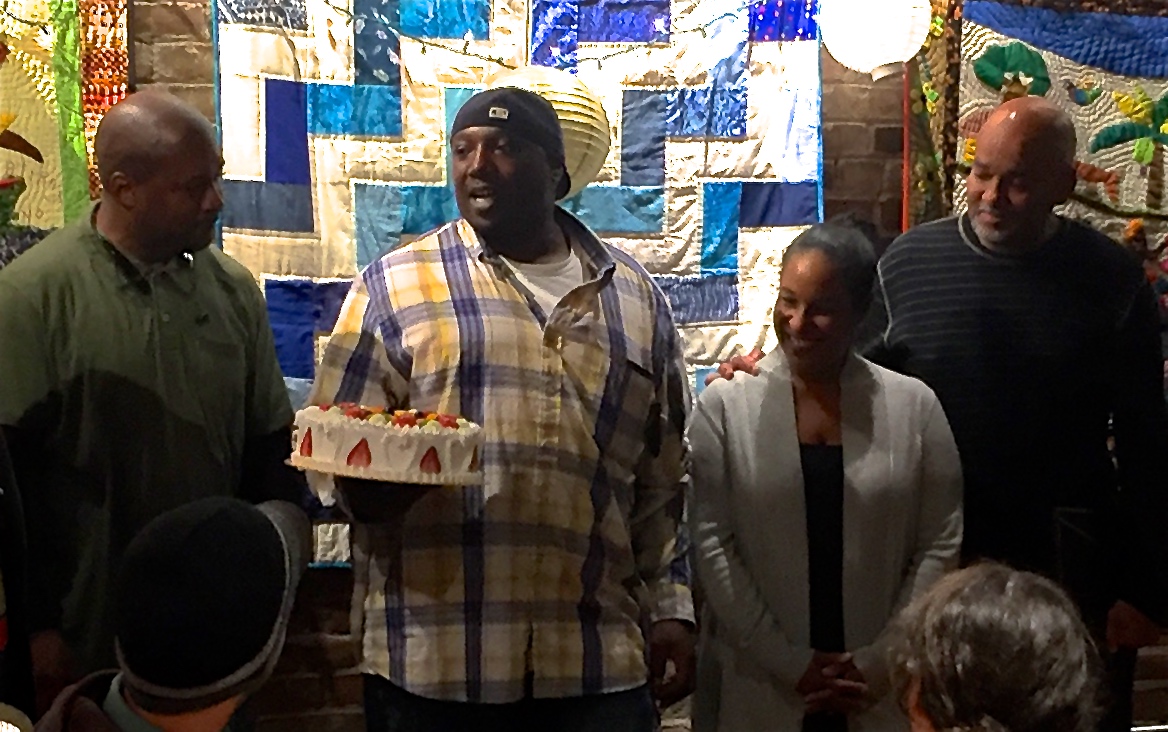 ---
Dudley Dough: Now Open Saturdays
The new year also brings new hours for our new social enterprise, Dudley Dough! We'll still be open Monday-Friday 7 am - 8 pm, and now we'll be serving up pizza, ice cream, salads, beer, and wine every Saturday, 11 am-7 pm. Bring the whole family for a weekend excursion!
We're also starting a new program: Conversations with Chuck Turner. Dudley Dough guests will have a chance to sit down and talk with the former City Councillor and insightful social critic. Chuck will be holding these discussions on the third Wednesday of every month, starting at 6:30 pm, beginning on Wednesday, January 20th.
---
Mild Winter = Extended Growing Season
Thanks to the mild winter weather so far, we still have greens, carrots and beets growing in Roxbury! Karsten, Laura, and several neighbors and volunteers helped to install plastic hoop houses on many of our raised beds to extend the growing season a bit longer. We're hoping to have a Thornton Farm soup at the Souper Bowl...be sure to come by to taste our very first root vegetable harvest!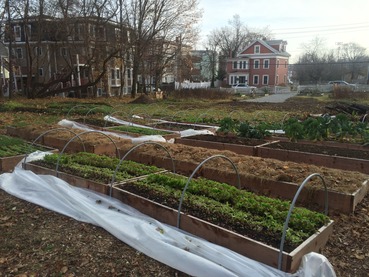 We are also grateful to share that we've received another grant from the Massachusetts Department of Agriculture to continue to improve the site at 95 Thornton and help us to grow more food! We have already installed a gravel driveway onsite that will be used for soil and building material deliveries and harvest pickups. The grant will also allow for the expansion of our water system, installation of drip-line irrigation, doubling our growing space, and allowing us to plant some perennials over the first few months of 2016. It's an exciting time at the farm, and we will certainly need extra hands this spring to make the expansion happen! Stay tuned for workday information or email Cara if you'd like to join the fun!
---
Haley House Annual Newsletter!

Events
1/7: Jazz By Any Means Necessary
featuring Fulani Haynes Jazz Collaborative, 7 pm at HHBC (
more info
)
1/8: The House Slam
featuring FreeQuency, doors open at 6:30 pm at HHBC (
more info
)
1/14: LIFTED
feat. Marella Eliza, Elijah Starr, Marcela Cruz, and Rebecca Zama, plus a screening of "Black Friday Documentary," 7 pm at HHBC (
more info
)
1/20: Conversations with Chuck Turner, 6:30 pm at Dudley Dough (more info in this newsletter!)
1/21: Art Is Life Itself!
feat. singer Shea Rose, poet Skoot & Open Mic, 7 pm at HHBC (
more info
)
1/25: Book signing with local author Cordelia Moye (author of Chuck's Small Circle), 6:30 pm at HHBC
1/22: The House Slam
, doors open at 6:30 pm at HHBC (
more info
)
1/28: Lyricists' Lounge
from Boston Day & Evening Academy, 7 pm at HHBC (
more info
)
2/21: Souper Bowl 8 Fundraiser & Kick-off to 50th Anniversary Year
at HHBC (
more info + tickets
)
---
Apartment for Rent
Can't live without your daily cookie from Haley House Bakery Café? There's a vacancy for the 2400 square foot apartment right above our cafe at 12 Dade Street (3 bedroom, 3 bath, $3200 per month). Contact
Jill
for more information.
---
Volunteer Opportunities
---
Donation Needs
Soup Kitchen:
Bowls
Silverware
Mugs
Plates
Tool Boxes
Food Processor
Screwdrivers
Maple Syrup!!! We're planning a breakfast of fried chicken and pancakes, and we would love some syrup!
Clothing For Our Guests:
Each Monday morning, we open the "clothing room" for our soup kitchen guests. All men's clothing donations are very much appreciated, especially:
winter coats
winter hats, gloves and scarves
boots and shoes
pants
new men's underwear
new wool or cotton socks
thermal underwear
sweaters and sweatshirts
backpacks
toiletries
---
Dudley Dough Hours & Menu
MONDAY-FRIDAY
7 am - 8 pm
SATURDAY
11 am - 7 pm
---
Haley House Bakery Café Hours
**Now open for Dinner with NEW DINNER MENU ITEMS Tuesdays-Fridays**
MONDAY
7:30 am - 6 pm
TUESDAY & WEDNESDAY
7:30 am - 9 pm
THURSDAY
7:30 am - 10 pm*
*food until 9 pm
FRIDAY:
7:30 am - 9 pm
SATURDAY:
9 am - 4 pm
SUNDAY:
10 am - 4 pm