Dancing in the Streets: Thanks to ALL!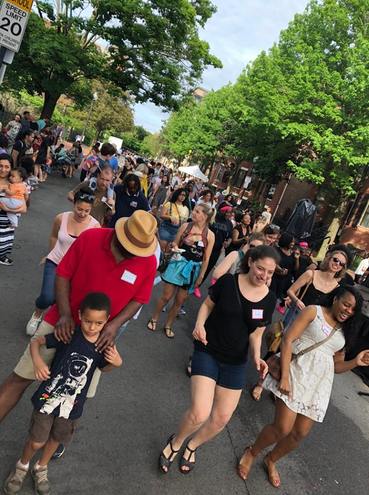 Despite a rainy start, over 400 folks attended our 15th annual summer Block Party this past Saturday (June 2)!
The day's festivities included a silent auction with over 60 amazing prizes, activities and face painting for kids, a wine and beer tasting (thanks to our amazing partners at the Wine Emporium and Harpoon Brewery), delicious food from HHBC (and thanks to Iggy's Bread, Associated Buyers, Siegel Egg, Churchill Linen, and Arrow Paper for their in-kind donations) and dancing and live performances by this year's special guests: Porsha Olayiwola as MC, DJ WhySham, JP Honk Band, South End Dynamite, and (imperfectly perfected dance troop).
We're so grateful for all those who supported this event: volunteers, summer interns, staff, local businesses, our neighbors, and sponsors (Eastern Bank, Maloney Properties, Shawmut Design & Construction, Goodwin Procter, Kinnealey Meats, and Hingham Savings Bank). Thank you to everyone who came out- we can't wait to see you next year! To get a sense of the fun, click
here
to see photos.
---
Congratulations Dashawn & Branden!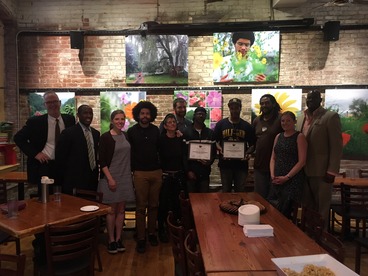 On May, 23rd, we celebrated the most recent graduates of the Transitional Employment Program: Dashawn Price and Branden Morris-Wright. Over the past semester, our phenomenal trainees learned culinary skills (mastering the art of making our famous chocolate chip cookies!), completed a computer and technology course, and attended workforce readiness workshops. Please join us in celebrating our newest TEP graduates and congratulating them the next time you see them at the cafe!

---
Haley House Farm: Full Growth Ahead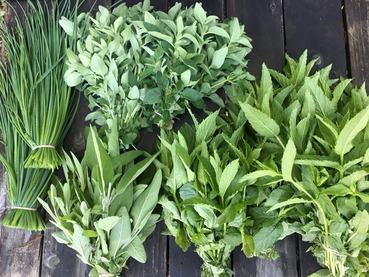 The farm team's hard work of planting and preparing spring and summer crops is beginning to show: collard greens, kale, mixed lettuces, tomatoes, okra, peppers, eggplants, squash, mixed herbs, flowers, and more are already coming up at the farm. More than 100 pounds of produce have already been delivered and served at Haley House Bakery Cafe this season (some of it doesn't even make it t
o the fridge before being ser
ved!), with a whole lot more on the way in the upcoming weeks.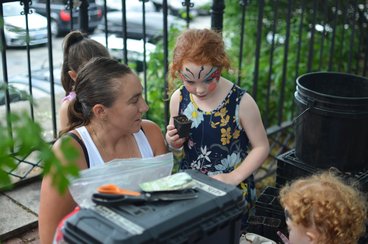 As the days get longer and
warmer, we welcome volunteers every week!
The farm has open volunteer sessions on Thursdays from 1-4 pm and S
aturdays from 10 am-1 pm.
Please email Anna (farm coordinator) or Rachel (volunteer coordinator)
for more information.
---
Artist Spotlight: Erren Geraud Kelly
This month, we are grateful to share a poem written by of one of our guests, Erren Geraud Kelly, titled "
The Young Lovers.
" Click the poem (below) to view full size and check out our Artist Spotlight page!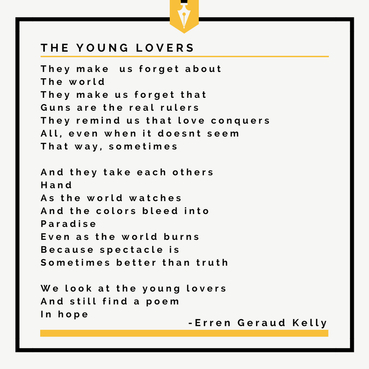 ---
Thank You Cummings Foundation!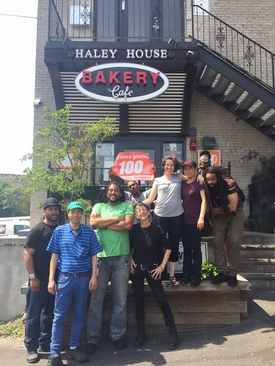 We are grateful to have been named part of this year's "100K for 100 non-profits" cohort by the Cummings Foundation. This funding (spread over the next three years) will be an important support for the daily work of Haley House.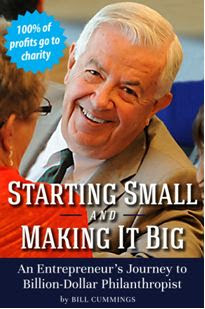 This grant is made possible by the generosity and vision of local philanthropists Bill & Joyce Cummings. Bill's acclaimed recent memoir chronicles his life's philosophy, centered on a "
belief in the goodness of all humanity." A
ll proceeds from sales of this book are being donated to charity.
Click here
to learn more or to purchase the book.
---
Join the "Sharing Circle" on Wednesdays!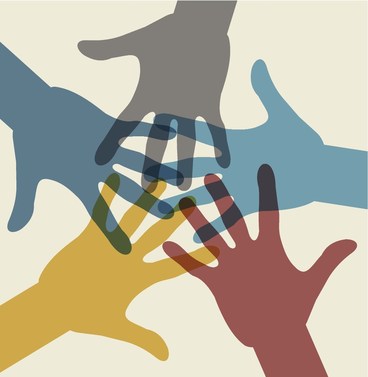 The Circle, which meets

on Wednesday evenings from 6-8 pm at 23 Dartmouth Street,

pr

ovides an opportunity for individuals to share their struggles and triumphs in a friendly, supportive, and confidential setting.
Some current participants have experienced lengthy periods of incarceration an
d have gone on to build fulfilling lives; others visit relatives and friends who are currently incarcerated. Some are simply concerned about the challenges associated with life in and after prison.
Together, participants build a mutually caring and supportive fellowship in which old friendships are renewed and new friendships begin.
The group is
currently welcoming new participants, particularly those who have
experienced incarceration.
Contact Tom (617-642-9351,
email
) or Michael (617-599-5817) for more information.
---
TBK'S Recipe of the Month: Quick Tiramisu
Looking for kitchen inspiration? This month, learn to make Tiramisu!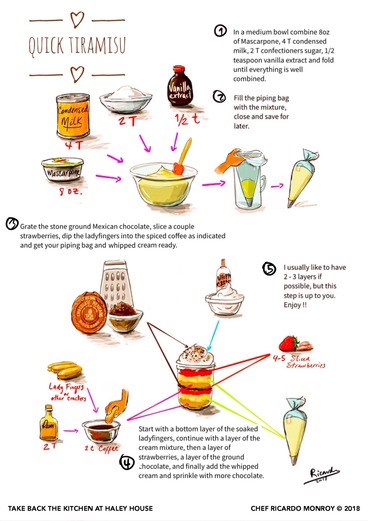 Take Back the Kitchen (TBK) recipes are created and illustrated by TBK's own Chef Ricardo Monroy. Click the image above for a larger view and learn more about TBK
here
.


---
EVENTS
6/7: Jazz By Any Means Necessary,
7 pm
at
HHBC
6/8: The House Slam Lip Sync Battle ft. Agnes Ugoji,
6:30 pm at HHBC (
more info
)
6/14: Lifted Boston,
7 pm at HHBC (
more info
)
6/15: Sanaa With Friends,
6:30
pm
at
HHBC
6/21:

AiLi

Live

!

Season Finale

7 pm at

HHBC

(

more info

)
6/22: The House Slam,
6:30 pm at HHBC (
more info
)
6/25: Roxbury Film Festival presents: Dinner and a Movie,
6:30 pm at HHBC (
more info
)
**HHBC Closed July 2-5**
7/6: Family Game Night,
5 pm at 23 Dartmouth St.
(
more info
)
SAVE THE DATE
8/11: Outdoor Community Tables
, 5-8 pm at HHBC (
more info
)
---
HHBC Hours
MONDAY- WEDNESDAY
7:30 am - 6 pm
THURSDAY
7:30 am - 10 pm*
*food until 9 pm
7-10 pm
FRIDAY:
7:30 am - 8 pm
SATURDAY:
9 am - 4 pm
5 -7:30 pm
SUNDAY:
10 am - 4 pm
---
Support Our Poets!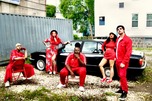 Support the House Slam by donating
here
to help them compete at a national level. And congrats to the new Yung House Slam Team (below).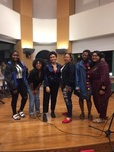 ---
Thank You Cotting!
Shout out to the amazing students at Cotting School in Lexington, MA, who hosted their first "Ceramics for a Cause" sale last month and donated proceeds from the student's masterpieces to Haley House! How cool is that piece?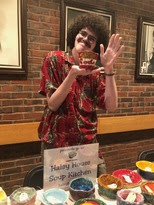 ---
Wish List
Clothing:
Any gently used/new men's clothing and personal hygiene products, especially:
-NEW underwear (M-XL)
-Men's pants (30's range)
-Men's summer wear (T-shirts/ shorts)
-Travel-sized toiletries (soaps/shampoo/conditioner/
lip-balm
)
-Toothbrushes & Toothpaste
-Deodorant
-Shaving cream & razors
Goods:
-Silverware (forks + spoons especially)
-Mugs
-Books/ magazines (Spanish + English)
-Checkers, chess, scrabble
-Seedlings/ transplants
-Potting soil
-Tarps
-Wood/ stakes
-Paint
---
It's Raining Socks!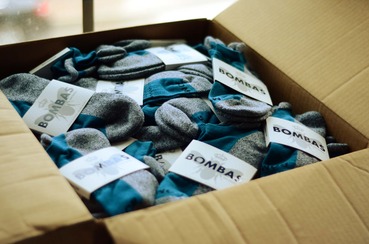 Socks are the #1 most requested items in shelters. Bombas, a unique one-for-one social enterprise, recently delivered 1008 pairs of colorful socks for guests of our soup kitchen. Quick math: 144 socks were in each box-- can you calculate how many boxes came to our door? To learn more,
click here
.
Soup Kitchen, Live-In Community, Administrative Office
23 Dartmouth Street, Boston MA 02116
Haley House Bakery
Café
(+ Catering)
12 Dade Street,
Roxbury
, MA 02119
Photo Credits: Rachel Rimm, Paul Davey, Ricardo Monroy, Cummings Foundation,
The House Slam, Anna Pierce-Slive, Mattaya Fitts, Mary Lou Bozza, Cotting School