Help build and grow the McKinley Garden


Saturday, March 16, 12:00-4:00pm at the McKinley Garden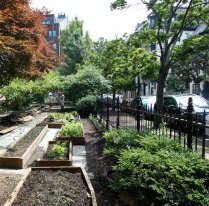 Have experience building raised beds, designing landscapes, or generally working with tools? The McKinley Garden is looking for tool savvy folks who can help build more raised beds in our urban, school-based community garden. We are also looking for volunteers interested in pairing up with McKinley school teachers to lead garden lessons. If you are interested in teaching, building raised beds, or coming to the garden workday on March 16th, please email Ruby, the McKinley garden manager. Find out more details

about the McKinley Garden project

here!
---
Everyone deserves a seat at Community Tables


Saturdays, 5:00pm at Haley House Bakery Cafe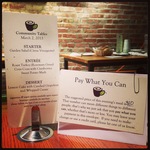 Garden salad with citrus viniagrette, roasted turkey with rosemary gravy (or pan seared tofu with vegan soy gravy), cous cous with cranberries, sweet potato mash, and lemon cake with candied grapefruit and whipped cream. And for what price? You choose! It's Haley House's new pay-what-you-can dinner series that does more than serve a delicious, afforadable meal. Community Tables brings neighbors, friends, and families to the table for a sit-down dinner. Read more here!
---
French Tasting Pop-Up Dinner with Whisk


March 8 & 9, 7:30pm at 23 Dartmouth Street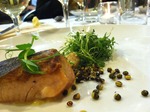 Inspired by traditional french cuisine, Whisk chefs Jeremy Kean and Phillip Kruta will be popping up again at Haley House (23 Dartmouth Street) for an evening of five specially designed courses. Wine pairing is available and tickets can be bought
here
. Please join us!
Whisk is expanding Haley House's Transitional Employment Program (TEP) by providing advanced culinary skill training for participants as they transition back into the community from incarceration.
Dinner & A Movie: The First Grader
Friday, March 8, 6:00pm at Haley House Bakery Cafe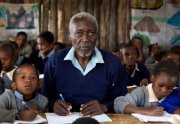 The Color of Film Collaborative and Haley House
Bakery Cafe are proud to present The First Graderat Dinner & A Movie this Friday. The First Grader is based on the true story of Kimani Maruge, a Kenyan man who enrolled in elementary education at the age of 84 after the Kenyan government announced universal and free elementary education in 2003. Read more and purchase tickets for dinner, dessert, and the movie here!
---
"Hideous Beauty" Opening Reception


Friday, March 15, 5:30- 7:30pm at HHBC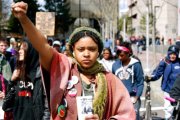 Roxbury-based educator, artist and activist, Eric "POPS" Esteves' first photographic exhibit, "Hideous Beauty", showcases the hidden beauty of Roxbury and beyond. Striking portraits of everyday life and emotions are captured candidly. Our attention is directed immediately to the noble dignity of everyday struggle, what we have in common, and the range of emotions and masks we all wear as we strive to survive. Read more here!
---
Doing Business in Dudley with David Dwiggins


Wednesday, March 20, 7:00pm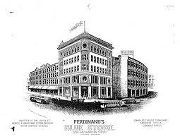 What is needed for business to be successful in Dudley? David Dwiggins, an archivist at Historic New England, will present his research findings on the rises and falls of business in Dudley Square. A panel exploring Dudley's business landscape will include Joyce Stanley of Dudley Main Streets, Bing Broderick of Haley House Bakery Café, and Derek Lumpkins of Discover Roxbury. The p
rogram begins at 7:00pm, but come early for good seats and a delicious dinner! Read more here.
---
Take Back the Kitchen and learn how to cook!


Wednesdays, 5:00-7:00pm at Haley House Bakery Cafe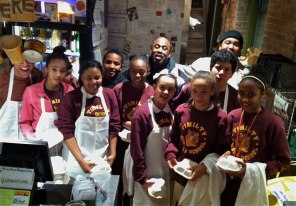 Know any youth, ages 10-16, who are interested in lea
rning cooking techniques to make healthy, satisfying snacks and dinners? Send them to Take Back the Kitchen (TBK), Haley House's cooking class program that offers a wide variety of classes focused on cooking healthy meals from scratch. Email Robin Saunders, TBK Program Manager, with any inquiries.
---
Upcoming Events
at Haley House
---
The Roxbury Media Institute & Nina LaNegra present
Art is Life itself!
The Performance Series that Embraces ART, CULTURE, & SPIRITUALITY
Thursday evenings from 7:00-10:00pm
---
First FridaysFood and Fitness
kery Cafe)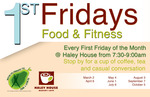 ---
Save the Date
6/2: Annual Silent Auction at 23 Dartmouth Street