5th Annual Outdoor Community Tables: 8/12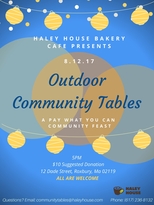 Make sure your calendar is marked for the 5th Annual Outdoor Community Tables Feast on Saturday, August 12 at 5 pm at HHBC (in the parking lot).
This event is an outdoor version of the weekly Saturday night pay-what-you-can meal where all neighbors are invited to gather and enjoy a delicious, lovingly prepared three-course meal (most ingredients locally sourced from farms, including HH's own Thornton Farm) with new and old friends.
ALL ARE WELCOME: there will be music, dancing, and entertainment for all ages! Entrance to the event is "pay-what-you-can" at the door (suggested donation for adults is $10). More info can be found
here
. We hope to see you there!
---
District 7 SuperVoter Series at Dudley Dough
On Thursdays during the month of August,
The RoxVote Coalition
is partnering with Dudley Dough to host community conversations with candidates for the District 7 seat for City Council (5:30 pm). Each week a different panel of candidates will be given 15 minutes to speak, followed by 15 minutes of questions and answers.
---
#StuckOnReplay: A Community Conversation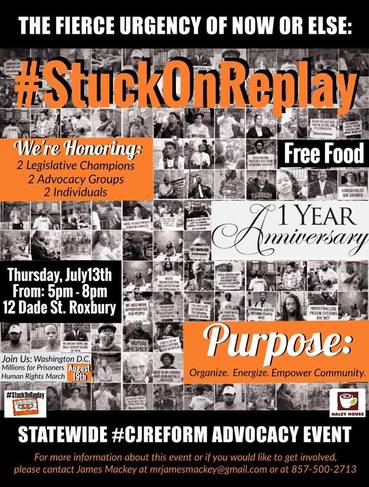 On Thursday, July 13, community members, leaders and elected officials are invited to gather outside Haley House Bakery Cafe (5-8 pm) for the 2nd annual
#StuckOnReplay
event.
This community conversation will focus on the urgent need for criminal justice reform. For more information and to register, click
here
(event is free and open to the public).
---
Roxbury Designated A Cultural District
On May 18, 2017 the Massachusetts Cultural Council designated Roxbury officially as a "Cultural District." This designation is the product of significant community efforts for many years. The mission of the district is to build and maintain a cultural district that identifies and recognizes Roxbury's cultural assets. Learn more about the designation Visit
RCD's official site
to learn more or check out the recent articles from the Bay Street Banner (
here
) and The Boston Globe (
here
).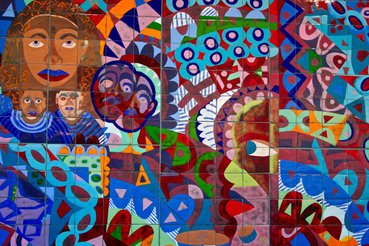 ---
Housing + Community Resiliency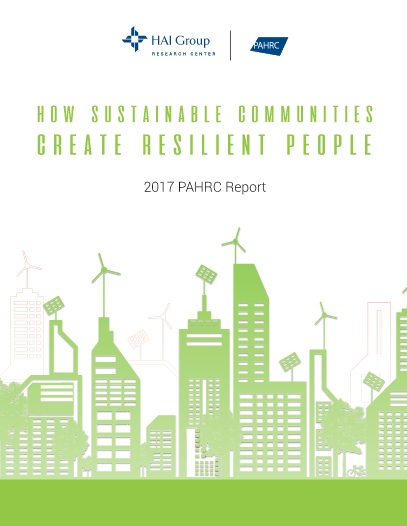 The
2017 PAHRC Report
found that investing in affordable housing programs can improve the economic, social, and environmental sustainability of places and build the resiliency of low-income individuals and families. The report also suggests tools community leaders can use to empower low-income families to reach their full potential and improve their community's path towards sustainability.
---
Farm Updates: 82.65 Lbs. of Collards & More

Thornton Farm is bursting with vegetables! One of the first harvests of collard greens totaled 82.65 pounds and were cooked up for the Hoops and Health event in Cambridge in June straight from the farm! The team has also started regular harvests of kale, collard greens, arugula, and a wide variety of herbs, many of which Chef Ricardo Monroy (Take Back the Kitchen/ HHBC) made good use of during the "Tasting
Tuesday" event on June 20th (pictured below).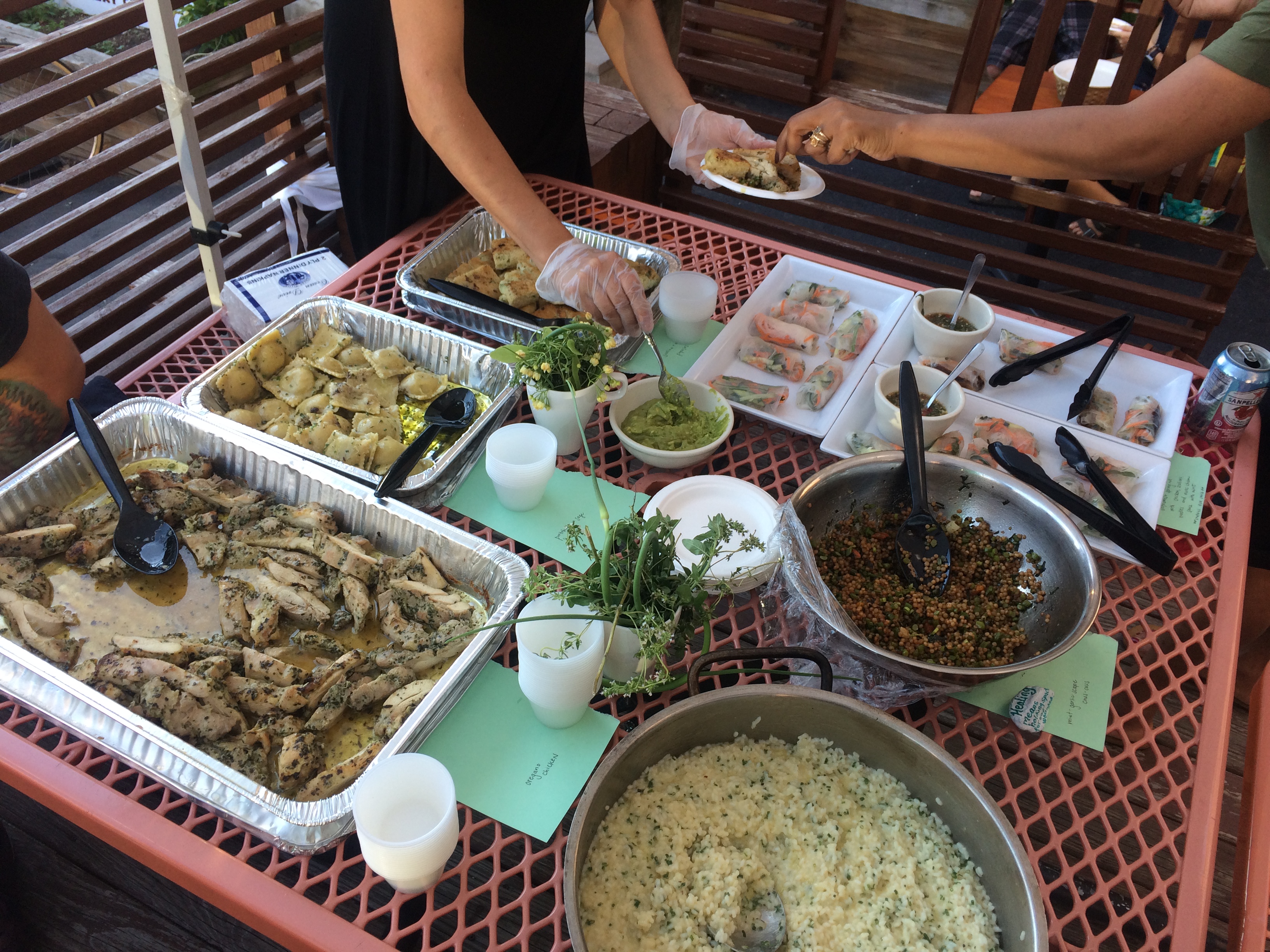 A generous grant from the Massachusetts Department of Agricultural Resources allowed the team to build additional hugelkultur beds and expand the incredible drip irrigation system on the farm. This past month, the team also hosted Nathan Hale Elementary School and introduced young students to many varieties of kale, mint leaves, and onsite creatures! And this month, the team will welcome students on the farm as part of our partnership with Hawthorne Youth and Community Center's Grow It, Cook It, Share It Program.
If you'd like to help out at the farm, volunteers are welcome most afternoons during this busy season; email Cara at
cara@haleyhouse.org
for more info!
---
Celebrating 2 School Years of Pie-R-Squared!
On June 20th,
PieRSquared
concluded its school year with an ice cream social for students, their families, tutors, and teachers. Four high school seniors were presented with scholarships for college; congratulations to Anthony Englert, Bria Hinds, Carmelissa Norbrun, and Marlie Norbrun- we wish you the best on your college adventures!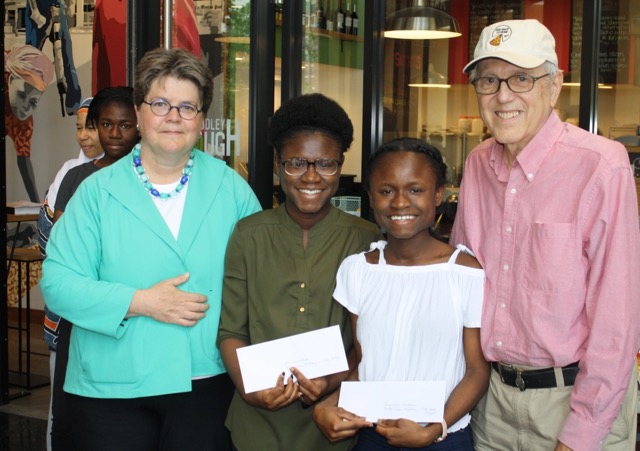 During this school year, 486 registered students from 52 sending schools logged over 4,800 individual tutoring visits with Pie-R-Squared tutors. If you would like to help send these scholars off to college, please consider making a donation and supporting this amazing community-based math program. Click
here
to learn more or make a donation!
---
Thanks For The YELP Love, People!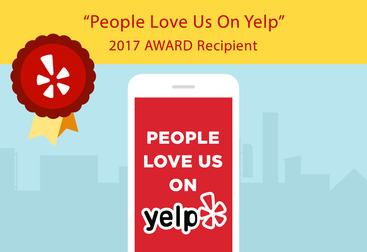 Haley House Bakery Cafe received a 2017 "People Love Us On Yelp" Award!

SUMMER BREAK
HHBC's Catering Department will be closed for training and planning July 1-24. You may call
617 939 6837
or email
catering@haleyhouse.org
to place an order for a delivery
July 25
or later.
Dudley Dough will reopen after its holiday break on 7/7 for Family Game Night.
---
EVENTS
7/6: Jazz By Any Means Necessary
, 7 pm at HHBC (
more info
)
7/7: First Friday Family Game Night
, 5 pm at Dudley Dough (
more info
)
7/12: Three Acts For(giving)
, 6 pm at HHBC (
more info
)
7/13: #StuckOnReplay (outdoors)
, 5 pm at HHBC (
more info
)
7/14: The House Slam Year III: Anniversary Celebration & Fundraiser
, 6:30 pm at HHBC (
more info
)
7/21: Afrobeats Dance Boston, 6 pm at HHBC
7/28: House Slam
, 6:30 pm at HHBC (
more info
)
8/3: District 7 SuperVoter Series (Week 1)
, 5:30 pm at Dudley Dough (
more info
)
8/10: District 7 SuperVoter Series (Week 2)
, 5:30 pm at Dudley Dough (
more info
)
8/12: Fifth Annual Outdoor Community Tables
, 5 pm at HHBC (
more info
)
8/16-8/17: HHBC & Vday Belmont present Vagina Monologues,
7:30 pm at HHBC (
more info
)
8/17: District 7 SuperVoter Series (Week 3)
, 5:30 pm at Dudley Dough (
more info
)
8/24: District 7 SuperVoter Series (Week 4)
, 5:30 pm at Dudley Dough (
more info
)
---
Special Request: A VEHICLE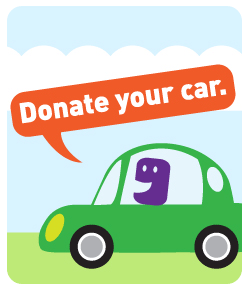 The SUV that is used for all food pick-ups for the soup kitchen and farming chores by the live-in community is on its last legs. Do you have a vehicle that you're willing to donate to a good cause?
---
Donation Wish List
Clothing For Soup Kitchen Guests:
Each Monday morning, we open the "clothing room" for our soup kitchen guests. All men's clothing and personal hygiene projects are very much appreciated, especially:
NEW underwear (all sizes except small)!!
Men's socks!!
Shoelaces
Belts & Suspenders
Pants (especially between size 30-40) & shirts (men's)
T-shirts
Vests, sweaters & sweatshirts
Travel-sized toiletries (soap, body wash, shampoo, conditioner in travel sizes, lipbalm)
Toothbrushes & Toothpaste
Deodorant
Shaving cream & razors
Tote bags and reuseable grocery bags
Soup Kitchen & Live-In Community:
Forks
Mugs
Bowls
Plates
Books & magazines (Spanish & English)
Checkers, chess, & scrabble sets
Patio Furniture
Large Mason Jars with Lids (for canning)
---
Haley House Bakery Café Hours
MONDAY- WEDNESDAY
7:30 am - 6 pm
THURSDAY
7:30 am - 10 pm*
*food until 9 pm
FRIDAY:
7:30 am - 8 pm
SATURDAY:
9 am - 4 pm
SUNDAY:
10 am - 4 pm
---
Dudley Dough Summer Hours
MONDAY-FRIDAY
8 am- 9 pm
SATURDAY
11 am- 9 pm
Soup Kitchen, Live-In Community, Administrative Office
23 Dartmouth Street, Boston MA 02116
Haley House Bakery Café (+ Catering)
12 Dade Street, Roxbury, MA 02119
Dudley Dough
2302 Washington Street, Roxbury, MA 02119
Photo Credits: Cara Snajczuk, Beth Segers, HAI Group, Yelp, Stuck-On-Replay, The Bay State Banner