The Art of Sound: Harmonies of Dudley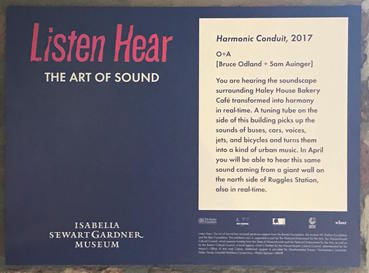 As you enter the foyer of Haley House Bakery Café, you will hear sounds of Dudley transformed into harmony in real time (March 3-17).
Artists Bruce Odland and Sam Auinger (O + A) have suspended a steel pipe on the side of the café building, with a microphone inside filtering the sounds of Dudley into a unique musical form. Stand in the entryway and listen to buses, planes, birds, voices and other sounds as they pass the café. This exhibit was installed in partnership with the Isabella Stewart Gardner Museum. For more info
click here
.
---
Gentrification & the Racial Wealth Gap
This recent report
from the Department of Housing and Urban Development reviews research on the causes and consequences of gentrification and identifies key steps policymakers can take to foster neighborhood change that is both inclusive and equitable. Best practices on the ground vary, but all include a focus on the preservation and production of affordable housing and are strengthened by collaboration and partnership with other local agencies. In particular, this report suggests four key strategies that could alleviate the pressures on housing affordability and community resistance to change.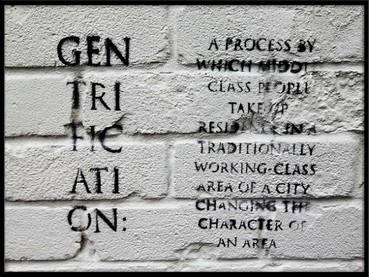 And we encourage you to check out the
Racial Wealth Audit
. This interactive online tool uses real-world examples to help policymakers and advocates explore and understand the causes and effects of the racial wealth gap.
---
Buy Wine to Support Haley House!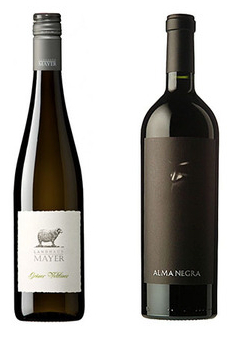 We're grateful to have been chosen by our South End neighbors at Urban Grape to be their community partner for the next two months. During March and April, Haley House will be providing tasty treats at three "pop-ups" during wine-tastings (Empanadas on March 3, Chocolate Chip Cookies on March 23, and Dudley Dough Pizza on April 8).
Additionally, if you like wine, check out these two bottles (right); Haley House will receive
10% of the proceeds of their "Cheers to Community" wines during this partnership:
2015 Landhaus Mayer Gruner Veltliner (Vienna, Austria, $17) and
2014 Alma Negra "M" Blend (Mendoza, Argentina, $20). For more info,
click here.

---
More Love is OK! Franklin Marval's Exhibit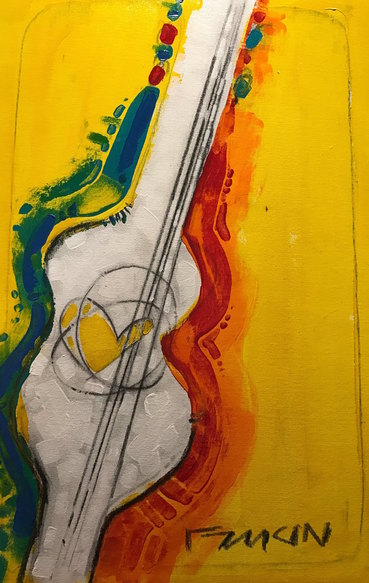 In a recent conversation, artist Franklin Marval noted that in his mind's eye, "colors and shapes create situations similar to human behavior, events of nature, and the capturing of reality."
Marval's work is currently on display at Haley House Bakery Caf
é
. His playful images take one back to childhood where life was simpler, the summers were longer, and we knew a lot less about many of the world's perils.
The blending of his childhood memories of fields and crops, landlines and fences, wind as music take us on a fortifying journey that somehow helps us to stand tall to any pummeling life may dish out. We hope you feel the love when you come to see this exhibit. More love really is OK.
Join us for an artist's reception celebrating Franklin Marval's "More Love is OK!" on Thursday, March 23 (
more info
). The reception will be followed by Lyricist's Lounge at 7 pm, presented by the students of Boston Day & Evening Academy, where Franklin teaches.
All currently displayed works are for sale. Contact Franklin (here) or visit his website (here) for more info.
---
Celebrate
π

Day (3/14) with Pie-R-Squared!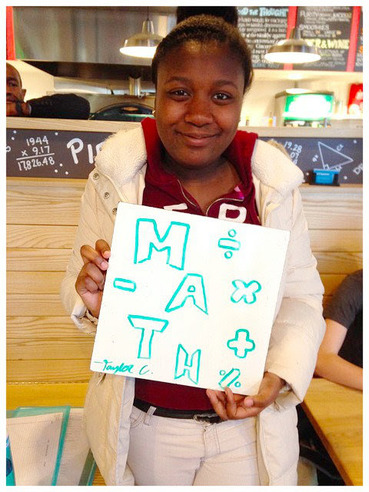 You're invited to join the Pie-R-Squared team and the growing community of math lovers to celebrate "Pi Day" on March 14th
from 5-7:30 pm at Dudley Dough.
This will be a great chance to m
eet the incredible students, families, Pie-R-Squared tutors, and teachers from the schools that support students in the classroom.
There will be pizza (pie) from Dudley Dough, dessert (pie) from HHBC, soft drinks, wine & beer, games, puzzles, and an opportunity to find out more about the awesome work of Pie-R-Squared.
Click here
for more information and to RSVP for this event.
---
Leading for Social Impact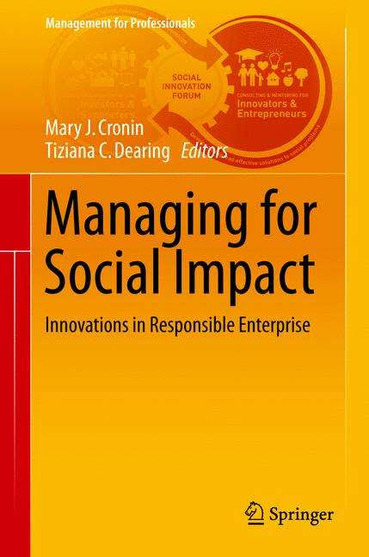 On Tuesday, February 28th, Haley House's Executive Director Bing Broderick was part of a symposium at Boston College featuring Ben Hecht (
Living Cities
) and Sarah Smith (
Mercy Partnership
). Bing was one of four leaders of social enterprises invited to share about "Leading for Social Impact."
This symposium also marked the launch of a book
Managing for Social Impact: Innovations in Responsible Enterprise
, edited by Mary J. Cronin and Tiziana C. Dearing. Bing authored a chapter for this collection entitled "Food With Purpose: Dudley Dough and Haley House Bakery Café." To check out this book,
click here
.
---
Thanks for the Souper-Awesome Support!
Despite the snow and cold, on Sunday, February 12th, we hosted the 9th annual Soup-er Bowl at Haley House Bakery Café! Thanks to the generous chefs who prepared such a range of delicious soups from locally sourced ingredients, to the talented group from MassArt's Clay for Change student group and the Center for Art and Community Partnerships, and to all those who attended the event. Proceeds from this fundraiser will cover the cost of three months of food for the Haley House soup kitchen.
Click here
to see more photos from this fun event.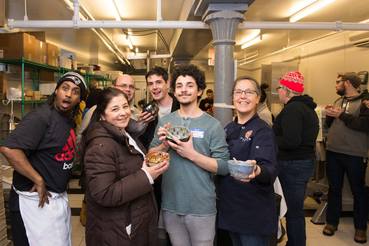 ---
Urban Farming Conference & Hoops
The Haley House Farm Team (including regular volunteers Juan and Kasey) attended the Urban Farming Conference this past weekend. Highlights included sessions about regenerative place-making, community land trusts, rural and urban farm partnerships, food sovereignty, and diversity in leadership. The conference sparked important dialogue about the role of Haley House in urban farm work and the kind of community being created at Thornton Farm, vitally important conversations as the team considers the future trajectory of Haley House's urban farming initiatives.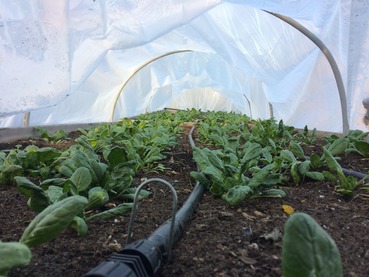 Our farmers are well into planning for spring, and they are very excited to announce that this summer they will be able to employ 8 local young adults as part of our on-going partnership with Hawthorne Youth & Community Center (stay tuned for the job application!).
Meanwhile, raised beds at Thornton are doing well; many cold hardy winter greens are still growing and the very first new sprouts of garlic are already emerging! Check out the dates on the calendar (right) to join in the first farm work days this month!
---
Demystifying Yeast & Food Justice!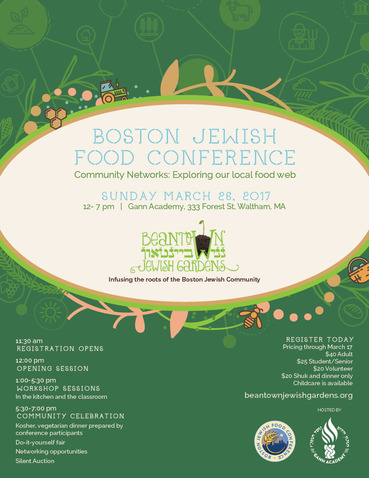 Come support two members of the Haley House Community: Chef Reva Haselkorn (TBK) and Baker Bettina Scemama (HHBC) at the 6th annual Boston Jewish Food Conference on Sunday, March 26th at Gann Academy in Waltham from 12-7 pm.
The day includes multiple workshops (in the kitchen and classroom), and culminates in a Community Celebration featuring do-it-yourself activities, advocacy opportunities, local networking, a silent auction, and features a kosher, vegetarian meal prepared by conference participants. The focus this year is on the Community Networks that comprise food systems and Jewish communities, both in Boston and regionally across New England. For more info and registration click here.
---
Time to Reflect: Live-In Retreat
This past month, members of the Live-In Community gathered for a day-long retreat to dig deeper into conversations about their shared work and relationships. This practice began in the fall with the idea of putting more intention into community life and giving room to discussions that were not able to be explored fully in weekly meetings. Discussions included unresolved questions about the restorative justice process in the soup kitchen, what meaningful work has meant to each community member in the past and in the soup kitchen, and how to balance community and individual needs. All left the day appreciating the space to process and be together outside of the normal routine and looking forward to even more future dialogue.

Pizza With Purpose Delivered To Your Door!
Did you know that you can now get your delicious Dudley Dough pizza (+ wings and anything else your heart desires) DELIVERED to your home? Click
here
to check it out or place and order RIGHT NOW!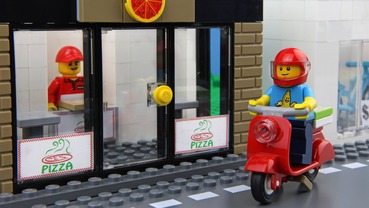 ---
EVENTS
3/9: Lifted Boston Celebrates Women's History Month
, 7 pm at HHBC (
more info
)
3/10: House Slam featuring Amin "Drew" Law
, 6:30 pm at HHBC (
more info
)
3/15: SWF presents Paint Party
, 5:30 pm at Dudley Dough (
more info
)
3/16: AiLi Live featuring Andre "Mr. Noteworthy" Sparrow
+ open mic, 7 pm at HHBC (
more info
)
3/23: Artist's Reception for Franklin Marval's "More Love is Ok,"
5:30-7 pm at HHBC (
more info
)
3/23: Lyricists Lounge presented by Boston Day & Evening Academy
, 7 pm at HHBC (
more info
)
3/24: House Slam
,
6:30 pm at HHBC (
more info
)
3/26: Dorchester Chili Cook-Off
(ft. HHBC),
4-7 pm at IBEW Local 103 Hall (
more info
)
3/31: Sumner & Linda McClain present Stories Celebrating Life
, 7 pm at HHBC (
more info
)
4/7: First Friday Game Night
at 5-8 pm, Dudley Dough (
more info
)
4/9: Thornton Farm Workday
, 2-4:30 pm at 95R Thornton St., snack to follow (
RSVP to Eric
)
5/6: Thornton Farm Workday
, 9 am -12 pm at 95R Thornton St., potluck to follow (
RSVP to Eric
)
6/3: 14th Annual Block Party & Silent Auction, 4-7 pm at 23 Dartmouth Street (more info to follow)
---
Summer Internship & Residency
Each summer, a group of people is welcomed into the Live-In Community during the months of June-August to be a part of the daily life of Haley House.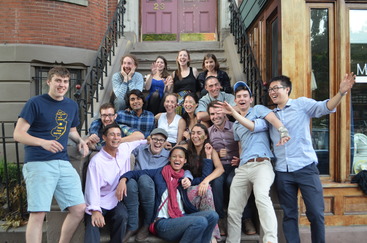 Interns/Residents help coordinate meals in the soup kitchen, assist with urban agriculture, and participate in Haley House events, while living at 23 Dartmouth as part of the community!
The deadline to apply for this coming summer has been extended to Friday, March 10th. For more information and the application, click here.
---
Donation Wish List
Clothing For Soup Kitchen Guests:
Each Monday morning, we open the "clothing room" for our soup kitchen guests. All men's clothing and personal hygiene projects are very much appreciated, especially:
NEW underwear & undershirts (men's)
NEW men's socks (wool or cotton)
Boots & shoes (men's)
Backpacks
Belts
Pants (especially between size 30-40) & shirts (men's)
Vests, sweaters & sweatshirts
Athletic Wear
Toiletries (soap, body wash, shampoo, conditioner in travel sizes, lipbalm)
Toothbrushes & Toothpaste
Deodorant
Shaving cream & razors
Soup Kitchen & Live-In Community:
Books & magazines
Checkers, chess, & scrabble sets
Vacuum cleaner
Futon covers
Lamps of any size
---
Globe Subscribers: We Need You!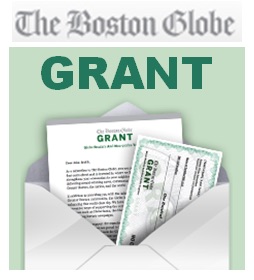 If you are a subscriber to the Boston Globe, with just a few clicks, you can help Haley House receive valuable advertising space through the Globe Readers And Non-profits Together (GRANT) Program.
Click here
to put your voucher to use towards Haley House or to learn more about the program.
---
5 Years of CT!
This month marks the 5th anniversary of Community Tables. Come join: every Saturday evening, all are welcome to join in our pay-what-you-can meal. And there's a new facebook page: click here to stay connected.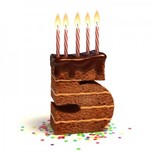 ---
Haley House Bakery Café Hours
MONDAY
7:30 am - 6 pm
TUESDAY & WEDNESDAY
7:30 am - 8 pm
THURSDAY
7:30 am - 10 pm*
*food until 9 pm
FRIDAY:
7:30 am - 9 pm
SATURDAY:
9 am - 4 pm
SUNDAY:
10 am - 4 pm
---
Dudley Dough Hours
MONDAY-FRIDAY
7 am- 9 pm
SATURDAY
11 am- 9 pm