You're Invited: Block Party & FUN(d)RAISER: THIS Saturday (Rain or Shine!)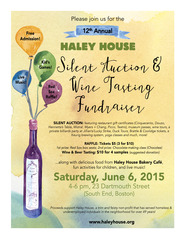 Please join us this Saturday, June 6th from 4-6 pm for the 12th annual Haley House Silent Auction & Wine Tasting Fundraiser in the South End. Our Soup Kitchen (23 Dartmouth Street) will be teeming with auction baskets ready for bids.**Rain or shine this is sure to be a great event!!** Featured auction items include restaurant gift certificates (Cinquecento, Douzo, Henrietta's Table, Mistral, Myers + Chang, Picco, Teatro), museum passes, wine tours and tastings, a private billiards party at Jillian's/Lucky Strike, Duck Tours, Brattle & Coolidge tickets, a Keurig brewing system, yoga classes, and much, much more. Raffle tickets will be sold for box seats to a Red Sox vs. Cleveland Indians game on August 18th, and the second prize is two tickets to a ChocoLee chocolate class. Raffle tickets can be purchased both in advance and during the event.
As always, this fun neighborhood event will feature live music, lots of children's activities, and delicious food from Haley House Bakery Café. Admission is FREE, but bring cash or checks if you plan to bid on auction items and/or participate in the wine and beer tastings. All proceeds from this event directly support Haley House. We hope to see you (and all of your friends and neighbors) there! (more info or contact Catherine with any questions)
---
A Powerful Reflection From A Friend
Here's what Trevor, a former guest of the Soup Kitchen, wanted to share about what Haley House means to him: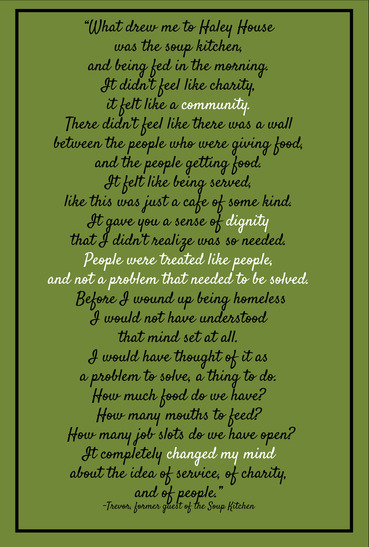 ---
All-Star Partners: Tech Goes Home with TEP
This Spring, Haley House has been proud to partner with the wonderful organization Tech Goes Home to offer a series of computer classes to trainees in the Transitional Employment Program (TEP). The course focused on strengthening the trainees' work-readiness skills and included classes about online job searching, personal budgeting with spreadsheets, basic word processing, and use of the entire Google Platform. After successful completion of the course, each trainee received a Google Chromebook laptop to take home. Classes were taught by Haley House's own Cara Snajczuk, a trained Tech Goes Home instructor and a member of the Haley House Live-In Community (a happy coincidence!).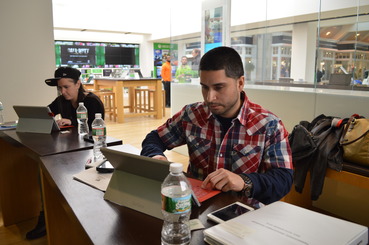 Pictured at right are trainees Crystal Ferreira and John Lara at the Microsoft Store in the Prudential Center, where classes were hosted. Trainees especially enjoyed the independent time at the end of each class during which they were able to pursue their own goals; trainee Andre Dorzin spent this time developing a Wordpress site to feature his music, one of his many passions, while John honed his typing skills. Big thanks to Tech Goes Home, the team at the Microsoft Store, and Cara for making this course possible for our TEP trainees! To read more about TGH click here.
---
Can You Help Our Poets Slam at Nationals?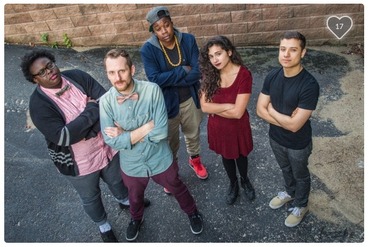 This August, a team of incredible winners from the House Slam will compete at the National Poetry Slam in Oakland, CA. In order to cover the cost of the cross country journey, they are seeking support. Please consider helping these incredible artists in their effort to compete as a certified venue for the first time ever. Every little bit helps. Click
here
to read more or donate at their go-fund-me page.
---
Come Dig & Plant @ McKinley+Thornton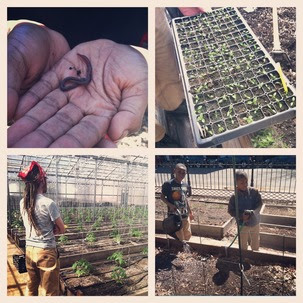 At this time of year, there are lots of opportunities to help out in our gardens at Haley House both in the South End and Roxbury. This month's McKinley Garden workday will be Saturday, June 13th from 10am-12pm (meet at 23 Dartmouth Street). All are welcome to come help set up new garden signs, plant, and enjoy the sunshine! Please dress appropriately for the outdoor activity and possible inclement weather. RSVP to Carmine by Friday, June 12th.
And if you are interested in volunteering to work, learn, and explore our new urban garden in Roxbury, please contact Karsten, who is in the garden most Saturday mornings and loves company! To read the latest Garden Newsletter, click here and contact Carmine if you'd like to receive the monthly Garden Newsletter.
---
EN-ER-GY 6 @ Oberon to Support TEP!
This year's "EN-ER-GY 6" showcase at the A.R.T. will bring together spoken word poets, dancers, vocalists, bands, and visual artists for a night of exchanging energy with the audience at the Oberon Theater. All proceeds from this year's performance will benefit the TEP program at Haley House. Produced by Jha D. (
more info here
)

**Summer Café Closing:

Mon. June 29- Sun. J

uly 5**
---
Events
6/4: #AiLiLIVE
Jazz Week: Fulani Haynes + Jazz Collaborative + Open Mic, 7-10 pm at HHBC (
more info
)
6/6: Silent Auction & Wine Tasting Fundraiser,
4-6 pm at 23 Dartmouth Street (
more info
)
6/11: Artist's Reception
for "Self-Portrait Collage" by 4th graders at James W. Hennigan School in Jamaica Plain, 5:30-7pm at HHBC (
more info
)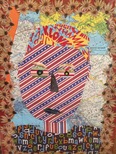 6/11: #AiLILIVE
Poets, Poetry and Spoken Word + Open Mic, 7-10 pm at HHBC (
more info
)
6/12: The House Slam featuring Angelique Palmer and Cover Song Slam, doors open at 6:30 pm at HHBC (
more info
)
6/12: EN-ER-GY 6 (TEP Fundraiser) at 8 pm at Oberon/A.R.T. (
more info
)
6/13: McKinley Garden Workday 10am -12 pm, meet at 23 Dartmouth Street
6/18:
TEP Graduation
a
ll are invited for a celebration (and reception), 6-8 pm at HHBC (more info)
6/18: #AiLiLIVE
Committee of Friends and Relatives Of Prisoners + Open Mic, 7-10 pm at HHBC (
more info
)
6/23: Dinner & A Movie
"12 Months," 7-10 pm at HHBC, part of the Roxbury International Film Festival, (
tickets + more info
)
6/25: #AiLiLIVE
END OF SEASON
with Michelle Cook ("Relationships & You") + The Groovalottos + Open Mic, 7-10 pm at HHBC (
more info
)
6/26: The House Slam
doors open at 6:30 pm at HHBC (
more info
)
7/10: Outdoor Poetry Slam 6:30 pm at HHBC
7/25: Outdoor Community Tables 7 pm at HHBC lot
---
Donation Needs
Soup Kitchen:
SILVERWARE (we are especially desperate for FORKS)
For Our Guests:
Each Monday morning, we open the "clothing room" for our soup kitchen guests. Our supply during the summer is low, so all clothing donations are very much appreciated.
T-shirts & polo-shirts
Men's shorts and pants
Baseball caps
Men's belts
Men's sneakers & shoes
NEW men's SOCKS & UNDERWEAR
Long-sleeved shirts & sweatshirts
Toiletries of all kinds, especially travel size (including razors)
Garden Wish-list:
Pitchforks
Garden Hoe Mattocks
Garden trowels
Hoes
Metal garden rakes
Watering cans
Buckets
Topsoil & fully-matured compost
Contact Karsten if you can help with any of these items.
---
Call for Volunteers
We are in need of Cantonese and Mandarin speaking volunteers to help with the Food Pantry on Thursdays from
10 am - 12 pm. Contact Deena if you are able to help.
---
Café Hours
MONDAY-WEDNESDAY:
7:30 am - 6 pm
THURSDAY:
7:30 am - 10 pm
7-10 pm
FRIDAY:
7:30 am - 6 pm
SATURDAY:
9 am - 4 pm
SUNDAY:
10 am - 4 pm