Serving Up Smiles: Chef Michael Cooley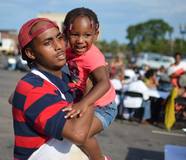 If you've been to HHBC in the last eight years, you've likely been cheered by Chef Michael Cooley's charming smile and delicious dishes. Michael first came to the cafe through the Bakery Training Program and is one of the longest serving members of the HHBC team. Director of Operations, Carol Kong, is quick to praise Michael's trustworthiness, reliability, and creativity in the kitchen. "He's my go-to guy. There are people who only eat here when Chef Michael is the one on the line. You can
taste
his passion for food. Michael represents the best of what we are about here at Haley House," says Kong, "sometimes folks need a second chance... I'm so proud of how far Michael has come."
Beyond the kitchen, Michael is a dedicated and loving dad to his two girls (he's pictured above with his daughter, Michaela, at last summer's Outdoor Community Tables). Michael is the head chef for
Community Tables
each Saturday night at HHBC, helping volunteers to create delicious meals and welcoming everyone for the special family-friendly pay-what-you-can meal open to all. If you haven't been yet, make sure to check it out sometime and say hello to Michael!
---
Digging Out: Good Neighbors with Shovels
This winter, a new group of Haley House Live-In Community members "inherited the shovels" from long-time shoveling coordinator Jon Klein and continued the tradition of being good neighbors during the storms in our South End neighborhood. Along with a dedicated team of Soup Kitchen guests, Jay, Karsten, Rei, Carmine, and Alexandra have been offering shoveling relief to neighbors needing assistance with heavy piles of snow.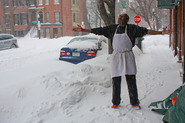 The crowd for breakfast in the Soup Kitchen was small last Tuesday when the first mega-storm (Juno) hit, but the kitchen was bustling the rest of the day, serving up hot coffee and warm sustenance for the hardworking shovelers in need of respite. No sooner had everyone caught their collective breaths when the next Nor-easter (Linus) hit sidewalks, steps, and cars. The tireless crew's hours of back-breaking work, made possible by sturdy shovels, hundreds of pounds of ice melt, and a snow blower, allowed many of our neighbors to hunker down inside instead of having to brave the storms. Funds raised were much appreciated by guests facing hard times and Haley House live-in volunteers.
---
Soup: the BEST Antidote to a Long Winter...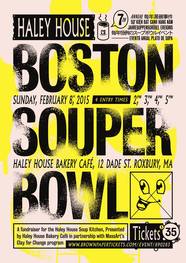 Join us this
Sunday, February 8th, from 2-6 pm
at the Haley House Bakery Café in Roxbury's Dudley Square for a hearty serving of delicious soups and friendly folks gathered for a great cause: the
7th Annual Souper Bowl Fundraiser.
A dozen chefs will serve soups made from locally sourced ingredients and proceeds from the event will support the Haley House Soup Kitchen in the South End.
As you enter, you'll be invited to choose your own uniquely handcrafted ceramic bowl, courtesy of MassArt's Clay for Change Program. Guests are then invited to make their way from station to station, sampling an incredible variety of soups sure to warm your body and soul. Ingredients will have been sourced from local farms and growers and breads will be donated by Iggy's Breads. As you sample the wide array of inventive soups, you'll be impressed with how well a person can eat using local ingredients, even during winter. At the end of the event you'll be invited to take your bowl home to enjoy forever, and leave knowing that you've made it possible for many folks in need to be fed in our Soup Kitchen this weekend. Tickets are going fast!
Click here for more info & tickets.
---
SLAMMING from Copley to CA: Can you help?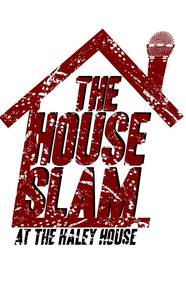 Every 2nd and 4th Friday night for the past several months, the "House Slam" has created a safe and sacred space for poets and lovers of words to gather, share, and have fun at HHBC. In December, the House Slam was recognized and certified as an official poetry venue, which grants eligibility for poets to represent the House Slam at national competitions. As part of Boston's 2015 First Night Extravaganza, the House Slam joined forces with the Cantab Lounge to showcase slam poetry. The purpose of this event was to engage and expose new audiences to slam poetry by having some of the best poets in the city compete in a family-friendly "mock poetry slam."
In August 2015, the House Slam plans to send a team to compete at the National Poetry Slam in Oakland, CA. In order to cover the cost of the cross-country journey, they are asking for help from community members, friends, poetry lovers, and just plain ol' nice people. If you are able, please support these incredible artists in their effort to compete as a certified venue for the FIRST TIME EVER! Every little bit helps.
Click here to read more or to donate
.
---
A Sweeter Life: Desserts & Celebrations
On Sunday, January 18th, hundreds gathered for our annual "A Sweeter Life" dessert fundraiser to benefit the Transitional Employment Program (TEP) at Haley House Bakery Café. Thanks to generous lead sponsorship from the Bank of America Charitable Foundation, the event raised over $10,000 for TEP.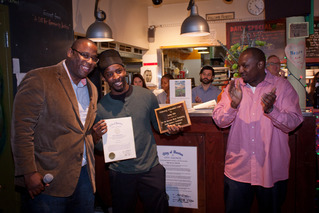 In addition to offering the most delicious spread of desserts in all of Boston, the afternoon honored the program's most recent graduates, Luis Rodriguez and Luis Contreras, along with three outstanding alumni: Joe Bartley, Audley Mills, and Frank Coleman who received plaques and official city proclamations from City Councillor Tito Jackson to mark the important celebration of their three years of successful reintegration into the community. Beloved community leader, Mel King, honored TEP Manager, Jeremy Thompson, for excellence in leadership and dedication to the program, remarking "
the love of power builds walls, but the power of love breaks them down.
"
Many thanks to our incredible dessert chefs: Joanne Chang & Jessica Morris of Flour, Elaine Stella of New City Micro Creamery, Tania Peterson of Patisserie on Newbury, Brian Mercury of Harvest Restaurant, Julius Johnson of Sifted Cakes, chefs at Tremont 647, Gaitskell Cleghorn, Jr. of BDEA, Naun Rivera, Lee Miller & Bettina Scemama of HHBC and especially Lee Napoli of Chocolee Chocolates, along with sponsors Shawmut Construction, Next Street Financial, Sasaki Associates, and the Mayo Group, and all who came out to support this event.
And check out the article from the Boston Globe!
---

Snow-Covered McKinley Garden

Upcoming Events
2/5 AiLi!:
Fulani Haynes Jazz Collaborative + Open Mic , 7-10 pm at HHBC (
more info
)
2/7: McKinley Garden Workday:
10 am-12 pm, meet at 23 Dartmouth Street. RSVP to
Carmine
.
2/8: 7th Annual "Souper Bowl" Fundraiser:
to benefit the Haley House Soup Kitchen, 2-6 pm at HHBC (
more info & tickets
)
2/10 Catering Business Workshop: with the Neighborhood Business Initiative
at 6-8 pm at HHBC (
more info)
2/12 AiLi!:
DJ Seitu Educator, Writer & Poet + Open Mic, 7-10 pm at HHBC (
more info
)
2/13: The House Slam
featuring poet Hanif Willis-Abdurraqib,
doors open at
6:30 pm at HHBC
(more info
)

2/19 AiLi!:
Deconstructing the Prison Industrial Complex with CFROP + Open Mic, 7-10 pm at HHBC (
more info
)
2/26 AiLi!:
Celebrating all Pisces (Fish People) + Relationships & You: A Dialogue + Open Mic, 7-10 pm at HHBC (
more info
)
2/27: The House Slam:
featuring poet Jha D. and D. Ruff, doors open at 6:30 pm at HHBC (
more info
)

3/6 Dinner & A Movie:
Short films (rescheduled from 1/30), 6:30-10 pm at HHBC (
more info & tickets
)
---
Community Tables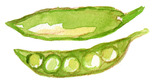 Enjoy a scrumptious home-cooked meal with friends and family every Saturday evening at the HHBC—
all are welcome!
Doors open at 5 pm and dinner is served promptly at 5:30 pm. First to come are first served for a delicious 3-course full-service meal, and folks are invited to
pay whatever they can.
Read more
here
.
---
Donation Needs
SILVERWARE
Bowls (soup or cereal bowls)
Coffee mugs
Dinner plates
Clothing As the weather gets colder, our guests are especially in need of:
New men's underwear and long underwear
New men's cotton or wool socks
Men's hats, gloves, scarves, and belts
Men's sweaters and sweatshirts (especially medium and large sizes)
Men's coats and jackets
Men's shoes, sneakers, and boots
Other helpful items:
Backpacks
Blankets
Disposable razors
Hand lotion
Deodorant
Toothbrushes and toothpaste
---
HHBCafe Hours
Monday- Wednesday:
7:30 am - 6 pm
Thursday: 7:30 am - 9 pm
Friday: 7:30 am - 6 pm
Saturday: 9 am - 4 pm
February Garden Workday
All are welcome to join in the McKinley Garden Workday this Saturday, Feb. 7th from 10 am - 12 pm:
Option #1: Help to shovel the garden, reinforce the hoop houses, and make snowmen & women. Shovels will be provided, but you bring the snowsuits!
Option #2: Stay cozy in the soup kitchen to prepare savory pie crusts for our daily soup kitchen meals.
No experience is necessary, and all supplies will be provided, but make sure to dress for the weather!
RSVP
to
Carmine
by Friday, February 6th.