May Merriment at Haley House

Arise, Then, Women of This Day (+Brunch)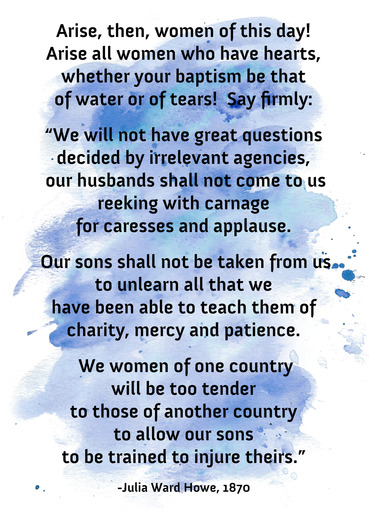 What better way to celebrate and honor the special women in your life than by treating them to a delicious Mother's Day Brunch at Haley House Bakery Café?
When: THIS Sunday, May 10th; Seatings at 10:30 am, 12:30 pm & 2:30 pm. Tickets are selling fast, so make sure to reserve your space now for this lovely annual event.
The menu will include assorted pastries, an omelet station, a waffle station, turkey bacon, chicken sausage, scrambled eggs (v), grits (v), potato hash with onions and peppers (vv), brioche french toast with Vermont maple syrup (v), roast chicken and gravy, scallion asiago biscuits, smoky collard greens (vv), sautéed vegetables (vv), a dessert station (with cookies, cakes, and pies) and coffee, tea, and orange juice. Additional beverages, including local beer and organic wine, will be available for purchase (
click here for tickets + more info
).
---
Power-ful Walkers for Hunger: Thank you!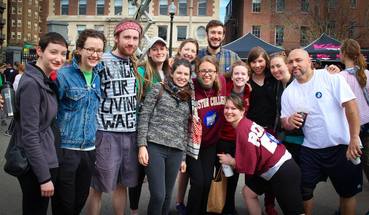 Big thanks to this year's phenomenal team of walkers representing Haley House during Project Bread's Walk-for-Hunger this past Sunday, May 3rd. The team raised $961... and counting. Click here to add your donation of any size to our fund! Special shout out to ALL STAR Jason Roman for completing the WHOLE 20 mile course.
---
Silent Auction: Raise A Glass & Win Prizes!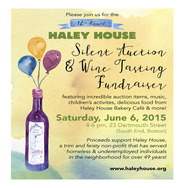 Join us on Saturday June 6th from 4-6 pm for the 12th annual Haley House Silent Auction & Wine Tasting Fundraiser in the South End. Our Soup Kitchen (23 Dartmouth Street) will be teeming with auction baskets ready for bids. Featured auction items include restaurant gift certificates (Cinquecento, Douzo, Henrietta's Table, Mistral, Myers + Chang, Picco, Teatro), museum passes, wine tours and tastings, a private billiards party at Jillian's/Lucky Strike, Duck Tours, Brattle & Coolidge tickets, a Keurig brewing system, yoga classes, and much, much more. Raffle tickets will be sold for box seats to a Red Sox vs. Cleveland Indians game on August 18, 2015 and the second prize features two tickets to a ChocoLee chocolate class (available both in advance or during the event--contact Catherine or visit HHBC or 23 Dartmouth to purchase in advance).
As always, this fun, neighborhood event will feature live music, lots of children's activities, and delicious food from Haley House Bakery Café. Admission is FREE, but bring cash or checks if you plan to bid on auction items and/or participate in the wine-tasting. All proceeds from this event directly support Haley House. We hope to see you (and all of your friends and neighbors) there (more info)!
---
Thanks for the Crimson Support, Harvard!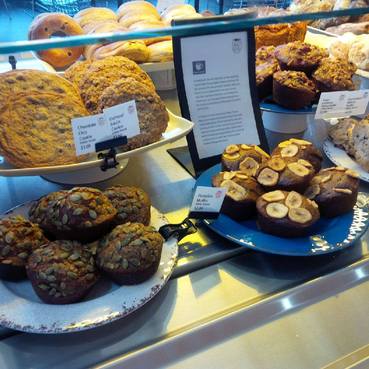 We are so grateful for recent partnerships with our good neighbors across the river. In addition to selling our baked goods across campus, members of the stellar Graduate School of Education offered a Workforce Readiness Program to members of our Transitional Employment Program through Harvard's
G.I.V.E.S.
Program. We proudly celebrated John, Crystal, and Andre for their completion of this special program on
Friday, May 1st
at Harvard (pictured with their mentors and teachers in the newsletter banner above).
Click here
to read more about his fruitful partnership.
---
Visionary Co-Founder of Haley House Honored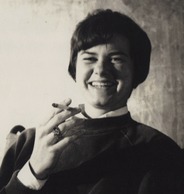 Haley House co-founder Kathe McKenna will be awarded the Albert Schweitzer Leadership Award from the Boston Chapter of the Schweitzer Fellowship Program on Thursday, May 7th. The award "recognizes the achievements of an individual who has worked to significantly mitigate the social determinants of health in Greater Boston or Central Massachusetts, and whose commitment to service has influenced and inspired others." We can't think of a better person than Kathe to be honored in this way for her life's work on behalf of others. Click here to read more.
---
Fresh Growth in Roxbury Urban Agriculture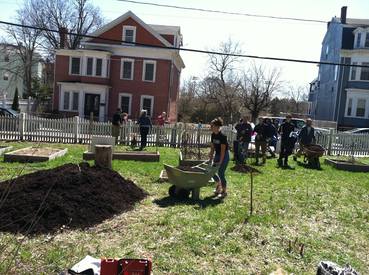 On
Saturday, April 26th
, a team of neighbors and friends gathered at
Thornton Farm & Gardens
(95 Thornton Street) to celebrate the anniversary of our inaugural workday at the Roxbury site, sponsored by Hawthorne Youth & Community Center and Haley House. Volunteers built raised beds for the coming growing season and assisted with general clean up (
snapshots of the day
). Contact
Carmine
if you'd like to receive the Garden Newsletter.
---
Can You Help Our Poets Slam at Nationals?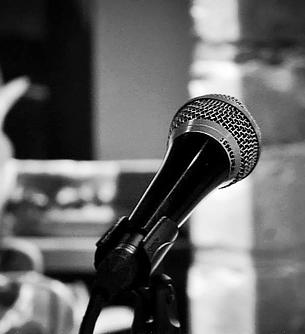 This August, a team of poets from the House Slam will compete at the National Poetry Slam in Oakland, CA. In order to cover the cost of the cross-country journey, they are seeking support from community members, friends, poetry lovers, and just plain ol' nice people. Please consider helping these incredible artists in their effort to compete as a certified venue for the first time ever. Every little bit helps. Click
here
to read more or donate.
---
Let Haley House Cater Your Graduation Party!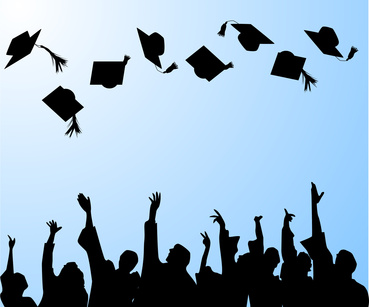 Graduation season is upon us! As you plan your celebrations, consider using Haley House Catering. Along with delicious food, you'll be supporting a great cause. Options include the "blue plate special," full service lunch, continental breakfast, pastries and desserts, gourmet signature pizzas, and empanadas. To read more about special offers check out our
catering page & menu
.

Events
5/7: #AiLiLIVE
Jazz Week: Fulani Haynes + Jazz Collaborative + Open Mic, 7-10 pm at HHBC (
more info
)
5/8: The House Slam featuring Roya Marsh, doors open at 6:30 pm at HHBC (
more info
)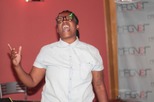 5/10: Mother's Day Brunch (3 seatings: 10:30 am, 12:30 pm, 2:30 pm) at HHBC
5/14: #AiLILIVE
Poetry + Open Mic, 7-10 pm at HHBC (
more info
)
5/21: #AiLiLIVE
CFROP + Open Mic, 7-10 pm at HHBC (
more info
)
5/22: The House Slam
doors open at 6:30 pm at HHBC (
more info
)
5/28: #AiLiLIVE
Relationships & You with Michelle Cook + Open Mic, 7-10 pm at HHBC (
more info
)
5/29 Teachers are Awesome: (Almost) End-of-the-Year Party!
, 5:30 pm at HHBC (
more info
)
6/6: Silent Auction & Wine Tasting Fundraiser,
4-6 pm at 23 Dartmouth Street (
more info
)
---
Donation Needs
As we get started planting and tending vegetables at our new growing space in Roxbury, we are in need of hand gardening tools so that our many willing volunteers can take part. Do you have any duplicate garden tools that you don't need anymore? We especially could use:
Garden trowels
Hoes
Metal garden rakes
Watering cans
Buckets
Topsoil & fully-manured compost
Do you or does someone you know have an old compost pile that you left for years and never emptied? If you live in the metro-Boston area, we are willing to pick up. Contact Karsten if you can help with any of these items.
Soup Kitchen:
Silverware (especially FORKS)
Other helpful items:
NEW Men's socks
NEW Men's underwear
Men's pants- especially jeans & cargo pants
Warm hats and baseball caps
Men's belts
Men's shoes & boots
Backpacks
Blankets
Disposable razors
Hand lotion
Deodorant
Toothbrushes and toothpaste
Toiletries of all kinds, especially travel size
---
Call for Volunteers
THIS Sunday, May 10: Elder Meal Shift, 1:30-5 pm at 23 Dartmouth (Mother's Day)



Sunday, May 24: Breakfast Shift, 9am-1:30 pm at 23 Dartmouth Street (Memorial Day Weekend)
Starting
Monday, May 11,
we are in need of individual volunteers to fill in between our regular school volunteers. Email
Rei
if you can help or fill out a
volunteer application form
(if you haven't done so already).
We are also in need of Cantonese and Mandarin speaking volunteers to help with the Food Pantry on Thursdays from
10 am - 12 pm. Contact Deena if you are able to help.
---
Café Hours
MONDAY-WEDNESDAY:
7:30 am - 6 pm
THURSDAY:
7:30 am - 10 pm
7-10 pm
FRIDAY:
7:30 am - 6 pm
SATURDAY:
9 am - 4 pm
SUNDAY:
10 am - 4 pm