Kitchen Victories for HHBC: Chili & Globe
H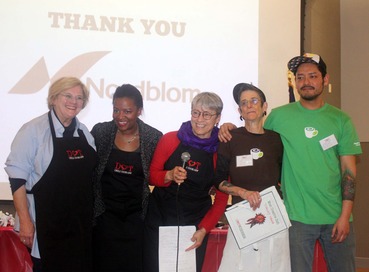 HBC chefs brought the heat at the Dorchester Chili Cook Off on March 11. Pastry Chef Bettina Scemama created a Mexican chocolate brownie with horchata cream and candied hot peppers that took home the prize for most creative dish and Chefs Ricardo and Becka (pictured above) served up a delicious chili with Chinese black bean paste, smoked spicy beef sausage, avocado cream, sour cream, and mini tortilla chips.
In other news, in the
Boston Globe's Munch Madness
contest, 64 restaurants went head to head for the title of best restaurant in Boston. We made it to the second round, garnering over 3100 votes in total. Thanks to all who voted and shared!
---
Save the Date: June 2nd Block Party!
Join us Saturday, June 2, 4-7pm for a day of fun for the whole family at
Haley House's 15th Annual Block Party
! Festivities include a silent auction, games for kids, wine and beer tasting, live music, and food. Special guests include DJ WhySham, Desperate Measures Street Band, and South End Dynamite. Tickets will be available at the event with a suggested donation of $10 for adults and free admission for children.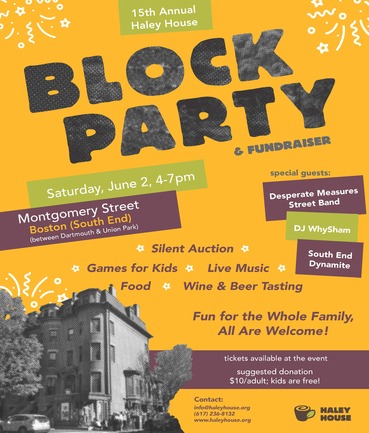 ---
Rest in Peace: Noel Bray, Paul Hood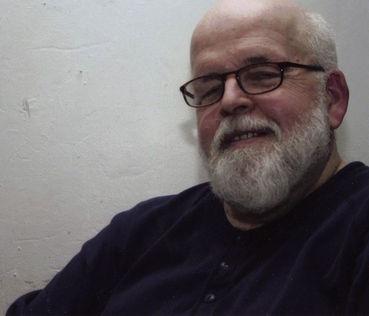 On January 14, the Haley House community said goodbye to longtime friend, co-worker, and grandfather-figure Noel Bray, who passed away peacefully following a period of declining health. Born in Dorchester in 1940, Noel was known for his love of literature and adventure, appreciation for history and philosophy, strong opinions and animated storytelling, enjoyment of in-depth conversations, and a lifelong commitment to the dignity and care of those with whom he lived and worked. Folks who knew and loved Noel are invited to join in a gathering of remembrance on Sunday, June 3 at Kathe McKenna's home. Bring stories, memories, photos, and anything that comes to mind when you think of Noel.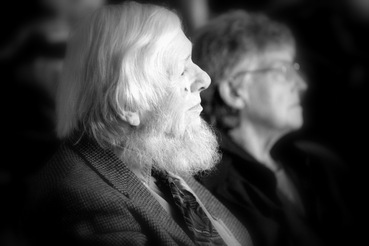 This past fall, long-time friend of the Haley House Community Paul Hood, passed away. All are invited to celebrate Paul's life this
Saturday, April 7, at the First Cong
regational Church (Burlington, VT)
at 8 am for
a sit-down Small Potatoes breakfast with the homeless individuals that Paul served faithfully for over 25 years, followed by a Memorial Meetin
g for Worship in the manner of Friends (Quakers) at 9 am. This celebrat
ion will be held under the care of Burlington Friends Meeting. Following the service, there will be a reception at the church.
---
Get Outside and Plant: First Garden Workday!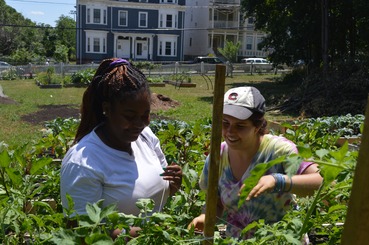 Fingers crossed, spring is taking hold at long last! Our first McKinley Garden workday will be Saturday, April 14, from 10 am-2 pm (rescheduled from last month, due to snow!). Dress comfortably and come ready to get your hands (and clothes) dirty! No experience necessary. There will be coffee and light refreshments. Contact
Harriet
for more info or to sign up.
Stay tuned for updates about Thornton Farm workdays soon!
---
Farewell, Dear Laura!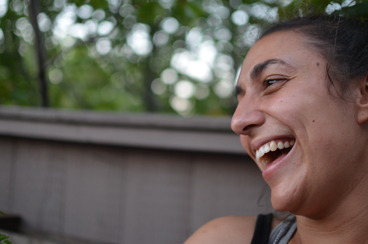 If you've spent time at Thornton Farm in Roxbury, the Soup Kitchen at 23 Dartmouth, or attended a community meal or event in the past three years, you've probably encountered our friend, Laura Kakalecz, and been dazzled by her cooking and inspired by her passion for food and community. Or you might have had your face adorned with one of her amazing designs at the annual block party.
This month, we bid a fond farewell to Laura as she prepares to embark on her next adventure (luckily, right here in Boston!). We're so grateful for all that Laura shared as part of the Live-In Community, beginning as a summer intern. Thank you, Laura!
---
TBK: Recipe of the Month
Need kitchen inspiration? Take Back the Kitchen will posting a new recipe every month for you to try! Recipes are
created and illustrated by TBK's own, Chef Ricardo Monroy. Click the image for a larger view and learn more about TBK here.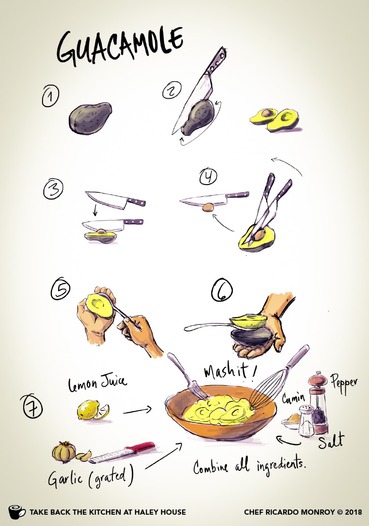 ---
Looking for a Some Helping Hands at HHBC!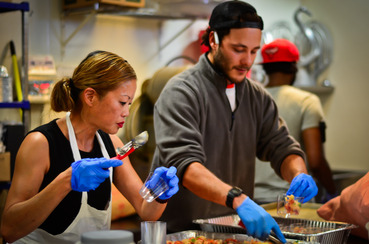 Want an excuse to spend more time at the amazing Haley House Bakery Cafe?
We've just created new volunteer shifts on weekday afternoons and evenings to help support our team. Volunteers can jump on board to help with clean up and food prep in the late afternoon or to support (and enjoy) community arts & cultural programming in the evening. Shift times vary week to week. If you've volunteered with Haley House before, check the online sign-up calendar, and if you haven't volunteered before but would like to,
please fill out the
volunteer application or contact Rachel for more information.
---
Fresh Sage Paint for Hallways!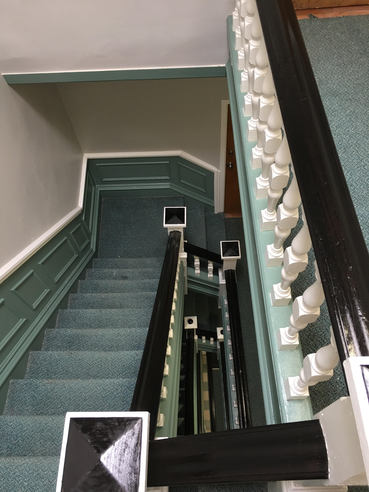 The hallways of two of our affordable housing buildings in the South End received a new coat of paint recently.


---
EVENTS
4/4: The Yung House Slam + Open Mic,
7 pm at HHBC (
more info
)
4/5: Jazz By Any Means Necessary,
7 pm
at
HHBC
4/6: First Friday Family Game Night
at 5-8 pm, 23 Dartmouth Street (
more info
)
4/12: Lifted Boston ft. Afro Blues,
7 pm at HHBC (
more info
)
4/13: The House Slam: Last Chance Slam ft. Alyesha Wise,
6:30 pm at HHBC (
more info
)
4/18: The Yung House Slam + Open Mic,
4/19:

AiLi

Live! presents: A Way Home + Project Unspeakable

,
4/20: Dinner and a Movie presents: Who is America For?
,
6 pm
at
HHBC
(
more info
)
4/19, 4/26: TBK Family Cooking Class,
5:30- 7:30 pm, HHBC Basement Kitchen (
more info
)
4/25: TBK Adult/Senior Cooking Class,
12- 2:30 pm pm, HHBC Basement Kitchen (
more info
)
4/26: Boston Day and Evening Academy presents Lyricists' Lounge,
6:30
pm
at
HHBC
4/27: The House Slam: Finals Team Selection ft. Ashlee Haze,
5/2: The Yung House Slam + Open Mic,
7 pm at HHBC
(
more info
)
5/3: Jazz By Any Means Necessary,
7pm
at
HHBC
SAVE THE DATE:
6/2: 15th annual Block Party + Silent Auction,
4-7 pm at 23 Dartmouth Street (South End) (
more info
)

8/11: 6th Annual Outdoor Community Tables,
---
Haley House Bakery

Café

Hours
MONDAY- WEDNESDAY
7:30 am - 6 pm
THURSDAY
7:30 am - 10 pm*
*food until 9 pm
FRIDAY:
7:30 am - 8 pm
SATURDAY:
9 am - 4 pm
SUNDAY:
10 am - 4 pm
---
Donation Wish List
Clothing For Soup Kitchen Guests: Monday mornings, we host the "clothing room" for soup kitchen guests. All men's clothing and personal hygiene projects are very appreciated, especially:
NEW underwear (medium- extra large)
Men's pants (30's range)
Men's Summer Wear (T-shirts/ shorts)
Travel-sized toiletries (soap, body wash, shampoo, conditioner in travel sizes,

lipbalm

)
Toothbrushes & Toothpaste
Deodorant
Shaving cream & razors
Soup Kitchen & Live-In Community:
Silverware (especially forks and spoons)
Twin size mattresses (new/ very lightly used)
Mugs
Books & magazines (Spanish & English)
Checkers, chess, & scrabble sets
Vacuum (for upstairs)
Video equipment
---
Now Hiring
---
Rooted in Roxbury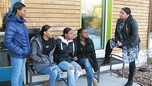 The Bay State Banner interviewed Elizabeth Miranda, newly appointed Executive Director of the Hawthorne Youth and Community Center, our partner at Thornton Farm. Read how this Roxbury native is supporting local youth from her hometown
here
.
---
Walk for Hunger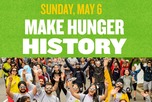 Project Bread's 50th Walk for Hunger has officially kicked off! Money raised by the Walk supports hundreds of anti-hunger programs in MA, including Haley House. Join the Haley House team on Boston Common on Sunday, May 6 and help #MakeHungerHistory by registering here today!
---
Roxbury Neighborhood Assembly
Roxbury residents are invited to join the Boston Ujima Project, Right to the City, Reclaim Roxbury, and ACE (Alternatives for Community and Environment) in coming together to envision and create the future of Roxbury as a community! This first assembly will take place on Saturday, April 14th at the Bolling Building (2nd floor School Committee Room), from 10 am-2 pm. Click
here
for more info.