We Could All Use A Lil' Soup: Souper Bowl 8!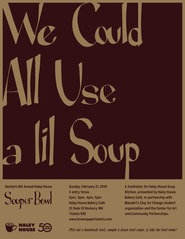 Our 8th annual
"Souper Bowl" Fundraiser
is coming up soon on
Sunday, February 21
and tickets are going FAST (4 seatings: 2 pm, 3 pm, 4 pm, 5 pm). All are invited to join in this delicious celebration of local food, creative cooking, and community, while supporting
Haley House Soup Kitchen
and beginning our year-long celebration of
50 years of Haley House!
More than a dozen chefs will serve soups made from locally sourced ingredients, and attendees will take home their choice of a beautiful handcrafted ceramic bowl courtesy of
MassArt's Clay for Change
student group. This event is co-sponsored by
MassArt's Center for Art and Community Partnership
. This year's line-up of soups includes: Curried Butternut Squash Soup (Audley Mills, Dot 2 Dot Café), Sunchoke and Oyster Mushroom Chowder (JJ Gonson, Cuisine en Locale), Cold & Spicy Local Borscht (Irene Li, Mei Mei). We'll be releasing a full list of chefs and their soups on
Facebook
to whet your appetite (
more info + tickets
).
---
Perfect Match: Tutoring + Pizza = Pie R Squared
If you've visited Dudley Dough after school recently, you probably noticed a crowd of excited young people gathered, enjoying pizza and honing their math skills (often as many as 30 kids each day). Pie R Squared is the innovative initiative of local superstar and experienced math tutor Beth Segers: in exchange for spending time completing their math homework alongside a volunteer tutor, students are treated to a slice of pizza and a drink at Dudley Dough.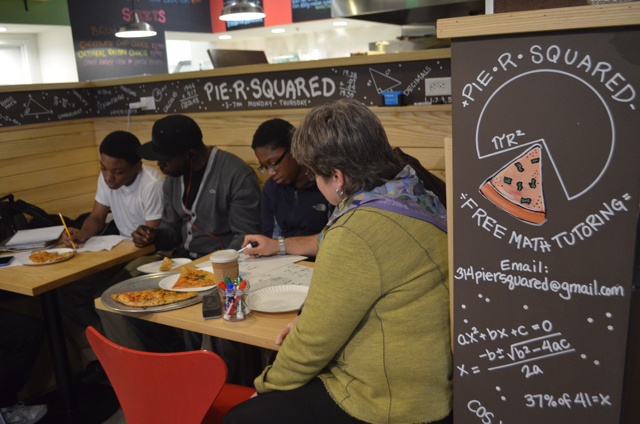 Pie R Squared encourages students to build on what they are learning in school: 12 schools are official partners already. The John D. O'Bryant School of Math and Science (Roxbury) has gone above and beyond: math teachers (and sometimes even the headmaster) stop by nearly every day to check in on their students! Segers's passion shines through when she shares about this project: "it's fun, and it's a LOT of pizza – I have a stiff pizza habit going!" The program wouldn't be possible without the incredible volunteer tutors (like Northeastern University instructor Seckin Demirbas). Click here for more info about this incredible program. If you'd like to help out as a tutor or sign up to receive tutoring, email Beth.
---
And... Help Celebrate Our 50th Anniversary!

On February 22nd, 1966, Kathe and John McKenna invited a man who was living on the street into their small apartment on Upton Street in the South End. This act of hospitality, at once simple and radical, planted the seed that has grown into the Haley House we know and love today. 2016 marks our 50th anniversary, and we're celebrating Haley House's remarkable past and exciting future all year with a series of events, beginning with the Souper Bowl on February 21. More info to come on the rest of the year's events, but please save the date for our 50th anniversary gala weekend: December 2-4, 2016. Many familiar faces from 50 years of HH history will be there – we hope you be one of them!
---
Root Vegetables & Seeds for Next Year!
After a successful season of growing root vegetables, our in-house farmers Cara, Karsten, and Laura are excited to be presenting a special contribution from Thornton Farm at the Souper Bowl (Roasted Carrot Soup with Pickled Beet Garnish). We can't wait to taste the whole seed-to-bowl cycle from our own neighborhood!
We'd also like to once again thank The Food Project for space in their Dudley Greenhouse to begin planting seedlings this March. The fabulous Haley House Farm Team spent hours this month poring over seed catalogs and drafting crop plans for the 2016 season. (they're particularly excited to grow more nightshades). Stay tuned for workday information, or email Cara if you'd like to join the fun!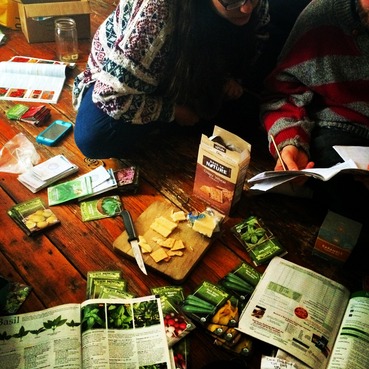 ---
Dudley Dough In The News, Again!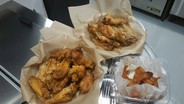 Did you know? The Boston Globe featured Dudley Dough on its list of
Boston's 50 best new restaurants
! Check out the story
here
and make sure to check out Dudley Dough yourself! Now open Saturdays (11-8) and featuring a new line-up of
appetizers
including wings and sweet potato fries (which pair very nicely with one of the local beers or wines on tap).

Events
2/4: Jazz By Any Means Necessary
Tribute to African-American Jazz Composers and Love Songs, 7 pm at HHBC (
more info
)
2/11: Lifted Boston
from Outside the Box, 7 pm at HHBC (
more info
)
2/12: The House Slam
featuring Krysten Hill, doors open at 6:30 pm at HHBC (
more info
)
2/17: Ask Chuck!
Conversation with former City Councillor Chuck Turner, 6:30 pm at Dudley Dough (
more info
)
2/18: Art Is Life Itself!
with Nina LaNegra, 7 pm at HHBC (
more info
)
2/21: Souper Bowl 8 Fundraiser & Kick-off to 50th Anniversary Year
, 2-6 pm at HHBC (
more info + tickets
)
2/25: Lyricist's Lounge
from Boston Day & Evening Academy, 7 pm at HHBC (
more info
)
2/26: The House Slam
featuring Siaara Freeman, doors open at 6:30 pm at HHBC (
more info
)
---
Donation Needs
Soup Kitchen:
Bowls
Tool Boxes
Food Processor
Screwdrivers
Food Dehydrator
New Paintbrushes
New Paint Trays
Clothing For Our Guests:
Each Monday morning, we open the "clothing room" for our soup kitchen guests. All men's clothing donations are very much appreciated, especially:
winter coats
winter hats, gloves and scarves
boots and shoes
pants
new men's underwear
new wool or cotton socks
thermal underwear
sweaters and sweatshirts
backpacks
toiletries
---
Dudley Dough Hours & Menu
MONDAY-FRIDAY
7 am - 8 pm
SATURDAY
11 am - 8 pm
---
Haley House Bakery Café Hours
MONDAY
7:30 am - 6 pm
TUESDAY & WEDNESDAY
7:30 am - 9 pm
THURSDAY
7:30 am - 10 pm*
*food until 9 pm
FRIDAY:
7:30 am - 9 pm
SATURDAY:
9 am - 4 pm
SUNDAY:
10 am - 4 pm
Soup Kitchen, Live-In Community, Administrative Office
23 Dartmouth Street, Boston MA 02116
Haley House Bakery Café (+ Catering)
12 Dade Street, Roxbury, MA 02119
Dudley Dough
2302 Washington Street, Roxbury, MA 02119
Photo Credits: Mary Lou Bozza, Paul Davey, Luther Pinckney, Cara Snajczuk