Coming in like a LION: March at Haley House

Spreading Light: Congratulations, Frank!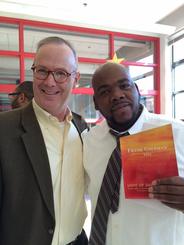 On February 20th, Frank Coleman, a 2011 graduate of the Transitional Employment Program (TEP), was honored with the "Light of Dawwn Award" for his work with youth at Friends of the Children.
The award honors the
legacy of beloved local youth worker Dawnn Jaffier who fell victim to gun violence last summer. Dawnn's unwavering commitment to strengthening communities continues to inspire and her spirit lives on in these awardees, chosen because of their passion and dedication to service.
In addition to his work with youth at Friends of the Children, Frank
finds time to coach youth football for the Dorchester Eagles Pop Warner team. We heartily congratulate Frank and his fellow awardees and are grateful for their tireless and important work!
---
Remembering Sam Sadd: Fierce & Fearless
Bing remembers a good friend & Roxbury community leader
Seven years ago, I received a call from a woman named Sam Sadd, who invited me to come talk to her students about the challenges of running a restaurant. She explained that the students (aged 8-14) were engaged in a long-term visioning process, designing a restaurant for their site at the Hawthorne Youth and Community Center (HYCC), and they had questions for me. I was moved by the visit, experiencing how deeply engaged the kids were in this process, with questions that were wise beyond their years, questions that challenged my own thinking. The visit was the beginning of a friendship that deepened over the years, as Sam invited Haley House to partner with HYCC in an urban agriculture project, now located at 95 Thornton Street.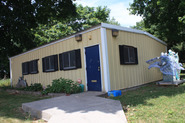 Through the development of the 95 Thornton Garden project, Sam's influence became even clearer to me. In community meetings, Sam didn't say much or say it loudly, but when she spoke, people listened. When Sam received Discover Roxbury's Puddingstone Award several years back, I realized that numerous generations of families had grown up in HYCC and had their minds expanded through Sam's (and other teachers') instruction. With Sam's passing in January, Roxbury lost a tireless advocate for social justice and a fixture who remained a constant custodian in her community for over forty years. I already miss her.
(Sam famously shunned cameras. Pictured instead is the HYCC, her home away from home.)
---
Happy Birthday: Community Table Turns TWO!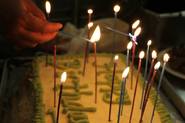 All are invited to join in celebrating two rich years of Community Tables with a festive meal on
Saturday, March 14th
at Haley House Bakery Café at 5 pm. Community Tables is more than a delicious, locally-sourced meal--it is a celebration of community and life. We believe that food should be healthful and accessible, which is how our special Saturday evening dinner came to be. Each meal is "pay-what-you-can," meaning the admission to each meal is up to what each patron decides he/she is able to pay—which ranges from large donations to nothing at all. There's never a dull moment at Community Tables, especially when Fulani gets the crowd singing! Check out this short
video
, recorded at our special Thanksgiving celebration last November.
As always, doors open at 5 pm and the meal (complete with an extra special birthday dessert on March 14th) will be served promptly at 5:30 pm. Come one, come all, and help us spread the good news that Community Tables is turning two!
---
Help Poets Slam at Nationals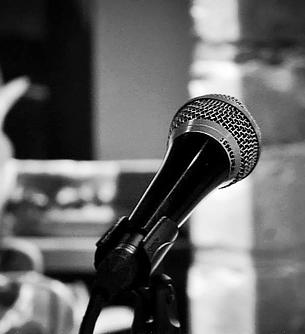 This August, a team of poets from the House Slam will compete at the National Poetry Slam in Oakland, CA. In order to cover the cost of the cross-country journey, they are seeking support from community members, friends, poetry lovers, and just plain ol' nice people. Please consider helping these incredible artists in their effort to compete as a certified venue for the first time ever. Every little bit helps. Click
here
to read more or donate.
---
Use Your Shoes to End Hunger: Join the Team!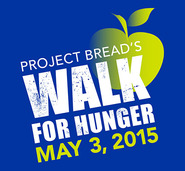 Consider joining Haley House's team for Project Bread's Walk for Hunger on Sunday, May 3rd. Walk a mile or walk the full 20-- there is no obligation to do the full stretch, and the more the merrier! We also gladly accept pledges and donations.
The walk raises funds for Project Bread, an organization that has long provided crucial support for the Soup Kitchen at Haley House. To join the team or donate to the cause in honor of Haley House, please go to our walk for hunger page or the facebook event to read more. Our team's fundraising goal is $2,000. For more information, contact Carmine.
---
Bowls of Thanks for Souper Supporters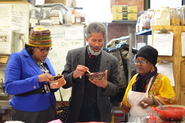 Yet another few inches of snow wasn't enough to keep loyal friends and supporters from attending our 7th Annual Souper Bowl on Sunday, February 8th. A dozen chefs concocted delicious seasonal soups with locally sourced ingredients. Soups were served in stunning hand-made ceramic bowls crafted by students from Mass Art's Clay for Change Program. Selections included: sweet potato, French onion, winter vegetable, black bean, peccadillo pepper, ginger carrot, baked potato with bacon, ruta-baby radish, white fish chowder, butternut squash, beet, and leek & potato.
Many thanks to all who supported this great event by attending and to our incredible chefs: Fulani Haynes, Lee Miller, Michael Cooley, JJ Gonson, Cassandria & Jackson, HH Live-In Community, Gaitskell Cleghorn, Jr., Danielle Andrews, Audley Mills, Loni & Carolyn, Vanessa LaBranche, Nina LaNegra, and Bobby & Nataka. Thanks also to Iggy's Bread, Associated Buyers, Neighborhood Farms of Needham, Allandale Farm, Red's Best Seafood, Wellshire Farm, Siena Farms, Whole Foods Market, Robinson Farms, Churchill Linens, Morgan Memorial Goodwill Industries, the Center for Art and Community Partnerships at MassArt, and Miguel Gaydosh. Funds raised during this event (our most successful ever) will go a long way in supporting our Soup Kitchen this coming year.

Events
3/5: AiLi!
Fulani Haynes Jazz Collaborative + Open Mic , 7-10 pm at HHBC (
more info
)
3/6: Dinner & A Movie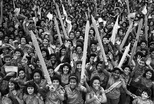 3/12: AiLi!
Singer -Songwriter & Guitarist Larry Woodley, back from Europe, 7-10 pm at HHBC (
more info
)
3/13: The House Slam
featuring Regie Gibson
D
oors open at
6:30 pm at HHBC (
more info
)
3/14: McKinley Garden Workd
ay 10 am-12 pm, meet at 23 Dartmouth (dress warmly and RSVP to
Carmine
)
3/14: Community Tables Birthday Celebration
Doors open at 5 pm, meal served at 5:30 pm at HHBC
3/19: AiLi!
Deconstructing the Prison Industrial Complex discussion led by CFROP + Open Mic, 7-10 pm at HHBC (
more info
)
3/25: Catering Business Workshop
with the Neighborhood Business Initiative from 6:30-8:30 pm at HHBC (
more info
)
3/26: AiLi! Relationships & You: Improving Our Unions, "In Relationship with Self"
3/27:
The House Slam Doors open at 6:30 pm at HHBC (
more info
)
6/7: Silent Auction
Save the date for our annual South End Block Party!
---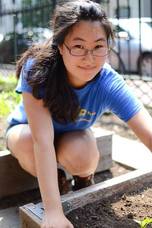 Know anyone outstanding (especially gardeners and farmers) looking for a unique and rewarding way to spend the summer?
Each June our Live-In Community welcomes interns to participate in community living, help manage the Soup Kitchen, and plug into other programming at Haley House and the wider community. In exchange for their time and labor, interns receive room and board and an incredible experience. Click
here
to learn more or apply. [DEADLINE EXTENDED TO 3/13/15]
---
Donation Needs
COFFEE MUGS!
SILVERWARE
Bowls (soup or cereal)
Dinner plates
Clothing: Our guests are still in need of warm clothing and winter gear. If you notice these items on sale or plan to clean out your closet at the end of the season, please consider dropping them off for our Clothing Room, open to guests each Friday. In particular we are in need of:
Men's underwear & long underwear (NEW)
Men's cotton or wool socks (NEW)
Men's winter hats, gloves, scarves
Men's sweaters/ sweatshirts (medium & large)
Other helpful items:
Backpacks
Blankets
Disposable razors
Hand lotion
Deodorant
Toothbrushes and toothpaste
---
Cafe Hours
Monday- Wednesday:
7:30 am - 6 pm
Thursday: 7:30 am - 9 pm
Friday: 7:30 am - 6 pm
Saturday: 9 am - 4 pm
Sunday: 10 am - 4 pm