Haley House hosts a 12-week summer internship program with several concentration opportunities. Hear what three of our current interns - who have been a joyful addition to our community - say in reflections!
Meg O'Neill: Social Media and Advertising Intern
Strangely enough, I had never been to the Bakery
Café be
fore the beginning of the summer, but it's now impossible to imagine Haley H
ouse without it.
As the social media and advertising intern, I'm in an area with which I have
no experience or knowledge, but I have loved
every second of it. The patience of the higher-ups at the café with my pathetic flyer designs and constant stream of bad jokes has been impressive, and I've never had such a fun job. Not only have I learned a lot about advertising and running a business this summer, but I have also learned how to complete important work on time without becoming stressed out or
unhappy.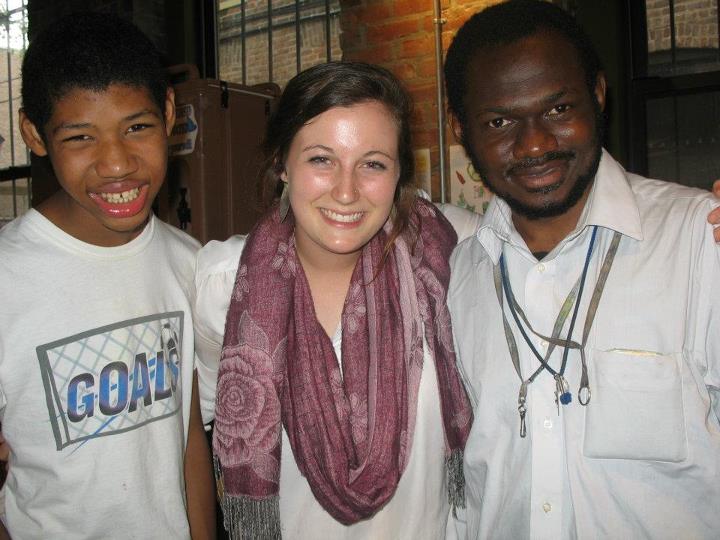 Without a doubt, the most fascinating occurrence this summer has been the intersection of personal life and Haley House. Not only do I live in the building where the soup kitchen is, but I also spend all my time in the c
ity many of the guests call home. Seeing friends from the soup kitchen arou
nd the city has become commonplace, but it's
always interesting when I'm with friends from Boston College. Introducing people from totally different walks of life has been one of the most enjoyable parts of my summer, because there never once has been anything but friendly sociability from either party. The fact that people from such varied backgrounds can immediately find a commonality gives me hope for the future in a way that is so wonderfully quotidian.
Most importantly, this summer I have become much more socially aware of skewed privilege. Discrepancies in race, wealth, and gender have become glaringly obvious to me, and many situations I used to find normal now seem fundamentally wrong in their undeniable unfairness. Although I'm still not sure what my part in rectifying this societal disparity is, I think the first step is genuine human connections and an awareness, and I'm the first to say Haley House is doing a very important and impressive job with facilitating the movement towards equality.
Ceara O'Sullivan: Soup Kitchen and Take Back the Kitchen Intern
This summer, I have really enjoyed working weekly food pantry shifts with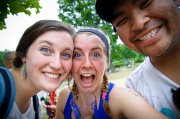 Sister Linda and Jay. Food pantry is rather challenging because successful verbal communication is minimal—most of our food pantry members are elderly Chinese denizens of the South End who speak very little English—so we communicate predominately via sign language. Food pantry is the ultimate testament to the truth that much can be said without any words and that a smile goes an awfully long way.
During one of the first weeks of July, a woman came fifteen minutes after food pantry had officially closed for the day. She knocked on the soup kitchen door and raised her hands in an enquiring way. I unlocked the door and let her in, then pointed at the clock on the wall and made a theatrical "shh!" noise as if to say, "I'm making an exception for you and this is our secret!" As we made our way through the kitchen, filling her cart with groceries, the woman walked on her tiptoes and contributed her own "shh!" noises, whenever I dropped produce too heavily in her cart. Every food pantry since that day, this woman and I have shared the silly ritual of filling her cart amidst the chaos of food pantry on our tiptoes.
Our food pantry guests are so kind, patient, and appreciative—they are among the people I will miss most when the internship ends.
Jasmine Jackson-Irwin: Wholesale Development Intern
Arguably the most rewarding aspect of my summer with Haley House has been the unbelievable community into which I was welcomed. Even on my first day, the staff and volunteers at Haley House welcomed me with open arms (some even literally!) Individuals in the café and soup kitchen are excited to share their personal experiences, show you exactly why they love Haley House, and what brought them here.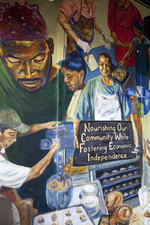 Haley House represents such a diverse array of backgrounds and lifestyles; just spending time with staff and volunteers is a learning experience in and of itself. I find myself increasingly attached to the staff at the bakery, and many of the live-in community members. Initially it was slightly difficult finding a way to integrate into the Roxbury/South End community, particularly as a non-native of the area. However, finding my "place" within the Boston community has given me a greater sense of purpose and ultimately indicates a long-term reward. Everyone at Haley House has helped guide me through that process, and I feel incredibly fortunate to find myself at such a special place.
Professional Volunteers Needed!
Do you know how to design and maintain a website? If so, Haley House wants you! We seek professional volunteers to help update and maintain the Haley House website. If you have experience in website design and/or maintenance, please fill out our volunteer form, specifying your areas of expertise and your availability.

Haley House Bakery Cafe Closing: 8/29-9/2
The Bakery Cafe will be closed from Wednesday, August 29th, until Sunday, September 2nd. We will re-open on Monday, September 3rd!