Sunday Brunch at Haley House Bakery Café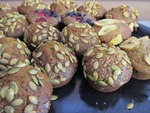 On Sunday, October 7, the Bakery Caf
é will open its doors for a new brunch series! Please join us as we continue to celebrate our seventh anniversary in Dudley Square. Sunday Brunch will be open from 10:00am-4:00pm.

Haley House "Salt of the earth" Volunteer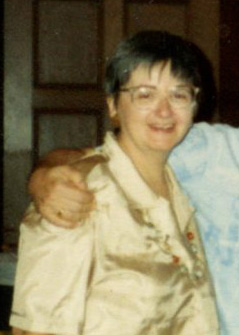 On September 19, 2012, Claudia Hunter, a long-time friend, supporter, and volunteer at Haley House, passed away. Reflecting on Claudia's incredible contributions to those around her, Kathe McKenna describes Claudia with the phrase "Salt of the Earth." "Claudia was such a quiet 'doer' - working to create the ideal beloved community she envisioned so clearly," says Kathe. "Claudia was the on-the-ground force to help us get there, not just to wax eloquently about it!" Donations in her memory may be made to Partners in Health.
Order Thanksgiving Pies from Haley House
Tuesday, November 13 at 5:00pm - Order Deadline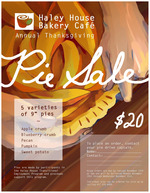 Hard to believe that it is already time to think about Thanksgiving Pies! The Haley House Annual Pie Drive helps support our Transitional Employment Program (TEP), in addition to being a chance to indulge in our delicious handmade pies! Pies cost $20 each, and we offer five varieties: Apple Crumb, Blueberry Crumb, Pecan, Pumpkin, and Sweet Potato. The Apple Crumb pie will be made with apples generously donated by Apex Orchards, and the Pecan pie will be sweetened with amber agave nectar (instead of the usual corn syrup). To place an order for yourself or to learn how to be a Pie Captain, please see our website or call 617 318 6008.

McKinley Garden Work Day
Saturday, October 6 from 3:00-5:00pm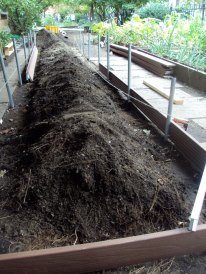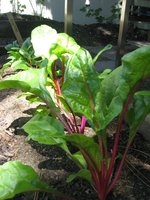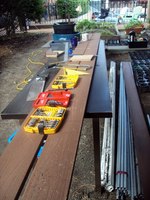 Know how to work power tools? Enjoy building things or working with dirt? Come join us for a garden work day, or afternoon rather, on Saturday, October 6 from 3:00-5:00pm. We will be finishing our hoop house and preparing the garden for the fall and winter seasons. Email garden@haleyhouse.org with any questions and keep following the McKinley Garden on Facebook and our blog!
---
Website Development Volunteer Opportunity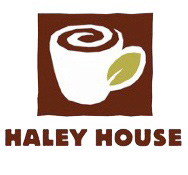 Are you a website guru? Do you have intermediate to advanced skills in HTML, CSS, and Dreamweaver? If the answer is yes, then you are much needed! Haley House is seeking volunteers to develop and help maintain our website. If you are interested, please contact Mary Ashton at minglis@haleyhouse.org.