Celebrate Summer: Poetry & Community Tables
After the winter we've endured, we are as excited as can be to invite you to two fabulous community outdoor events coming up this month: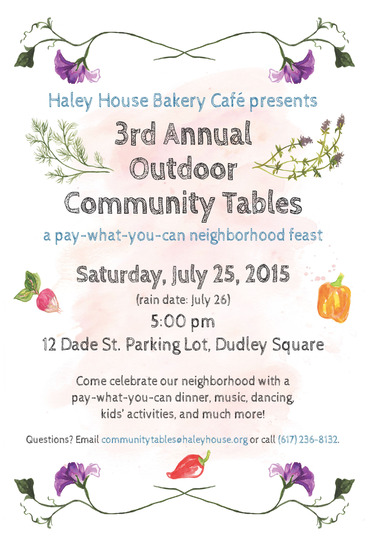 Friday, July 10th 6:30 pm
, come enjoy the
Outdoor Poetry Slam
to honor the first YEAR of the House Slam at Haley House Bakery Cafe! (
more details
)
Come and celebrate neighbors and community (and food) during the 3rd annual
Outdoor Community Tables
on
Saturday July 25th at 5 pm
. All are welcome to this delicious, pay-what-you-can neighborhood feast, complete with music and fun for the whole family! (
more details
).
---
Low Wages: Let's Do Something About It!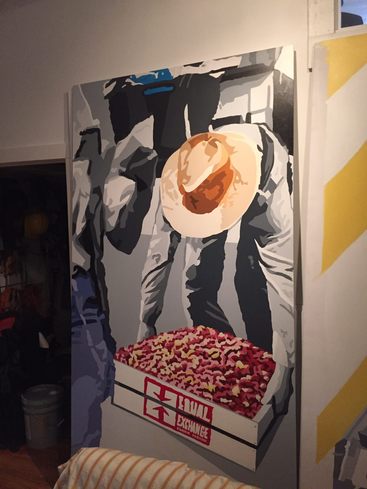 This got our attention: "If [the original minimum wage was] adjusted for inflation and true buying power... the lowest paid among us would be earning upwards of twenty dollars an hour today. Instead of holding employers to the high standard of providing a living wage for all workers we've subsidized them with food assistance and welfare while simultaneously bemoaning the workers who are forced to take advantage of these programs." (Mike Abdoo in the
Winona Catholic Worker.
Check out more
Myths and Numbers
at
The Working Poor Families Project
)
This topic has been on our minds for a long time. In response, we're launching a second social enterprise:
Dudley Dough
will use delicious, healthful pizza as a vehicle for bringing about greater economic inclusion in the restaurant industry. We will be opening our doors soon in the Bruce C. Bolling Building, just a few blocks from our current café. Make sure to stay up to date about Dudley Dough with
Facebook
,
Twitter
and
Instagram.
---
Gardens @ HH : Awards, Water & Apple Trees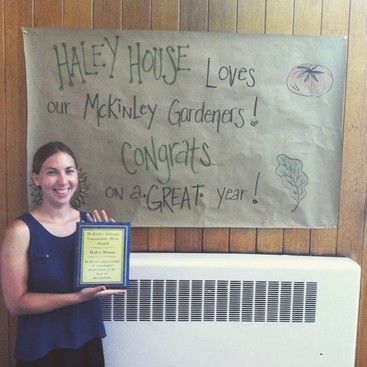 Haley House was honored this past month to be named "Community Hero of the year" at the McKinley School awards ceremony on June 25th. Thanks to all the volunteers and supporters who keep our urban agriculture programs growing strong! This month's McKinley Garden Workday will be Saturday, July 11th from 10am-12pm (meet at 23 Dartmouth Street). All are welcome to come help tend the garden and enjoy the sunshine! RSVP to Cara.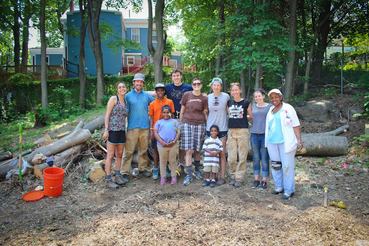 It's also been an exciting month at Thornton Community Gardens & Farm in Roxbury. The water installation (made possible by a generous grant from the Massachusetts Department of Agricultural Resources) was completed and the group above planted the native Roxbury Russet apple tree on the land! If you are interested in volunteering to work, learn, and explore this new urban space, please contact Karsten, who is in the garden most Saturday mornings and loves company! To read the latest Garden Newsletter, click here and contact Carmine if you'd like to receive the monthly newsletter.
---
Traveling Mercies, Dear Noreen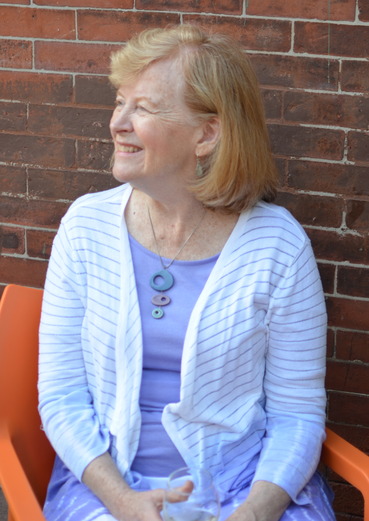 Noreen Manzo arrived at Haley House in 1993, around the time when South End rents had begun to rise meteorically. Noreen initiated and managed our Housing Program, offering rooms and apartments to those who would have been otherwise displaced. Noreen's unique personal touch – her connection with and care for each resident is what has set our housing apart. Under her care, our housing program has created healing homes, upholding the dignity of residents who may have been abused on the street and in shelters.
From the beginning, Noreen's love and compassion have guided our housing. Noreen will be retiring from Haley House at the end of July. We are deeply appreciative for her 22 years of humble service and she will be missed deeply. We wish her abundant blessings.
Send Noreen your words of thanks and appreciation here
.
---
Soup Kitchen News: Block Party & New Shoes!
As the image on this newsletter header coveys, 23 Dartmouth is filled to capacity with fresh energy right now: 4 (soon to be 5) interns have joined the live-in community for the summer and we've been grateful to have the help of many good-hearted summer volunteers throughout all our programs, including folks from the Gabelli Presidential Scholars Program at Boston College and The Forest Foundation.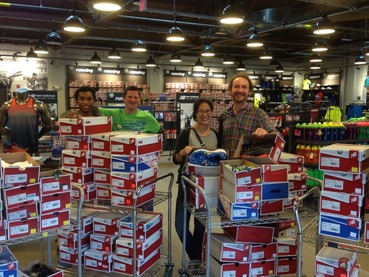 All hands were on deck for the 12th annual Silent Auction, Wine-Tasting & Block Party Fundraiser on Saturday, June 6th, our biggest crowd (and best fundraiser) yet! Thanks to all who made it such a joyous celebration of neighborhood and mission and congratulations to raffle winners Kate Haviland (Red Sox tickets) and Jackie Jaeger (Chocolee Chocolate class).
We're also grateful for the special generosity of the anonymous donors who made possible the purchase of more than 80 pairs of brand new New Balance shoes, socks and underwear for our guests. What a difference this donation has made in the lives of our friends!
---
TBK Teen Garden Class at Brookwood Farm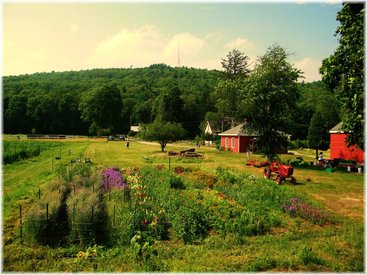 We're excited to announce a special
Take Back The Kitchen class for teens
at
The Brookwood Community Farm
on
Friday, August 21th
at
10 am- 1 pm
. The class will include a tour of this beautiful, sustainable working farm in Canton, MA including a visit to the greenhouse, bug garden, and beehives. Participants will observe up close how asparagus, strawberries, tomatoes, kale and other vegetables grow, in context with the earth and the pollinators. Following the tour, participants will prepare and enjoy lunch with Haley House Bakery Cafe's founding chef,
Didi Emmons
, using produce harvested from the farm. This class is meant for teens between the ages of 13-16. Each teen must be accompanied by an adult (who will get a separate tour of the farm, and will join in the cooking class). Please
contact Robin
or
click here
for more information.
---
Dust & Noise at HHBC
If you've visited Haley House Bakery Café recently, you might have noticed a little extra noise and dust coming from the basement...take these as signs of exciting projects to come! Demolition and construction are well underway for our second kitchen in the basement. We're grateful for your patience during construction and so excited about the ways this project will help us to grow!


**Summer Café Closing & Catering Break:

Mon. June 29- Sun. J

uly 5**
---
Events
7/9 Summer Coffeehouse Fulani Haynes & Jazz Collaborative, 7 pm at HHBC (
more info
)
7/10: Outdoor Poetry Slam 6:30 pm at HHBC lot (
more info
)
7/11: McKinley Garden Workday 10 am - 12 pm, meet at 23 Dartmouth Street
7/13 HH "Top Chef" Round 3, 6:30 pm at HHBC
7/18 Soup Kitchen Deep Clean
10 am- 1 pm at 23 Dartmouth Street (
sign up
)
7/20 HH "Top Chef" Final Competition 6:30 pm at HHBC
7/24: The House Slam
doors open at 6:30 pm at HHBC (
more info
)
7/25: Outdoor Community Tables 5 pm at HHBC lot (
more info
)
7/30 Summer Coffeehouse
YAMI (youth against mass incarceration), 7 pm at HHBC (
more info
)
8/21: TBK Teen Trip to Brookwood Community Farm
10 am- 1pm (
more info
)
SAVE THE DATE 9/10: Outdoor Art is Life Itself!
(
more info
)
---
Call for Volunteers
Please join us for our annual "Deep Clean" of the Soup Kitchen at 23 Dartmouth on
Saturday, July 18th from 10 am- 1 pm
. All are welcome! (
Sign up here
)
---
Support House Slam Poets @ Nationals!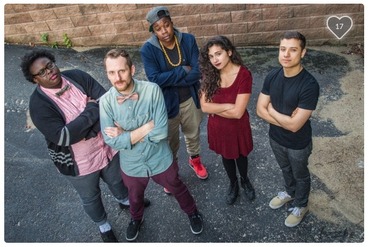 Next month, the talented team of Haley House Slam champions will compete at the National Poetry Slam in Oakland, CA. Please consider helping these artists in their effort to compete with Haley House as their certified venue for the first time ever. Click
here
to donate or read more.
And
click here
to read all about the House Slam on WBUR's "the Artery."
---
Donation Needs
Soup Kitchen:
SILVERWARE (we are still in need of FORKS)
Toolboxes
For Our Guests:
Each Monday morning, we open the "clothing room" for our soup kitchen guests. Our supply during the summer is low, so all clothing donations are very much appreciated.
T-shirts & polo-shirts
Men's shorts and pants
Baseball caps
Men's belts
Men's sneakers & shoes
NEW men's SOCKS & UNDERWEAR
Long-sleeved shirts & sweatshirts
Toiletries of all kinds, especially travel size (including razors)
Garden Wish-list:
Any gently-used garden tools would be appreciated including:
Pitchforks
Garden Hoe Mattocks
Garden trowels
Hoes
Metal garden rakes
Watering cans
Buckets
Mulch
Topsoil & fully-matured compost
Contact Karsten if you can help with any of these items.
Ride-able bikes are also requested by the Live-In Community!
---
Café Hours
MONDAY-WEDNESDAY:
7:30 am - 6 pm
THURSDAY:
7:30 am - 10 pm
Summer Coffee House (details TBA)
7-10 pm
FRIDAY:
7:30 am - 6 pm
SATURDAY:
9 am - 4 pm
(no Community Tables on July 4th)
SUNDAY:
10 am - 4 pm