Haley House named 2014 Neighborhood Builder
We're excited to share that Haley House has been honored as a 2014 Neighborhood Builder by the Bank of America Charitable Foundation. Now in its 10th year, Neighborhood Builders is a competitive program awarding high-performing nonprofits $200,000 of unrestricted funding, along with valuable leadership training. A local selection committee of past recipients and key community players chose Haley House and Community Servings from a competitive field of applicants, drawn to the innovative solutions offered by both organizations in response to significant community challenges.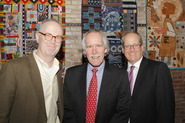 "Past recipients tell us the award has fundamentally changed their ability to meet the needs of people they serve. We look forward to these two organizations increasing their capacity and having an even greater impact in Jamaica Plain, Roxbury and beyond," said Bob Gallery, Massachusetts president of Bank of America (pictured here with Bing Broderick and David Waters of Community Servings).
We are honored and excited to receive this award and look forward to living up to the title, alongside our beloved Boston neighbors.
---
Remembering Friends in the Soup Kitchen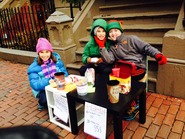 Heartwarming stories of old friends, retold as part of the "Sponsor-a-Chair" Initiative, have become a beautiful tribute to nearly five decades of shared meals and friendship at 23 Dartmouth Street. In just a few short weeks, we surpassed our original fundraising goal to purchase sturdy new chairs and tables for the Soup Kitchen and were also able to cover the unanticipated need for a new refrigerator. We are humbled and grateful to all those who participated in this initiative.
And a special shout-out to our young neighbors (pictured above) who braved harsh winter weather to run a raffle to raise money for this special campaign: Vinnie & Maggie O'Byrne, Liam & Devin Walsh and Alicia Gockelman--you are the best!
---
Food with Purpose... delivered to your door!
Catering wasn't part of the original business plan for the Haley House Bakery Cafe. It all started with a neighbor's request for a simple platter to be served at a board meeting. After running out to invest in an actual platter, we never looked back. A month later, we found ourselves catering a luncheon for a prison reform conference at Harvard Law School for 250 people, and, as they say, the rest is history.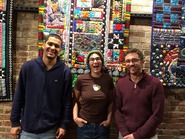 What began as a handful of faithful advocates quickly grew into a city-wide network of loyal supporters, connected by word of mouth. We are so grateful to the many friends and businesses who continue to support the Haley House mission by choosing to use Haley House catering. Today catering accounts for the largest portion of our business at HHBC and has steadily grown each year. If you haven't tried the empanadas or our delicious and healthful pizzas and wraps, you've been missing out! This past year we welcomed Percio Gomez, Sophie Griswold and Jason Palmeira (left to right) to the all-star catering staff. To see our new catering menu,
click here.
---
Join us for Desserts & Stories on January 18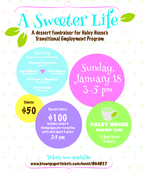 You are most cordially invited to celebrate and support the impressive graduates of the Transitional Employment Program (TEP) and partake of the creations of some of the finest dessert chefs of our fair city during the annual "A Sweeter Life" dessert fundraiser next Sunday afternoon (January 18th at HHBC).
Dessert chefs include Joanne Chang of
Flour Bakery
, Molly Dwyer of
Tremont 647
, Maura Kilpatrick of
Sofra Bakery
, Tanya Peterson of
Patisserie on Newbury
, Lee Napoli of
Chocolee Chocolates,
and the FABULOUS chefs at
Haley House Bakery Cafe
. For more information or to purchase tickets for this delicious fundraiser,
click here
.
---
Warm Coats, Warmer Hearts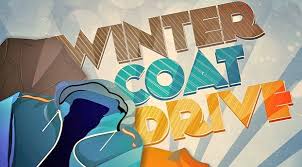 As temperatures continue to drop and we notice our soup kitchen guests struggling even harder to stay warm, we're so grateful to have received several donations of warm winter wear from generous and thoughtful friends and neighbors. A special shout out to the folks at Barbour, Inc. who dropped off four bags of heavy coats from their "
One Warm Coat
" holiday drive, friends at the United Parish in Brookline, Lisa Shen for organizing a party to collect winter coats and Neil Hegarty and friends for regular clothing drop-offs. These donations are very much appreciated. [We will happily accept more donations throughout the winter.]
---
January Workday: Pies & Winter Gardening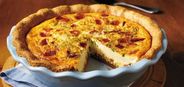 All are welcome to join in the McKinley Garden Workday this Saturday, January 10th from 10:00 am - 12:00 pm. This month, volunteers will help
prepare and bake sweet and savory pies for our soup kitchen programs. Weather permitting, light garden chores will also be done. All tools will be provided and no experience is necessary. RSVP by
Friday, January 9th to Carmine.
---

Upcoming Events
1/9: The House Slam
featuring poet
Pages Matam,
doors open at
6:30 pm at HHBC (
more info
)

1/10: McKinley Garden Workday
10:00 am - 12:00 pm, meet at 23 Dartmouth Street. RSVP to
Carmine
.
1/16: #BlackPoetsSpeakOut Boston:
Community Reading, doors open at 6:30 pm, program begins at 7:15 pm at HHBC (
more info
)
1/18: A Sweeter Life Dessert Fundraiser
to benefit TEP, 3:00 - 5:00 pm at HHBC (
more info & tickets
)
1/21: Roxbury History Speakers Series:
"The History of the Dearborn School" presented by Discover Roxbury, Roxbury Historical Society and HHBC at 7:00 pm at HHBC (
more info
)
1/23: The House Slam
featuring poet
Franny Choi,
doors open at
6:30 pm at HHBC (
more info
)
1/30: Dinner & A Movie
featuring three short films:
Maestra
,
The No Name Painting Association
, and
Cowboys of Color: A Multi-Cultural Legacy,
6:30 pm at HHBC (
more info & tickets
)
2/8: 7th Annual "Souper Bowl" fundraiser
to benefit the Soup Kitchen, 2:00 - 6:00 pm at HHBC (
more info & tickets
)
---
Art is Life itself!
Our performance series embracing art, culture, and spirituality returns with a new season on January 15 with a discussion on Deconstructing the Prison Industrial Complex with C.F.R.O.P., live jazz with the Fulani Haynes Jazz Collaborative and Open Mic. AiLi! is on Thursdays from 7:00 -10:00 pm at HHBC. Check out the
AiLi! facebook page
for updates about the upcoming schedule.
---
Donation Needs
Toaster (big enough for bagels, at least 4 slice capacity)
Bowls (soup or cereal bowls)
Silverware
Coffee mugs
Dinner plates
Clothing As the weather gets colder, our guests are especially in need of:
New men's underwear and long underwear
New men's cotton or wool socks
Men's hats, gloves, scarves, and belts
Men's sweaters and sweatshirts (especially medium and large sizes)
Men's coats and jackets
Men's shoes, sneakers, and boots
Other helpful items:
Backpacks
Blankets
Disposable razors
Hand lotion
Deodorant
Toothbrushes and toothpaste
---
Cafe Hours
Monday- Wednesday:
7:30 am - 6:00 pm
Thursday: 7:30 am - 9:00 pm
Friday: 7:30 am - 6:00 pm
Saturday: 9:00 am - 4:00 pm
Sunday:
10:00 am - 4:00 pm