It's Back: Haley House Annual Pie Drive
The bakers at HHBC are already hard at work preparing for our Annual Thanksgiving Pie Drive, a fundraiser benefitting all of Haley House programs! Each 9-inch pie is $30 and hand-made by our bakers using locally sourced ingredients; the perfect complement to your Thanksgiving feast!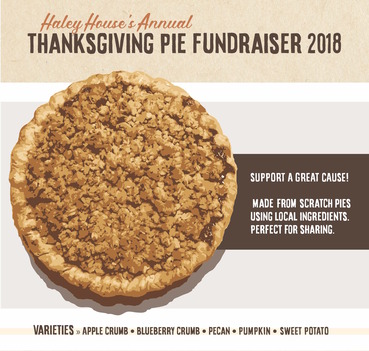 Choose from five varieties: Apple Crumb, Blueberry Crumb, Pecan, Pumpkin, and Sweet Potato.
This year, our pie quantities will be more limited than usual so make sure to get your orders in as soon as possible before supplies run out-- the deadline is Tuesday, November 13th (unless we sell out earlier)! Interested in placing a group of orders? Become a Pie Captain! For more info, click here.
---
RESIDENCY: Home-Grown Arts @ HHBC
RESIDENCY, a two-artist art show currently displayed at HHBC, features the work of artists John Paul Bednar and Tom King and
is a testament to the positive impact of individuals coming together as community.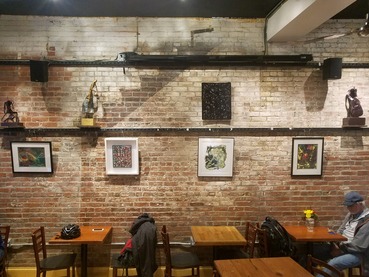 Bednar's abstract works are vibrant and complex, much like the artist himself.
Bednar was a long time resident at Haley House and former soup kitchen guest, who passed away last month. Tom King's d
elicate and detailed sculptures reflect a time when he was in transition from homelessness to getting a place to live. He is a current resident and former guest of the soup kitchen, as well.
Tune into Art Is Life Itself (AiLi Live) on October 18 at 7pm for an interview with artist Tom King and stop by the bakery cafe if you haven't seen the works! They will be on display through the fall.
---
Flatbread Brighton Pizza Party!
How many pizza slices can you eat in one night? Join us at Flatbread Company in Brighton/ Brighton Bowl (76 Guest Street, Brighton) on Tuesday, October 16 for a night of fun, community, bowling, and PIZZA, all in the name of Haley House!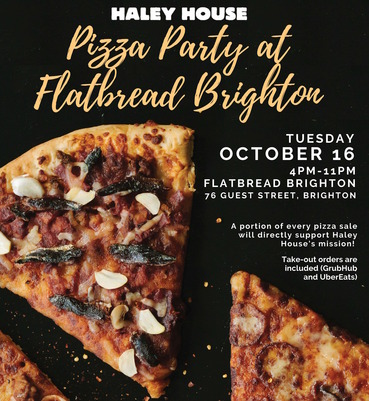 A portion of each of each pizza sold will directly support Haley House's mission (including take-out from Grub Hub and Uber Eats). The bar will be open for beer and wine lovers! We recommend coming early to grab a table for your friends. Check out the Facebook page, spread the word, and RSVP
here
.
---
Fall at the Farm: Slow and Steady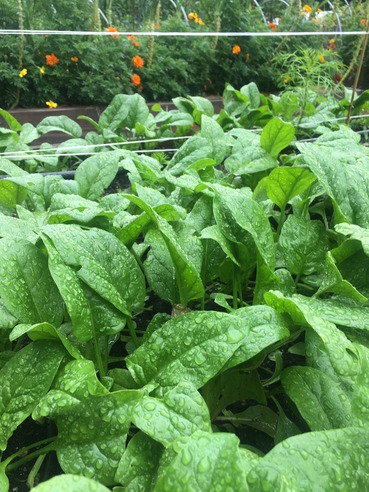 The days are getting shorter, temperatures are dropping, and plant growth is slowing down for the season. The Haley House farm team is currently transitioning out of summer crops, so say goodbye to tomatoes, eggplants, squash, and sunflowers - they'll be back next year! In their place, fall cabbage, collards, kale, spinach and lettuce are being grown.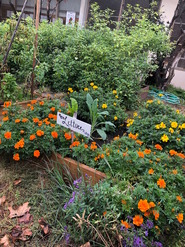 The farm team has also started building mini greenhouses
ov
er a handful of crops to keep them warm - hopefully all the way until December! They are also focusing on cover cropping
(a type of planting that returns nutrients to the soil) and mulching for fall. Meanwhile, lots of great produce is still being sent to the Bakery Cafe and Take Back the Kitchen classes!
---
REPORT: Homelessness Among Those Formerly Incarcerated
A compelling report written by Lucius Couloute for the Prison Policy Initiative highlights the challenges that people face transitioning out of incarceration into permanent housing. Couloute found that formerly incarcerated individuals are ten times more likely to be homeless than the general public, due to a "revolving door" of incarceration and policies that criminalize homelessness.
The report also outlines the contrasting trends within gender and race/ethnicity, highlighting that rates of homelessness are especially high among people of color and women. Also highlighted is that fact that while "203 of every 10,000 formerly incarcerated were homeless, nearly three times as many were housing insecure", illuminating a truer sense of the problem.
All of these issues are perpetuated by discrimination by public housing authorities and private property owners, lack of affordable housing, use of credit checks, professional references and incredibly costly security deposits are also major issues that bar formerly incarcerated people from transitioning out of homelessness.
Click here to read more about this study's findings and possible solutions in finding housing for those who are formerly incarcerated.


EVENTS
10/3: The Yung House Slam presents: Yung House-Warming ft. Oompa
, 6pm at HHBC (
more info
)
10/4: Men of Boston Cook for Women's Health
, 6pm at 637 Washington Street, Dorchester (
more info
)
10/5: Porsha Olayiwola presents: Black and Ugly as Ever
, 7pm at HHBC, (
more info
)
10/10: Sanaa with Friends presents Art Expressions: Cocktails and
10/11: Lifted Boston Open Mic (hosted by Red Sage Stories),
6:30pm (
more info
)
10/12: The House Slam
, 6:30pm at HHBC (
more info
)
10/16: Flatbread Benefit Night
, 4-11 pm at Flatbread Brighton // 76 Guest Street (
more info
)
10/17: The Yung House Slam
, 6pm at HHBC (
more info
)
10/18: AiLi Live presents Black & Indian
, 7pm at HHBC (
more info
)
10/25: Boston Day and Evening Academy & 826 Boston present: Lyricists' Lounge ft. Nakia Hill
, 6:30pm at HHBC (
more info
)
10/26: The House Slam
, 6:30pm at HHBC (
more info
)
11/1: Jazz By Any Means
, 6:30pm at HHBC (
more info
)
11/2: Women's Group hosted by Meta Art (Carmen Cohen)
, 7pm at HHBC (
more info
)
---
HHBC Hours
MONDAY- WEDNESDAY
7:30 am - 6 pm
THURSDAY
7:30 am - 9 pm*
*food until 9 pm
7-10 pm
FRIDAY
7:30 am - 8 pm
SATURDAY
9 am - 4 pm
5 -7:30 pm
SUNDAY:
10 am - 4 pm
---
Wish List
Clothing:
Any gently used/new men's clothing and personal hygiene products, especially:
-NEW underwear (M-XL)
-Men's pants (30's range)
-Men's winter coats and sweaters
-Men's Shirts (short and long sleeve)
-Travel-sized toiletries (soaps/shampoo/conditioner/lip-balm)
-Toothbrushes & Toothpaste
-Deodorant
-Shaving cream & razors
Goods:
-Silverware (forks + spoons especially)
-Mugs
-Books/ magazines (Spanish + English)
-Checkers, chess, scrabble
Farm:
-Seeds
-Potting soil
-Tarps
-Wood/ stakes
-Paint
-Paintbrushes
-Mulch
-Building Supplies
HHBC:
Multi-cd player
Sauce Pans
---
HH Supports "YES on 3"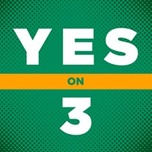 Haley House is proud to have joined the coalition to uphold dignity and respect for transgender people. Join us in November and vote
YES
on
3
to keep crucial anti-discrimination laws in place. To learn more,
click here
. #YesOn3
---
Same Recipes, A Few Extra Cents
While we strive to run Haley House Bakery Cafe, our social enterprise restaurant, as efficiently as possible, community and people come first.
In the coming weeks you may notice some of our prices increase, something we try to avoid as much as possible, but from time-to-time need to do as we balance our commitment to provide fair wages for our staff and to obtain quality, ethically-sourced food, prepared from scratch.We are grateful for your patronage and understanding-- you make our mission a reality!