10 Trivia Tidbits to Celebrate 10 Years in Dudley
On August 29th,
Haley House Bakery Café
will celebrate
10 years in Roxbury
! To honor our anniversary, we thought we'd share these 10 little known facts about the café:
The Haley House Bakery Training Program began in 1996 at 23 Dartmouth Street, (Haley House headquarters since 1966) to provide employment opportunities for our soup kitchen guests.
The 12 Dade Street building where HHBC has been located since 2005 was originally built as a corrugated cardboard factory in 1910. During WWII, the building was used, illegally, as a toy factory!
Our average growth in revenue since opening in Dudley has been 19% per year!
Take Back the Kitchen began when Community Service Officer Bill Baxter approached our founding chef, Didi Emmons, with the idea of using food and cooking as a way to break down stereotypes and reduce gang involvement for local youth. Today the program serves more than 300 youth each year.
Catering wasn't part of the original business plan, but today it is the most profitable part of our social enterprise.
Every Saturday evening at 5 pm, we welcome neighbors for Community Tables, a 3-course "pay-what-you-can" meal, made possible through the generosity of a different group of volunteers, donors, and diners each week.

The City of Boston officially proclaimed June 8, 2011 as Haley House Cookie Day.
To date, trainees in our Transitional Employment Program have produced more than 200,000 chocolate chip cookies, the majority of which have been sold at Boston College to support the program.
Since opening, we've hosted more than 60 art exhibits from artists of all kinds, including photographers, painters, quilters, potters, woodworkers, graphic designers, and performers (as part of Art Is Life Itself!).
We've welcomed many celebrities to HHBC, including Lauryn Hill, David Gergin, Amias Gerety, Gordon Hamersley, Bryant Terry, Michael Ealy, Victoria Rowell, and nearly every candidate for mayor in 2013.
---
Kathe McKenna: Rocking Out in Roxbury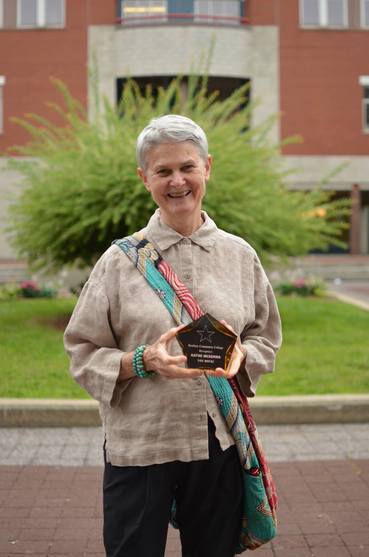 Congratulations to Haley House founder and all-around amazing woman Kathe McKenna, who received a "You Rock" award from
Roxbury Community College
on July 18th. These awards recognize "community leaders who have championed RCC and the Roxbury community."
Further congratulations to her fellow winners, Bay State Banner founder and publisher Mel Miller and RCC Nursing Program founder Jane Cloutterbuck. And thanks to RCC for a fabulous event!
---
Pizza with Purpose: Dudley Dough Rising!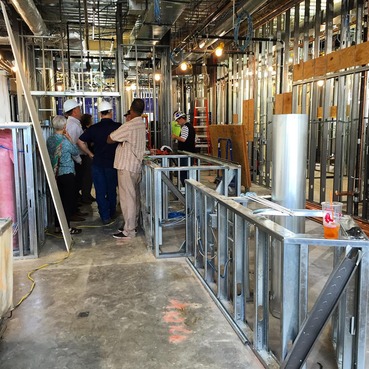 The time is fast approaching for the launch of our second social enterprise!
Dudley Dough
will use delicious, healthful pizza as a vehicle for bringing about greater economic inclusion for workers. We anticipate opening our doors early this fall in the Bruce C. Bolling Building, just a few blocks from our current café. Make sure to walk by to check out the progress, and stay up to date about Dudley Dough with
Facebook
,
Twitter
and
Instagram.
---
Dancing & Slamming in the Street (Parking Lot!)
At this time of year, we'll take any excuse to enjoy the sunshine and cool breezes outside. Abundant thanks to all who came out to enjoy two great outdoor events this past month.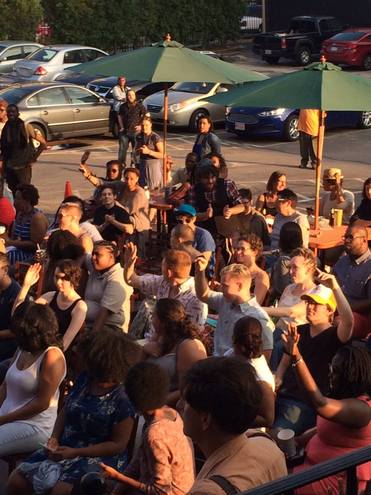 The
House Slam
celebrated its
one year anniversary
on July 10th with an outdoor slam, allowing a much larger crowd than usual to enjoy the magic that is this special program. We couldn't be more proud to host the House Slam twice a month at Haley House Bakery Café.
Click here
to read a little bit about the phenomenal
Janae Johnson
, one of the founders of this program, on
PBS Newshour
. Next week, the official team of House Slam winners are headed off to Oakland, CA to compete in the
National Slam Poetry Competition
. They are a few dollars short of their fundraising goal. Click
here
to donate or stop by their last fundraising event this Thursday, August 6th (
details
). And
click here
to read all about the House Slam on WBUR's "The Artery."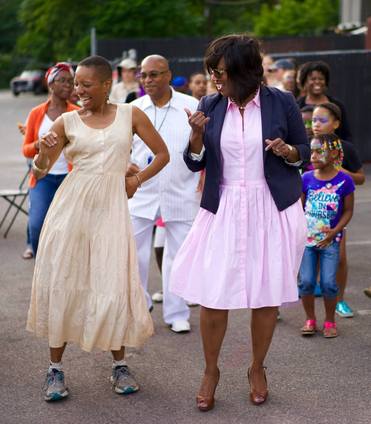 Our third annual Outdoor Community Tables on Saturday, July 25th was a rollicking success on every front. This year's gathering was a beautiful celebration of community, bringing together more than 250 neighbors from Roxbury and beyond for a delicious meal featuring locally sourced ingredients, live music, dancing with our fabulous host Fulani Haynes, and games. Special thanks to all those who helped make this event possible, especially our sponsor, Shawmut Design and Construction, our food donors, and our amazing team of volunteers.
---
Hugelkultur & Treats at the Farm & Garden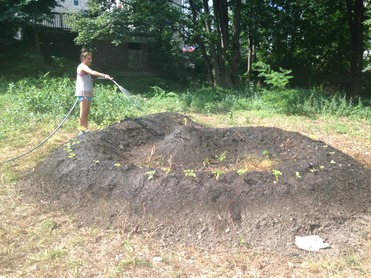 Check out our brand new "hugelkultur" (pictured on the right) at Thornton Farm in Roxbury. This peculiar dirt pile is a new project developed by youth ambassadors from Grow.Cook.Share Summer Program, a collaboration between Haley House and the Hawthorne Youth & Community Center now in its second year. Want to check it out for yourself? All are invited to join us at our newest urban farm for this month's Thornton Farm Workday (located at 95 Thornton Street in Roxbury) on Saturday, August 15th from 10 am - 12 pm. RSVP to Karsten.
This month's McKinley Garden Workday will be Saturday, August 8th from 10am - 12pm (meet at 23 Dartmouth Street). No tools needed, all experience levels and ages welcome, please bring water. Volunteers will be weeding, harvesting, trellising tomatoes, and enjoying the summer sun with homemade drinks and snacks. RSVP to Cara.
To read the latest Garden Newsletter, click here and contact Carmine if you'd like to receive the monthly newsletter.

**Haley House Bakery Café Closed Labor Day Weekend: Sat. 9/5 - Mon. 9/7**
**No Community Tables 8/29 or 9/5**
---
Events
8/6: House Slam: "If You Feel It, You Can House Slam" (Youth Collaboration + Fundraiser), 6:30 - 10:30 pm, HHBC (
more info
)
8/8: McKinley Garden Workday
10 am - 12 pm, meet at 23 Dartmouth St. (RSVP to
Cara
)
8/14: The House Slam
featuring Princess Chan & Prop/Costume Slam, doors open at 6:30 pm at HHBC (
more info
)
8/13: Opening Reception for "Courageous Voices"
5:30 - 7 pm at HHBC (
more info
)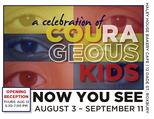 8/13: TEP TALKS with Mo Barbosa and inspirational graduates of the Transitional Employment Program, 7 pm at HHBC
8/15: Farm Workday
10 am - 12 pm at 95 Thornton St., Roxbury (RSVP to
Karsten
)
8/20: Summer Coffeehouse: Lifted with Obehi Janice & Justin Springer, 7 pm at HHBC
8/27: Back to School Youth Poetry Reading with Porsha of the HH House Slam, 7 pm at HHBC
8/28: The House Slam
doors open at 6:30 pm at HHBC (
more info
)
9/10: Return of Art is Life Itself OUTDOORS
featuring two live bands (Fulani Haynes + Jazz Collaborative and The GroovaLottos) and Neiel Israel! (Spoken Word Artist) + Open Mic., 7 - 10 pm at HHBC (
more info
)
---
**Soup Kitchen Closed: Sun. 8/16 - Sun. 8/30**
---
Donation Needs
Soup Kitchen:
Silverware
Bowls
Mugs
Plates
Ice Cube Trays
For Our Guests:
Each Monday morning, we open the "clothing room" for our soup kitchen guests. Our supply during the summer is low, so all clothing donations are very much appreciated.
T-shirts & polo-shirts
Men's shorts and pants
Baseball caps
Men's belts
Men's sneakers & shoes
NEW men's SOCKS & UNDERWEAR
Long-sleeved shirts & sweatshirts
Toiletries of all kinds, especially travel size (including razors)
Garden Wish-list:
Any gently-used garden tools would be appreciated including:
Pitchforks
Garden trowels
Hoes
Watering Cans
Wood Chips
Topsoil & fully-matured compost
Contact Karsten if you can help with any of these items.
---
Café Hours
MONDAY-WEDNESDAY:
7:30 am - 6 pm
THURSDAY:
7:30 am - 10 pm
Summer Coffee House (details TBA)
7-10 pm
FRIDAY:
7:30 am - 6 pm
SATURDAY:
9 am - 4 pm
(No Community Tables on 8/29 or 9/5)
SUNDAY:
10 am - 4 pm